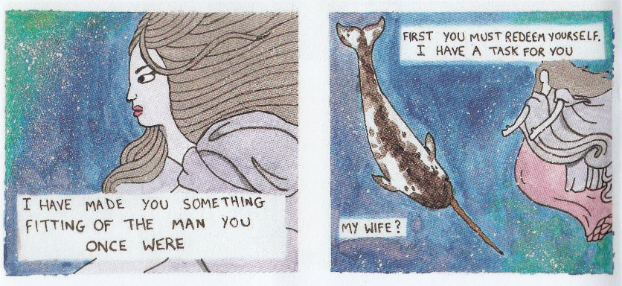 The last time I reviewed a Jake Dudas comic here at Broken Frontier it was To the Waters and the Wild that caught my attention; a tale of a parent-child relationship with the creepiest of twists. His follow-up, The Cornwall Narwhal, has similar folkloric overtones and this time comes as a full colour offering, underlining a growing confidence in approach from its creator.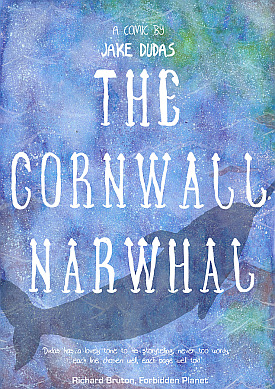 When a Cornish fisherman's wife is lost on a trip at sea the devastated mariner throws himself into the salty depths in despair. There he is confronted by a supernatural entity who informs him that she embodies the spirits of every human to have drowned in the oceans. Begging her for the chance to see his wife again she responds by transforming him into a narwhal and giving him a Sisyphean task to perform first. But when fate intervenes – in the shape of a soul in need – will the mutated seaman choose to do the right thing, even if it means his true love will be taken from him forever?
As a redemptive parable The Cornwall Narwhal is certainly not without appeal. Dudas has structured a solid enough one-shot tale here focusing on a main character that the audience forms an ever more sympathetic relationship with as the story progresses. No mean feat given that when we first meet him he is cruelly harpooning a whale. Self-sacrifice and an acceptance of responsibility are touchingly underlined with perhaps the one weaker story element being the lack of time spent on the couple's relationship at the beginning of the comic. We don't have enough of an opportunity to build a rapport with the characters for early events to have the effect on us that they should.
There's still an odd mix of the naive and the confident to Dudas's art. It remains unrefined in places, even though his understanding of the mechanics of panel-to-panel storytelling in terms of perspective, movement and building up of mood is assured in delivery throughout. The twelve-panel grid that makes up the page that depicts the protagonist's transformation from man to sea creature in terrifying close-up, for example, is a fine piece of atmospheric craft. Similarly, Dudas's colour palette brings an eerie otherworldliness to the undersea domain within which much of the comic takes place.
The Cornwall Narwhal shows a marked level of growth since To the Waters and the Wild. Dudas's visuals will still be perceived as unsophisticated by some but his work has developed significantly since I last covered his comics several months back. At just £3.00 for 24 colour pages this is also a financially accessible package for the casual reader wanting to investigate a newer face on the small press scene.
For more on the work of Jake Dudas visit his site here and his online store here. You can also follow him on Twitter here.
For regular updates on all things small press follow Andy Oliver on Twitter here.