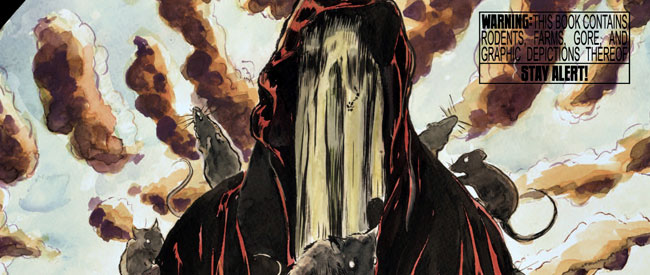 Just when you thought the zombie apocalypse had just about run its course, Action Lab's Danger Zone imprint posits a disturbing new twist on the undead.

Over the past couple of years reviewing books for BF, I've written a lot of words about zombies. To be frank, I thought I was about zombied out. Even The Walking Dead isn't holding my attention very easily, anymore. A sad thing to be sure but inevitable considering the degree of undead over-saturation in today's popular media.
I mean really, just how much more is there to say about zombies? I'm pretty sure Romero got it right the first time. You can only stuff so much social commentary/emotional baggage into a metaphor that spends most of its time shuffling about ineffectually and eating the odd brain or twelve…
So why review yet another book purporting to be the latest twist on the restless undead? 'Cuz this one's about critters, folks! And in the case of Action Lab's latest Danger Zone offering The Final Plague, this is a very good thing.
The difference here all comes down to the execution. The Final Plague is a beautifully crafted book. Johnny Arnold and Tony Guaraldi-Brown are both firing on all cylinders – and don't let Guaraldi-Brown's haunting paints fool you. This book isn't just eye candy.
Arnold's approach to his story is intimate yet epic in scope. Trusting in his characters to tell the tale, Arnold dedicates a lot of time and space to developing his ensemble cast. Using dialogue to great effect, he builds relationships and fills in back stories with a deft, natural touch. The end result, despite a shifting POV, is a well-balanced plot that doesn't get bogged down by unnecessary exposition and successfully moves the action along on two different fronts. Even as we discover the true source of the plague in the high-tech labs of an unnamed corporation, we're treated to the immediate repercussions of the outbreak on the stereotypical heartland family.
Guaraldi-Brown's visual stylings are a revelation. Eschewing the popular trend towards hybrid expressionistic realism popularized by Ross, Djurdivic, Ribic, et al., Guaraldi-Brown fuses an unrefined cartoony style with an impeccable design sense and an appropriately subdued watercolor palette to create an atmospheric, moody visual environment that oozes foreboding and suspense.
From Guaraldi-Brown's startling cover illustration to Arnold's exquisite character development, The Final Plague delivers on its promise to present a bold yet simple twist on the typical zombie tale. This one will creep you out!
Johnny Arnold (W), Tony Guaraldi-Brown (A) • Action Lab/Danger Zone, $3.99, April 24, 2013.