Given how heavily it drew from the Lee-Ditko era of Amazing Spider-Man, the status of The Leopard from Lime Street as one of the more celebrated strips of the 1970s era of British weeklies would seem an unlikely one. Like Peter Parker, British schoolboy Billy Farmer gained his super-powers while on a school trip to an experimental lab, although in Billy's case he was scratched by a radioactive leopard rather than bitten by a radioactive spider. Billy was also often preyed on by school bullies, sold photos to his local newspaper the Selbridge Sun which was run by the antagonistic editor Thaddeus Clegg (sound familiar?), and was an orphan doted on by an elderly and fragile aunt. The only real divergence from the Spider-Man set-up was that Billy also lived with his cruel and abusive uncle.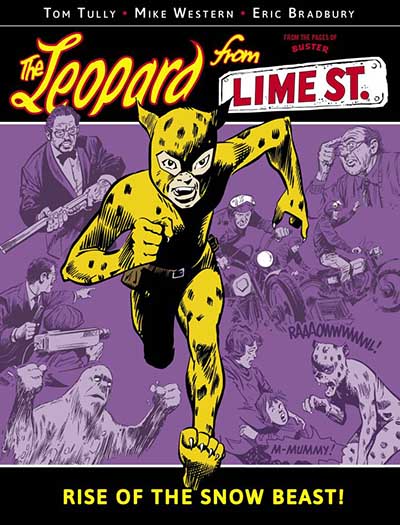 Taking on the costumed identity of the Leopard (often referred to in other terms including Leopardman and Leopard-Man) Billy Farmer would fight crime in the pages of the humour anthology Buster for nearly a decade between the strip's debut in 1976 and its conclusion in 1985. Written by Tom Tully and illustrated by artists of the calibre of Mike Western and Eric Bradbury, the character's adventures would become distinct from his American inspiration's, due to their comparatively more down-to-earth scenarios and bad guys (little in the way of melodramatic super-villainy here) and by putting a slightly different spin on the hard-luck hero premise.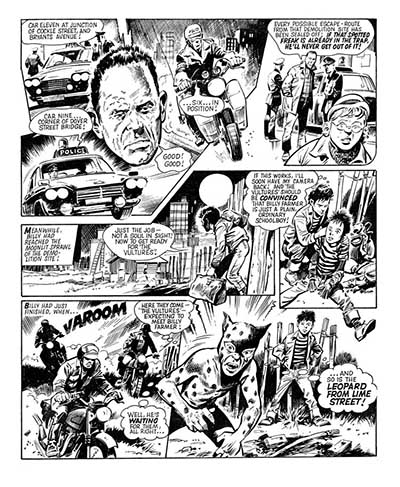 It has been around four years since the last volume of The Leopard from Lime Street was published by Rebellion's Treasury of British Comics imprint and fans of the character could have been forgiven for imagining this third collection of strips was never going to arrive. No doubt the character's inclusion as part of the excellent new Monster Fun series from Rebellion has played a part in this mini-revival. Given the work here is in the region of 45 years old it's pleasing to see how timeless writer Tully's plots are, tapping into universal coming-of-age themes and fun, old-fashioned, good versus evil storylines.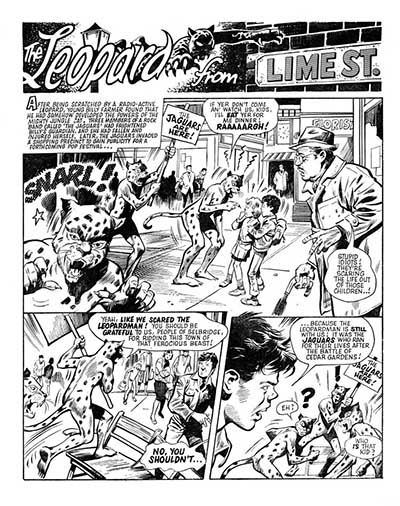 In this collection of The Leopard from Lime Street Billy finds himself in a number of scrapes that threaten both his secret identity and the stability of his home life. These include putting paid to a troublesome street gang known as the Vultures, getting involved with the ill-advised publicity stunts of rock group the Jaguars, and dealing with the villainous "Snow-Beast", a crook who uses inclement weather to further his criminal activities. Perhaps most memorably he takes on an impostor Leopardman while also trying to ensure his frail aunt gets a surprise holiday. It's all neatly tied-up at the end of each arc by Tully without the strips ever degenerating into unpalatable sentimentality.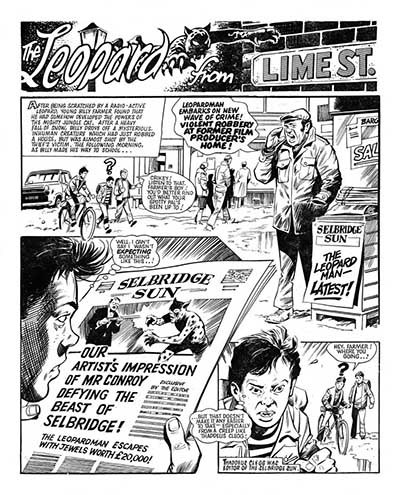 Bradbury and Western's art is a joy throughout, combining high-energy action sequences with more studied character pieces in the subplot moments. This is a suburban world where the antics of a super-hero with powers that mimic a leopard's should seem incongruous and awkward and yet by rooting him in such a recognisable environment his exploits have an unlikely narrative veracity. That there are a notable number of pages from an unknown artist (or artists) here is particularly saddening given these are comics from 1978-79 and not some long-forgotten Golden Age material.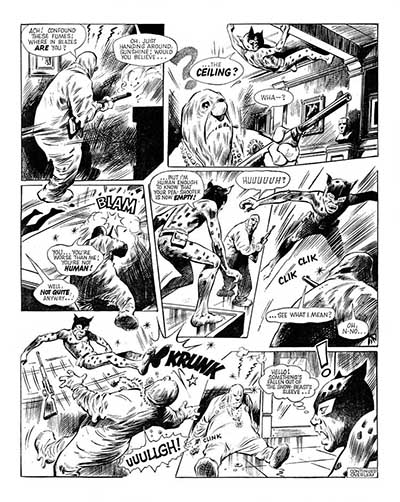 The Leopard from Lime Street stories in this volume were originally presented in weekly increments of three pages at a time so there's an element of resolving the previous week's cliffhanger before advancing the action and setting up a new cliffhanger to most of them. It's an element of these collections that is, perhaps, often overlooked. But as a social document of an era where we enjoyed our media rather than consumed it, there's something fascinating in being reminded that kids of the '70s/'80s would be thinking about those twist endings for an entire seven days waiting to see how Billy would get out of the previous week's scrape. And even then there was, of course, no guarantee that they would even be able to get hold of that next issue anyway.
Let us hope that the continuing popularity of the new Leopard from Lime Street comics in Monster Fun means we won't be waiting four years for the next edition of Billy Farmer's adventures.
Tom Tully (W), Mike Western & Eric Bradbury (A) • Rebellion/Treasury of British Comics, £9.99 (digital)/£17.99 (paperback)/£22.99 (hardcover)
Review by Andy Oliver