A COMICA FESTIVAL TIE-IN!
Rob Davis offers a soul-searching black and white masterpiece of dysfunction and fulfillment.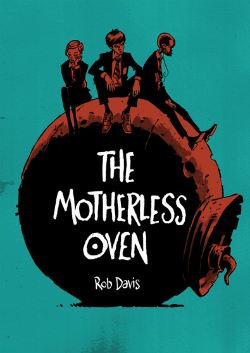 With credits such as "How I Built My Father," "My Family and Other Gypsies," and Nelson, turning the family unit inside-out is becoming a specialty of writer/artist Rob Davis (The Complete Don Quixote). His latest work, The Motherless Oven, is a long-form graphic novel that presents an original take on the typical familial dysfunction experienced by every teenager—the absent father who meant more to you looking back on your early childhood then he does in your teenaged present, and the doting mother you are slightly embarrassed by who obsesses over things you deem trivial yet remains thoughtful and compassionate.
In Scarper Lee's world, children literally build their parents from machines and spare parts. His mother is a commercial hair dryer and his father is a large brass "construction" complete with a sail that he keeps chained up in the shed outside. Simple household appliances are gods with souls who sing their truths and when knife o'clock arrives, large knives rain from the sky. (Scarper's mother is afraid of the knives and waits out the rain by hiding in the cupboard under the staircase.) Perhaps most alarming is that rather than a birthday, people know their deathday—and Scarper's is just three weeks away.
A creature of habit, Scarper is reluctant to alter his life's routines until his father escapes the shed during a laughing storm. Together with two of the most unbalanced kids from his high school, they ditch class and embark on a coming of age story with the police in pursuit that will lead them to the ends of their known world. It's a world that seems light years away yet not so different than our own.
Davis requires you to buy into a sometimes disturbing vision of teenage life that nevertheless asks universal questions about identity and the meaning of existence. Revelations come at the turning points in Scarper's shrinking lifespan. "It's like the sea, the thing that pulls you in pushes you away." And although Scarper and his best friend, Pete Cake, end up at odds with each other, Pete's questioning of his friend's new choices always point to moments of deep personal truth. "Is being alive and having a life the same thing?"
Davis' artwork shines as a master class of how to use black and white to its fullest storytelling potential. It's a dark story with moments of hope and questions about the future that are reflected brilliantly in Davis' thoughtful line work.
The Motherless Oven is weird and wonderful, a view of teenage life seen through a glass darkly with moments of optimism that keep you turning the pages so fast you might forget to fully appreciate the evocative black and white art.
Rob Davis (W, A) • SelfMadeHero, $19.95, October 2014
Rob Davis will be talking about The Motherless Oven on the Cult Comics Comica Conversation (in association with Broken Frontier) on November 7th. For booking details visit the Comica site here.