It's a most appropriate time to be looking at SelfMadeHero's Catalyst anthology – the end product of their 2021 Graphic Anthology Programme designed to mentor and champion emerging creators of colour – given the recent announcement of a collaborative online exhibition with London's Cartoon Museum showcasing the work of its contributors. Edited by Ayoola Solarin, the collection features the work of the seven artists selected for the initiative and their mentors (Catherine Anyango Grünewald, Woodrow Phoenix, Sonia Leong and Asia Alfasi) in individual 8-page stories, with the title embodying the hope that it can play its part in effecting positive change for under-represented voices in the medium.
From a closer to home perspective the book features the work of two of Broken Frontier's 'Six to Watch' creators from our own annual promotional initiative to bring the work of talented UK-based self-publishers to wider audiences. Both Dominique Duong (from our 2020 intake) and Jason Chuang (from this year's "Six") have stories in Catalyst, emphasising their growing profiles on the indie scene.
While shorter stories are sometimes comparatively difficult to review, given their concise nature comes with a need to be economical with what is revealed plot-wise, what immediately strikes the reader about the stories in Catalyst is how delightfully they indulge themselves in the pure language of comics. Telling stories that could not be told in the same way without using the mechanisms of sequential art always impresses us in these parts after all.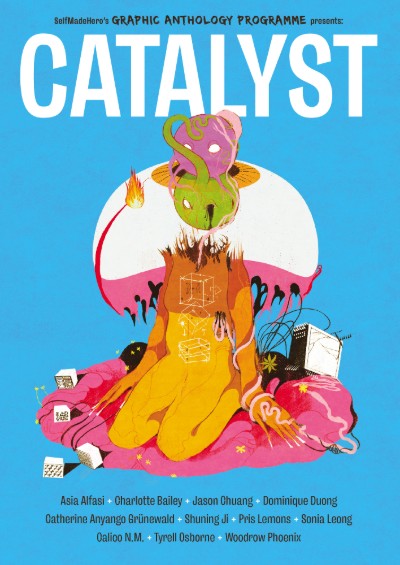 Given the nature of the project there are, of course, many more obviously laudable aspects to it but nonetheless it is notable that much of the work in Catalyst is so experimental in presentation. While it may have been safer in commercial terms to veer more towards more traditional short storytelling, these medium-interrogating tales underline the fluency with the form that these artists already possess.
'The Camera' by Shuning Ji
Take Catalyst mentor Catherine Anyango Grünewald's 'The Host' for example with a very topical reflection, given the last two years, on the way in which our online and offline lives have become so inextricably intermeshed. Here a Zoom call seeps into in-person reality with familiar digital iconography overlapping the "real world" with dramatic consequences. Similarly, mentee Shuning Ji's 'The Camera' uses the trappings of technology as an essential part of its visual storytelling.
'The Guessing Game' by Jason Chuang
I have no doubt that Jason Chuang is about to becomes one of the fastest rising names on the indie circuit with his innate understanding of the structure of the comics page being self-evident in every new piece of work I see. In 'The Guessing Game' he touches on ideas of memory through parallel and converging narratives. It's undoubtedly one of the strongest offerings in Catalyst and an excellent entry point to Chuang's work.
'One Small Thing' by Dominique Duong
Fellow BF 'Six to Watch' inductee Dominique Duong returns to the mythical-style stories she excels at in 'One Small Thing' wherein a supernatural entity responsible for the small events in life that can have far-reaching consequences gets their own comeuppance when they overstep their boundaries. Replete with Duong's inventive and imaginative page layouts and evocative colouring it emphasises just how deserved it is that her work is elevated here to a platform with a wider reach.
'Same Tall Tale' by Tyrell Osborne
When reviewing a comics anthology it's rare to talk about every entry within its pages but given the ethos of Catalyst it would seem tone deaf not to give a much deserved mention to all the featured mentees. Indeed, I was very taken by Tyrell Osborne's exploration of identity in 'Same Tall Tale', especially the way colour was used so effectively to enhance mood. Calico N.M.'s quirkily appealing and busy cartooning on 'Because I've Got All of You' brings an unlikely tale of creation to bustling energetic life.
'Because I've Got All of You' by Calico N.M.
Elsewhere Pris Lemons' 'Orbital Decay' has an alt comics vibe that would not go amiss in a kuš! comics offering as the dynamics of a relationship unfold in an extended visual metaphor. Finally, Charlotte Bailey, whose work has featured before here at BF, gives us a fantastical tale of finding one's place in the world which couches familiar experience in the trappings of the magical.
'Orbital Decay' by Pris Lemons
Of the remaining mentors Sonia Leong's 'Just Like Me' is a meta account of artistic inspiration that has a definite feelgood factor while Asia Alfasi celebrates the power of story in 'Happy Never After' with its focus on the role of women in Arabian storytelling. Rounding the stories out, Woodrow Phoenix provides a powerful and memorable strip in 'Convolute' which brings the life of Hazel Fellows – a Black woman whose groundbreaking contribution to the US space programme you almost certainly will have never heard of – to the page in a powerful and memorable eight pages that echo the very heart of Catalyst's aims.
'Convolute' by Charlotte Bailey
Projects like this are not just important but absolutely crucial if comics publishing in the UK is serious in its desire to actively reflect the make-up of its grassroots and emerging practitioners. The diversity of this book though is just as much in the vast array of approaches to the form within its pages as it is about the voices it is championing; the one no doubt symbiotically complementing and enhancing the other. Amplifying under-represented and/or marginalised voices remains a key issue for comics as both an industry and an artform in 2022 and that's something we all need to be prioritising. Broken Frontier's own 2020 team statement in that regard can be read here. In the meantime make sure to check out the Cartoon Museum/SelfMadeHero Catalyst online exhibition here and pick up a copy of this inspiring anthology, all wrapped up in a striking Sajan Rai cover.
Asia Alfasi, Charlotte Bailey, Jason Chuang, Dominique Duong, Catherine Anyango Grünewald, Shuning Ji, Pris Lemons, Sonia Leong, Calico N.M., Tyrell Osborne and Woodrow Phoenix (W/A), Sajan Rai (CA), Txabi Jones (D), Ayoola Solarin (E) • SelfMadeHero, £14.99
Buy online from SelfMadeHero here or from Gosh! Comics here
Review by Andy Oliver