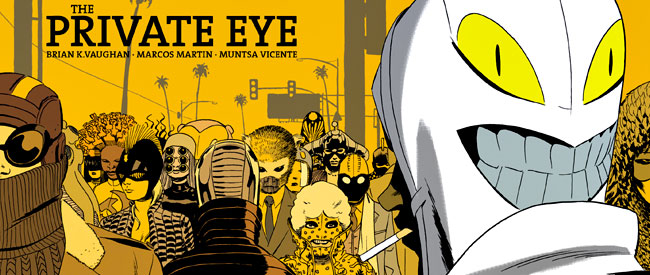 Even as they challenge our perceptions of identity and information, Vaughan and Martin present a bold new alternative to traditional comics.

First things first: regardless of format, The Private Eye #1 is a brilliant comic. Although, it might be impossible to set aside the chosen distribution method in the case of a property so clearly dependent on its platform, critically acclaimed creators Brian K. Vaughan (Ex Machina, Saga) and Marcos Martin (Daredevil, Amazing Spider-Man) have realized a wonderfully disturbing yet utterly familiar new world in their creator-owned masterpiece.
Billed as an old school 10-issue maxi-series, The Private Eye represents Vaughan and Martin's bold attempt to create and distribute work that remains in their sole possession. DRM-free and made available via their very own website panelsyndicate.com, Vaughan and Martin are taking a huge gamble eschewing traditional publication methods.  What's more, they're allowing the reader to set their own price! Be that as it may, regardless of which route their work takes to the audience, rest assured The Private Eye would be a breakout hit at any of a half dozen traditional publishers.
Much of the success of The Private Eye comes from the creators' ability to truly embrace their digital platform. Plotting and layouts have both been optimized for reading on a tablet or widescreen monitor. I downloaded the book – extremely quickly, I might add – to my laptop and found the reading experience thoroughly enjoyable. There was no unnecessary scrolling or resizing of pages, which felt like a bloody godsend! I review a lot of comics via PDF and The Private Eye is by far the most enjoyable the experience has ever been.
But let's throw all of that out the window. What do we have when we disregard the comic's platform and audacious publishing mandate? One hell of a fine comic, that's what. In fact, I would go so far as to say The Private Eye is shaping up to be one of the best reads of the year. The plot follows an illegal paparazzo who flaunts society's strict laws regarding the proliferation of personal information by providing his clients with an alternative to slow and expensive official channels. Set in a dystopian near-future policed by draconian agents of the Fourth Estate and where citizens regularly mask their true faces with elaborate disguises, The Private Eye is a highly intelligent exercise in stylish social commentary.
Marcos Martin's design sense and evidently cynical disposition inform much of the look and feel of the "book." As Vaughan notes in a humorous afterword, when the writer first posited a society that didn't use the Internet at all, it was Martin who immediately suggested they only make the comic available online. It's this roguish sense of irony that infuses the art in The Private Eye. From the panoramic, futuristic skylines to the plethora of individualistic designs – even in crowd scenes – there's a certain sense of playfulness and whimsy that contrasts extremely well with the darker social implications of the subject matter.
"Well-crafted" just doesn't do The Private Eye justice. It's an adjective we use often in the review game. With this latest creative initiative, both Vaughan and Martin take the craft of making great comics to a whole new level. From the bare bones of development to the highly-polished finished product, The Private Eye elevates not just the digital platform but the medium of comics itself.
Brian K. Vaughan (W), Marcos Martin (A), Muntsa Vicente (C) • Panel Syndicate, $0.99 or Your Best Offer, March 20, 2013.