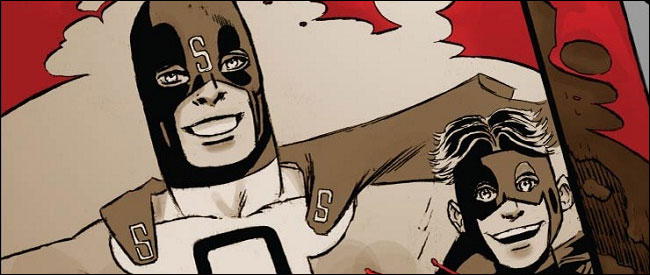 Every once in a while, somewhere between the barrage of monthly Big Two titles that dominate the comics industry's headlines and the periphery of the indie scene that often eschews superheroes, a book comes along that throws a wrench into the works.
The Standard is one of those books, and whether you love superheroes or love to hate them, it's sure to have something for you, as it puts Gilbert Graham, the eponymous Standard, through the wringer, along with the very idea of heroism itself.
With Graham in retirement, Alex Thomas, the Standard's former sidekick, formerly and lamentably known as Fabu-Lad, has taken up the hero's mantle. For Gilbert, life takes on a welcome simplicity.
Now making a living as a high school chemistry teacher, he is able to fade into the background, leaving his status as the world's first superhero behind, seemingly for good. But all that comes crashing down when Alex decides to unmask, revealing not only his own identity, but also that of his legal guardian, Gilbert Graham.
With Alex's decision having blown both of their identities wide open, media inquiries and requests for interviews come flooding in. While Gilbert only retreats deeper into seclusion, Alex jumps at the opportunity, transforming The Standard into a multi-million-dollar brand.
The second Standard's fame is short-lived, however: after a bloody night-time attack in his own home, Sky City's greatest hero is dead at the hands of an unknown killer. Here is where the story of this book really kicks into high gear, and Gilbert Graham's quest to find his protégé's murderer begins.
Along the way, our past-his-prime hero finds himself pitted against enemies from his past, many of whom would be every bit at home in an episode of Adam West's Batman. And with the art of Jonathan Rector, reminiscent of 1950s and '60s work when it needs to be, The Standard cultivates this mood perfectly, setting the present-day scenes of the book in stark contrast.
Writer John Lees has a great ear for dialogue, and he manages to split the difference between the "Silver Age" scenes and more modern events without either seeming out-of-place relative to the other.
In many ways, the success of The Standard lies in the tension between these two time frames, and between the two approaches to superheroics represented by our duo of heroes. The lighthearted Gilbert Graham is emblematic of a simpler time, calling to mind an era when simplistic, cut-and-dried morality tales dominated superhero comics.
All is not as it appears, though, and as we watch Lees and company peel back the four-color façade of Graham's life, the tone shifts abruptly, to a dark, gritty, but not quite pessimistic take on heroes.
This divide has been explored before, of course, but The Standard tackles it in a way few other comics manage to do. Where writers like Alan Moore or J. Michael Straczynski may revel in pushing the envelope and driving ostensibly heroic characters fully over the edge into depravity, Lees treats his characters with a bit more tact. There are no Comedian-esque caricatures here – no one who exists solely as the foil to a more optimistic ideal. It's not a better take, necessarily, but it is a unique one, in a subtle but significant way.
It's easy to pick out similarities between The Standard and other books; at the more recent end of things, Straczynski's Sidekick (with art by Tom Mandrake) especially comes to mind. The two books certainly share themes, and there are analogous characters, but don't mistake this comic as derivative or a rip-off of previous ideas (it actually debuted about a year before Sidekick, and advance copies were making the rounds of review sites a year before that).
Alex Thomas and Gilbert Graham are portrayed in a remarkably realistic way, flaws and all, but this is no typical critique or examination of the superhero genre. At some point along the way, The Standard transcends that old saw of an idea, and the story is better for it.
In many ways, The Standard is a more level-headed take on "gritty" superheroes than any we've seen in quite a while, successfully avoiding the cynical indulgence that sometimes robs heroes of all their heroic qualities. Comix Tribe has successfully managed to put together a first-class creative team; if you're limiting yourself to Big Two books, or even Big Four, this is the sort of comic that crops up occasionally to remind you how dumb that is.
Whether you like your superheroes gritty or bright and shiny, The Standard synthesizes old ideas into a fresh (and damn good) new story. In short, it's one comic you definitely should be reading.