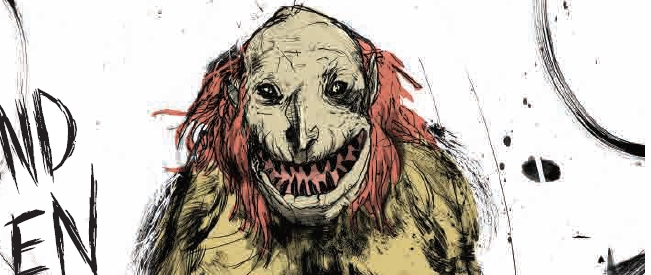 Self-publishing as a potential route to both greater recognition and professional exposure is something I have firmly advocated in this column over the last few years. John Lees and Iain Laurie's And then Emily Was Gone is a prime example of how getting your work out there in print can take you to the next level, with the duo's small press supernatural thriller having recently been picked up by publisher ComixTribe for a relaunch this July.
I reviewed those first two self-published issues here and here last year at Broken Frontier stating then that "And then Emily Was Gone has one of those creative partnerships that just seems to click on every level. Lees' ghoulish and tautly structured plotting is given a whole extra dimension by his co-conspirator's gruesomely imaginative interpretation of the script. There's something very special coming together in this layered horror mystery…"
And then Emily Was Gone follows the troubled Greg Hellinger, a former policeman who is now haunted by visions of monsters wherever he goes. His world becomes a lot more complicated, however, when it collides with that of missing teenager Emily Munro's. A resident of the remote Scottish island of Merksay, Emily disappeared after claiming she had an encounter with the supernatural creature of local myth known as "Bonnie Shaw". Seeking out the infamous copper with second sight, Emily's best friend Fiona persuades him to help her find her missing pal. But something sinister is waiting for them on Merksay, something that seems to have an ominous hold on the local community…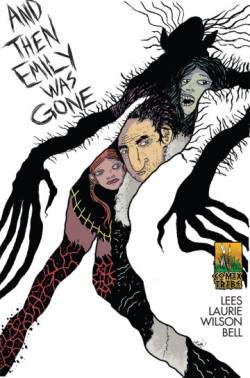 BROKEN FRONTIER: You've described And then Emily Was Gone as "equal parts Twin Peaks, True Detective and The Wicker Man". What other sources/creators inspired this mix of horror and mystery? 
LEES: The funny thing is, people started throwing out that True Detective comparison before I'd even seen the show. Now that it's finally aired in the UK I can acknowledge it as a compliment!  But yeah, Twin Peaks and The Wicker Man were a couple of titles we've often shouted out at cons when making elevator pitches to potential readers.  In terms of what other creators inspired the feel of the book, the films of Ben Wheatley, in particular Kill List, were a big part of our discussions.  That idea of starting in one genre and coming at it from a weird, unnerving angle, then pushing, pushing, pushing it until you fell into the realm of horror was very appealing to me.  The ghost stories of M.R. James are quite inspirational too, in the way they suggest that the horrific can quietly slip its way into our rational world.
LAURIE: Definitely the ones mentioned above, and also all the recent spate of Nordic detective dramas like The Bridge and The Shining.
BF: I've reviewed Iain's work with Craig Collins on a number of occasions at Broken Frontier (here and here for example) being rather taken by what comes out of what I've described as their "magnificently poisonous headspaces" and argued that "Few artists do macabre like Laurie does". From your perspective, John, what made Iain such an ideal fit for And then Emily Was Gone?
LEES: Iain Laurie is not just an ideal fit for And Then Emily Was Gone… without Iain, there would be no And Then Emily Was Gone!  Iain Laurie has been one of my favourite comic artists for years now, and this project was borne out of us getting together and talking about what our dream project to work together on would be.  Iain raised some characters and scenarios he'd like to explore, and from that I crafted it together into a story.  Then Iain and I talked over that story together, until we ended up with a product which I feel reflects both our interests and creative strengths.
When I got to scripting, I specifically wrote the kind of story that I – as a fan of Iain's work with Craig Collins and his other stuff like Horror Mountain and Powwkipsie – would love to see drawn by Iain Laurie, whether it be incorporating some of his motifs or imagining new monstrosities that I was eager to see him bring to life.  Like you say, "few artists do macabre like Laurie does," and so I definitely think of this comic as a showcase for Iain and what he can do.
BF: Iain, over the last couple of years I've likened your splendidly grotesque art to a number of classic and contemporary creators saying in particular that your visuals reminded me of "the weird caricaturing of the late, great British kids comics artist Ken Reid, only with every last ounce of humour squeezed out and just the utterly grotesque left behind." Who do you count among your artistic influences?
LAURIE: Well spotted! I love Ken Reid. He was the first artist I tried to copy from when I was wee. I can still look at his work and see stuff I've learned from him. Other influences are Alan Davis, Frank Quitely, Paul Pope, Kevin O'Neill, Rafael Grampa, Nick Pitarra. There are so many. Outside of comics – Peter Howson, Ralph Steadman, Charles Avery, Francis Bacon and filmmakers like Tim Burton, Terry Gilliam and David Lynch. David Lynch is my hero. Everything I do is indebted to him.
BF: Could you tell us a little about what Megan Wilson's atmospheric and gloomy colouring brings to the book? And the role that Colin Bell plays with his rather neat storytelling tricks on the lettering?
LAURIE: For me, Megan and Colin are as important and vital as me and John. It's a team effort and I think the incredible work they do makes what I do look passable. I've never had to really give any notes to Megan. She just seems to read my mind with the colours. I hope that's not true as you'd probably get long-term damage from reading my mind. And Colin… what can you say? He's one of the most in demand letterers on the small press scene and there's a reason for that.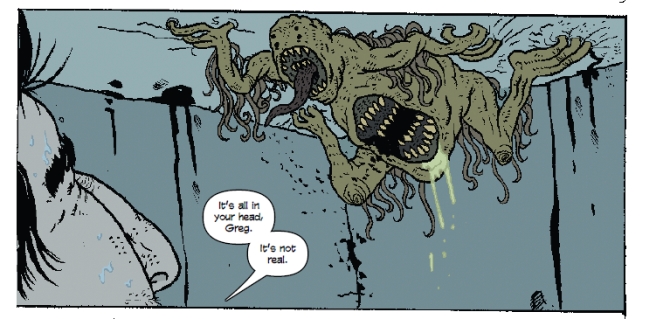 LEES: There's not much I can say that Iain hasn't covered.  Colin is the consummate professional, and deserves a medal for the skill with which he wrestles my sprawling words into manageable structures on the page.  And Megan is just a dynamo.  I get this rush of joy seeing new pages from Iain pop up in my inbox, then I get the colors from Megan and it's like seeing the pages for the first time all over again.  She gives the book this sickly hue which gels so well with Iain's imagery.'
BF: You self-published the first two issues but the whole series is now coming out via ComixTribe. How did that partnership come about?
LEES: My first comic series, The Standard, is published by ComixTribe, and those guys have just been a joy to work with.  Publisher Tyler James has a great mind for comics marketing, editor-in-chief Steven Forbes is like a comics mentor to me, and chief creative officer Joe Mulvey is an immensely talented creator, and the whole label is imbued with this passion for comics that's earnest and infectious.  And the books they put out are excellent to: in terms of both quality and production values they're among the most professional of any indie company.  So you have a publisher on the rise that's getting bigger every year, and the fact that I knew they'd treat me well, plus they had already shown interest in And Then Emily Was Gone… it just felt like the perfect match!
LAURIE: Basically me wanting to do something with more structure and commercial appeal than my other stuff and being blown away by John's work on The Standard and knowing he was something special and seeking him out. Once I had got over the appalling disappointment of meeting him, Emily was born!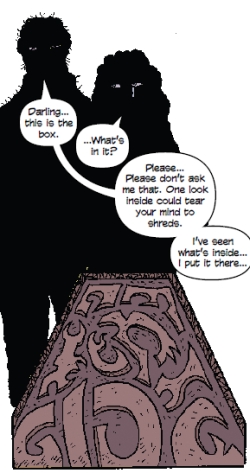 BF: And then Emily Was Gone is an intriguing mix of the outright gory and horrific with a more carefully paced, quieter sense of tension. Was that a balance you were actively seeking to create to ramp up the book's disquieting nature, both in terms of narrative and visuals? 
LEES: Absolutely.  Most of the horror in the book is generated through mood, this oppressive, uneasy atmosphere that builds throughout.  But punctuating that with these Grand Guignol moments of brutality or skin-crawling pestilence is hopefully enough to jar the reader and have them dreading more of that with every page turn!
LAURIE: Visually I looked at films more than comics when it came to the pacing and storytelling. The biggest influence was a children's film I saw of Peter and the Wolf when I was really small and it stuck with me. But at the end of the day I do 'gory and horrific' and John does 'carefully paced and tense' so that's what was always going to happen with us working together.
BF: Within the first two issues the supernatural legend of Bonnie Shaw plays a central role in the proceedings. What is it about the stuff of folklore, do you think, that makes it such a distinctly chilling source for horror fiction?
LEES: For me, the likes of vampires and zombies have lost much of their ability to frighten because they're so played out.  Typically, something will cease to be scary once it enters the mainstream cultural iconography.  But ghost stories, when done well, are evergreen in their ability to frighten, because they feel less like they're riding a pop culture wave, and more like they're speaking to something older and more primal in our psyche.  Creatures of folklore are a bit like that.  As a society, we've moved away from this stuff that used to hold a lot of power over our lives.  But I love the idea that, even though we've built our cities and insulated ourselves from all those fairy stories… if you go out far enough into the wilderness, just maybe, Bonnie Shaw is still out there, waiting.
BF: And, finally, outside of And then Emily Was Gone what other comics projects are you both working on at the moment? 
LEES: More work with ComixTribe!  This year will see The Standard come to an end, with the last two issues being released worldwide later this year, and the collected edition likely set for 2015.  I'm also co-writing a miniseries spinning out of ComixTribe's Red Ten series with Tyler James, the writer of The Red Ten.  That's called Oxymoron: The Loveliest Nightmare, and it takes the vicious, Joker-like villain of The Red Ten, The Oxymoron, and removes all the superhero trappings and sets him against a hopelessly ill-prepared police force in a macabre crime thriller.  Artist Alex Cormack has started sending in his pages for that, and they are soooo good.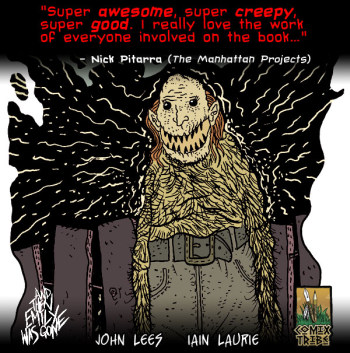 I recently wrote a story for the Little Nemo: Dream Another Dream anthology that Nick Pitarra is drawing – working with him is just incredible, I've been trying hard not to geek out.  Beyond that, there's more work with Iain, and I'm also developing a few more ideas in the horror realm that might hopefully come to fruition down the line.
LAURIE: After Emily is wrapped I've got a few things lined up including a strip with Sam Read(Exit Generation) for Grayhaven, and a back-up for The Standard. Me and John have a few other things planned too, and I've also got things in the very early stages of development with Tim Daniel (Curse, Enormous) and Owen Johnson (Raygun Roads). Plus I would like to do a sequel to my Iain Laurie's Horror Mountain comic called 'Iain Laurie's Caravan Of Wrong.'
And then Emily Was Gone #1 (MAY141251) will be available this July from ComixTribe priced $3.50.