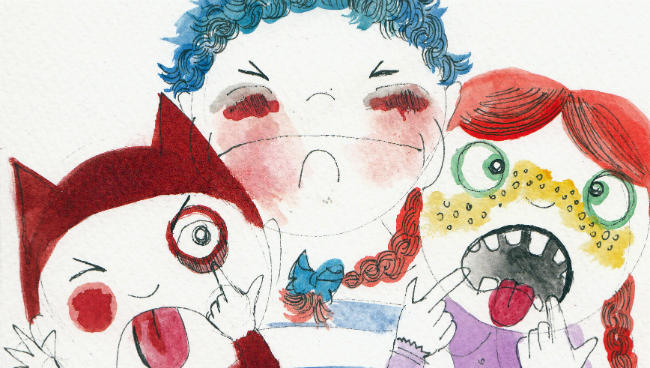 When you cross over to "the sunny side of sinister" with small press artist EdieOP you enter the wicked imagination of a creator whose twisted and gleefully nefarious narratives are cleverly concealed in the trappings of a deceptively childlike innocence. I first discovered the comics of EdieOP in 2013 when I reviewed her early offerings Jonah and 7 Blows to the Head in this column and, thereafter, EdieOP  quickly became one of a select group of creative voices whose work I have not just sought to promote in 'Small Pressganged' but to actively champion.
In that regard it's been an absolute pleasure to see her profile continue to rise over the last few months. Building on appearances in a number of UK anthology titles, early 2014 saw her best self-published work to date in Dangerfun, and the recent announcement of her first full-length graphic novel Maleficium from Avery Hill ensures her status as one of the true up-and-coming stars of the UK small press scene. Back in 2011 when 'Small Pressganged' debuted at BF, its original remit  was to "unearth the gems of the small press" and the back catalogue of EdieOP certainly fits that criterion.
In the latest of my series of 'Small Press Spotlight on…' interviews I chat with Edie about that mischievous mix of the dark and the naive in her stories, the inspirations for her singular and distinctive visual style, and just what we can expect from the pages of Maleficium later this year…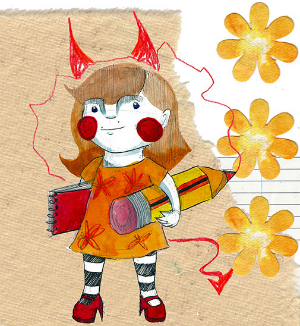 BROKEN FRONTIER: Your comics have become something of a regular feature here in 'Small Pressganged'. Indeed, I described you as my "major self-published find of 2013" in my annual 'Ten UK Small Press Comics You Need to Own' column earlier this year. To begin with, could you tell us a little bit about yourself and your route into comics to date?
EDIEOP: Hi Andy! Well I'm EdieOP; illustrator and comic artist, although I make a lot of other stuff too. I write and illustrate my own comics that are usually a little bit dark and a little bit silly. I feel like I kind of fell into comics in the best way possible. I went to the University for the Creative Arts with the aim to improve my drawing skills and find out what the best medium for me to work in was. I'd never really thought about drawing comics.
It was in second year when our theory lecturer Jim – who was organising a university table for Comica Comiket – suggested that I submit something for it. This was when I created 7 Blows to the Head (a comic about the seven times I'd been hit around the head) and then had a bit of an artistic meltdown over the summer and drew/painted LOTS of whales. At the time I felt my work wasn't matching up with how I wanted it to look so I decided I was just going to paint whales/large fish until it got somewhere I liked. So I was painting and drawing these whales, which then led onto me reading whale lore, which then led onto Jonah. (Jonah was my second comic about the dangers of not feeding your fish).
Drawing both of these comics gave more confidence to create comics drawn from real life or ones swaying toward the slightly more absurd like Jonah. After Jonah I wrote and illustrated Callisto Close; a story about childhood innocence and bleak realities and Dangerfun; a collection of incredibly stupid things kids do when they're bored. Since then I've mostly been writing, plotting and drawing Maleficium my first graphic novel coming out very soon (later this year). I also like to submit short comics to anthologies and work to galleries/open calls. I try to keep very busy! Anyway, at the risk of waffling on I'm going to move to the next question.
EdieOP's self-published debut – the gruesomely slapstick 7 Blows to the Head reviewed here in 'Small Pressganged'
BF: What was it about comics/zines that appealed to you as a medium for your work?   
EDIEOP: I loved the medium before I could use it if that makes sense? So it was something I was always interested in and then it just became more and more appealing as I found my feet writing. Once I got started with writing I love the whole thing of how you can use the page and panelling to pace the story. If I ever set out to work in a book format I like to try and use it and get everything I can out of working like that. I really love building my own books as well, picking the paper and sewing them together myself.
EdieOP's second minicomic Jonah, reviewed here at Broken Frontier last year
BF: You describe your comics with the tagline "The sunny side of sinister". Given the dark humour that's so intrinsic to your work which artists would you consider to be a particular influence on you?
EDIEOP: Visually I absolutely love and am heavily influenced by children's books and artists like Eric Carle, Shirley Hughes and Shaun Tan. I love the one with the fish covered in sequins but for the life of me I can't remember what it was called. As for the sinister I've been a huge horror fan since I was a very young child, I remember going to a friend's house for tea when I was 8 years old and watching one of the Chucky films and not telling my mum when she came to fetch me. Also around that same age a lot of kids at school were doing Ouija boards so I'd say the sinister came from being introduced to ghost stories and horror fiction very young and never falling out of love with it.
BF: I've reviewed a number of your books including Jonah, Seven Blows to the Head and Dangerfun. For the uninitiated coming fresh to the world of EdieOP could you describe the kind of subject matter and tone of some of those projects?
EDIEOP: Ooh haha I'd probably warn people away! I actually do have to warn people sometimes, especially with Dangerfun. I've had a few people think it's actually a children's book so I've had to casually mention to check inside first because I've written something horrible. Generally the tone is quite silly and I feel often it needs to be because I'm poking fun at something I probably shouldn't be; like getting smacked around the head seven times. I do feel like the tone is the 'sunny side of sinister' because my comics are usually about something quite dark with a cheerful outlook or overtone.
2014's Dangerfun – a look at the terrifyingly dangerous things we do to entertain ourselves as children – reviewed here in 'Small Pressganged' 
BF: Outside of self-publishing you've been seen in a number of UK anthologies like ink + PAPER and Off Life. How did you become involved with those projects?
EDIEOP: I always have my eyes peeled for call-outs for projects, usually on Twitter. I'm a bit of a Twitter fiend when I can find time to keep up with it. I do love anthologies though. I find it an exciting opportunity to get involved in something you might have not have considered yourself and it's always lovely seeing your work alongside other people like a big arty pick and mix. I just try to meet as many people as I can and send my work out a lot.
BF: You've recently become one of a new wave of exciting small press creators to be published by micropublisher Avery Hill. How did you become part of AHP's new stable of artists?
EDIEOP: I'm really excited to be working with Avery Hill and it was fantastic to meet everyone at the Avery Hill Summer Party at Orbital Comics (below). I got talking with them after they'd seen Dangerfun and it just so happened I'd been writing Maleficium in secret for a few months so I sent them the script and some early artwork! I was really happy to do submit for their anthology Reads too. It was a fantastic anthology to be a part of.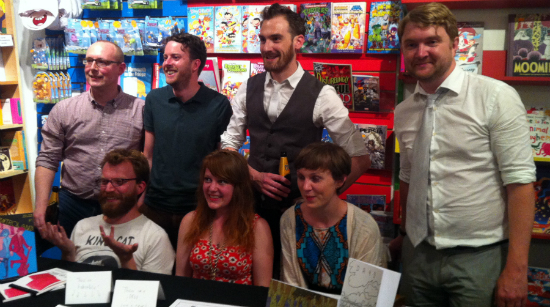 The Avery Hill Publishing launch at Orbital Comics in July with the AHP team assembled. Front row left to right – Simon Moreton, EdieOP, Gill Hatcher. Standing, left to right – David White, Tim Bird, Owen D. Pomery and Ricky Miller. 
BF: As just mentioned, Maleficium is the title of your first long-form graphic novel coming later this year from Avery Hill. What's the book's basic premise?
EDIEOP: Maleficium is the story of Huxley Leighton-Lomax; an aspiring wizard who should know better than to feed the dark forces that lurk in the corners of his house. Huxley lives at home with his dad Alexander (Al) and baby sister Adelaide where he plays dress up as a wizard but soon encounters real supernatural forces in action. I don't really want to say much more than that. I'd quite like it to be a surprise when it comes out.
Exclusive preview pages from Maleficium
BF: How different has it been to work on a full-length graphic novel after so much shorter form work? What were the particular challenges of adapting to a fuller narrative?
EDIEOP: I thought it would be a lot more different than it was but I didn't struggle like I thought I would. The Maleficium story was always going to be quite a long one so I scripted and storyboarded it like I would a shorter comic and started drawing it. It's been a little tricky recently trying to remember where I'm up to, what's meant to happen, what has happened, whether it works on the page and dropping/including things as I go along! I rely very heavily on sketchbooks and notes so I just take those with me everywhere. The one thing I try to keep in mind is that it's the story that's important not the length, so if it evolves to be shorter or longer than I planned then to just roll with the punches.
BF: You work in a lot of different media. How important is it to you to constantly experiment with the presentation of your work?
EDIEOP: It's more like a weird second nature. I've often felt like I've had to pick a media and settle with it to be taken seriously as an artist but it doesn't feel right. I'm comfortable working with a range of media so I pick what feels right for the project and go with that.
Samples from Edie's anthology contributions including 'Happy Camping' from ink + PAPER #4, 'The Five Stages of a Financial Crisis' from Off Life #3, and 'The Story of Lucius Jellybean' from Reads Vol:2 #1
BF: Colour plays a very intriguing role in your work, giving vibrancy to the malevolent and the disturbing. Is your use of colour a conscious decision to give a feeling of the playfully childlike to your sometimes quite gruesome stories?
EDIEOP: Yes, a lot of the time I use colour and a softer, more bouncy drawing style to offset some pretty extreme uses of cartoon violence/gore. I don't want my work to cross the line where the gruesome becomes too much or off-putting and I think appropriate use of colour helps keep that balance.
BF: Are there any projects in the works after Maleficium? What's next for EdieOP?
EDIEOP: Oh yes! Mostly all in journal/sketchbook stage but there's a lot lined up that I want to work with, I'm currently planning a short 'The Night Time Ice Cream Van' that I'm not sure if it's going to be an animation or a comic yet.
Samples of Edie's online comics. Read the full strips on her site here.
BF: And, finally, at what comics events in 2014 can our readers catch up with you in person? 
EDIEOP: I'm going to be at The Lakes International Comic Festival in October and 22 Panels in Falmouth at the end of October, and then in November I'll be at Thought Bubble. I usually do something around Christmas too but I haven't got anything written in stone yet. Hopefully see you all in person. My table will be the very bright one and I might have balloons.
For more on EdieOP's work visit her website here. Reads Volume 2 #1 including an EdieOP short story is available from Avery Hill Publishing's online store here priced £4.00 with Maleficium available later this year. You can pick up ink + PAPER #4 which also includes one of Edie's shorts from their store here priced £8.00. Off Life #3 is available to read for free online here. You can follow EdieOP on Twitter here.
For regular updates on all things small press follow Andy Oliver on Twitter here.