Thought Bubble have announced their latest line-up of guests for this year's festival including a number of regular favourites here at Broken Frontier. Check out the press release below for more details.
THOUGHT BUBBLE FESTIVAL ADD MORE GUESTS TO 2023 COMIC CONVENTION OVER TWENTY-FIVE NEW NAMES INCLUDING JOCK, CHARLIE ADLARD & TULA LOTAY ANNOUNCED FOR YORKSHIRE EVENT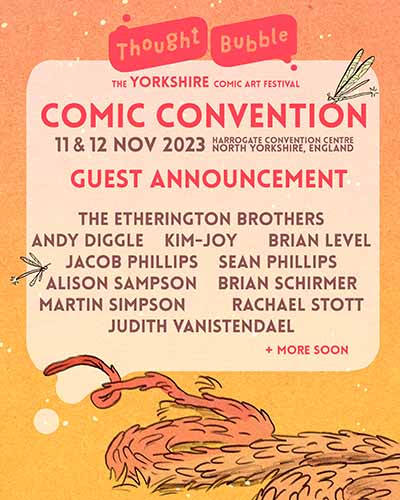 Yorkshire Comic Art festival Thought Bubble have announced another group of special guests for their 2023 comic convention at Harrogate Convention Centre, with over twenty-five of some of the biggest and the most exciting new names in the industry joining the huge two-day event.  One of the key dates in the international comics calendar, Thought Bubble brings together hundreds of artists, creatives, writers and industry professionals alongside thousands of fans for a celebration of all things comics.
Leading this latest announcement are famed British artists Jock (Dredd, Batman, Wolverine), Charlie Adlard (The Walking Dead, Batman, Mars Attacks) and Thought Bubble founder Tula Lotay, fresh from winning big at last week's Eisner Awards at San Diego Comic Con.
Also joining this announcement is debut comic artist and Great British Bake Off star Kim-Joy, acclaimed Dutch comics author and illustrator Judith Vanistendael, artist / architect Alison Sampson and many more.
They join previously announced names including leading figures like ND Stevenson, Molly Knox Ostertag, Jeff Lemire, Zoe Thorogood and Dapo Adeola.
A gathering of some of the most influential writers, artists and creators in the world, the convention is just as much a celebration of Britain's own grassroots comics community. Thought Bubble Comic Convention is taking over Harrogate Convention Centre with panels on everything from classic comics to contemporary offerings as well as invaluable Q&As for budding creators and seasoned aficionados alike and, of course, all the comics, artwork and memorabilia they can muster.
Tickets for Thought Bubble Comic Convention are on sale now with under 12s, carers and over 65s tickets totally free. Tickets give access to all events within the comic convention weekend; panels, workshops, guest signings, as well as the three huge halls of over 400 exhibitors, publishers and much more still to be announced.
November will also see the return of Thought Bubbles companion Leeds-based festival. Presented in partnership with Leeds BID, Thought Bubble will once again host a week-long celebration of all things comics that will see exhibitions, screenings, workshops, social events and venue-takeover pop ups happening across Leeds and Yorkshire in a build up to the convention itself with full details to come next month.
–
Announced Today:
Charlie Adlard, Jock, Tula Lotay, Lewis Hancox, Judith Vanistendael, Alison Sampson, Kim-Joy, Leah Moore, John Reppion, John Lees, Jules Scheele, VER, Shazleen Khan, Arielle Jovellanos, Al Ewing, Dave McCaig, Martin Simmonds, Andy Diggle, Martin Simpson, Brian Schirmer, Brian Level, The Etherington Brothers, Jacob Phillips, Sean Phillips, Rachael Stott
Announced so far:
Dapo Adeola, Natalie Andrewson, Jeff Lemire, Sonia Leong, Molly Knox Ostertag, ND Stevenson, Zoe Thorogood, John Wagner, Christian Ward, Jason Aaron, Luke Healy, Hassan Otsmane-Elhaou, Juni Ba, Lucy Sullivan, Kristyna Baczynski, Rachael Smith, Explodikid, Deb JJ Lee, Patric Reynolds, Ram V, Bex Glendining, John Allison
–
Chloe Green, Thought Bubble Festival Director:
"This new batch of guests is a really wonderful mix of old friends and brand new faces to Thought Bubble, who span from self-publishing to the biggest comics you can name, and all of whose impact on comics is undeniable and unavoidable!"
For full programme, guests and events please visit:
https://www.thoughtbubblefestival.com
Press For Thought Bubble:
"The highlight of the year for comic, animation, games and film fans across Yorkshire and beyond." – The Big Issue
"So many cool guests! We got up to some really cool stuff" – WhatCulture
"this is a weekend in the comics calendar that is as much about the people attending as their chosen art form and that sense of comics community was evident throughout" – Broken Frontier
THOUGHT BUBBLE FESTIVAL
LEEDS & ACROSS YORKSHIRE
6th – 12th NOVEMBER 2023
THOUGHT BUBBLE COMIC CONVENTION
HARROGATE CONVENTION CENTRE
11th – 12th NOVEMBER 2023