THOUGHT BUBBLE 2019!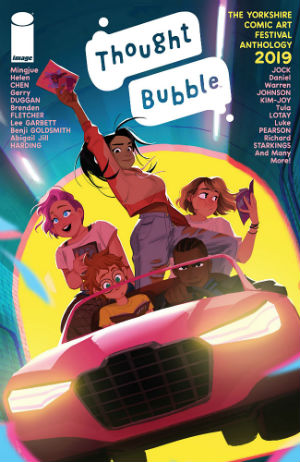 One of my annual traditions for Thought Bubble in years past was to devour that year's Thought Bubble Anthology on the train journey up to Leeds. What better way, after all, to get in the mood than reading a collection of stories that so richly spotlighted the diversity of the form in terms of style, approach and form? This year I'm foregoing that pleasure to take a quick look at this year's anthology beforehand. Who says this isn't the Broken Frontier Age of Selfless Sacrifice?
It will come as no surprise to our regular readers that what particularly appeals to me about the Thought Bubble Anthology is its placement of the kind of emerging talent this site exists to champion alongside established superstars of the medium. Indeed two artists from our own annual Broken Frontier 'Six Small Press Creators to Watch' initiatives over the years have been included in its pages, with both Peony Gent and Emily Rose Lambert featuring in previous editions.
In that regard it has a similar philosophy to our own Broken Frontier Yearbooks or projects like the late, lamented and oh-so-missed Dirty Rotten Comics. This was something I was saying to Black Crown's Shelly Bond at Orbital Comics in London last weekend (my first blatant piece of name-dropping in 13 years of writing for BF!) about the imprint's upcoming Hey, Amateur! anthology. Projects that make a point of spotlighting new talent by drawing in readers with fan-favourite names will always align with our own sensibilities at BF and it's lovely to see past winners and shortlistees of the Thought Bubble Comic Art Competition including Antonas Deduchovas, Dave Barker, Kthova, Alexandra Jane Mallinson and Anna Botsou showcased alongside the likes of Jock, Luke Pearson, Daniel Warren Johnson, and Tula Lotay. And don't forget the Thought Bubble Anthology is also a charity publication with all profits going to Barnardo's!
That's more than enough preamble though… what about the actual contents? Stories range from everything from sci-fi to autobio with the opening Luke Pearson (of Hilda fame if it needs mentioning) story 'Into Comics' (above left) giving us a suitably celebratory meta reflection on the joys of comics reading. That's followed by a rather sweet two-pager from Great British Bake Off finalist Kim-Joy that gives an autobio piece on a day in the kitchen (above right). Other standouts include Brenden Fletcher and Michele Assarasakorn's 'Comiquest' which beautifully evokes that feeling of excitement of finding your very first comic shop, and Gerry Duggan and Lee Garbett's moody love letter to collecting in 'The Stash'. And if you don't well up at Rachael Smith's story of dog-sitting an aged, blind dog called Dollie (below) then you have no soul. It's just a beautiful, thoughtful and life-affirming piece of autobio. Smith's expressive cartooning and use of colour always draws the reader's eye in and this is a real gem from her.
Of the competition entrants I was entranced by Kthova's 'Lost in Thoughts' which toys with the panel structure of the page to mirror theme with narrative intent. Definitely an artist to keep an eye on. And the silent storytelling of Antonas Deduchovas' 'Force of Habit' is almost notable for its rhythmic poignancy.
Yes there's a wide difference in the technical ability between contributors but that's entirely appropriate given the nature of the book. I would have been disappointed to have seen anything else because the Thought Bubble Anthology is a reflection of the festival itself. It's about celebrating those learning their craft alongside those big names in the industry, about discovering burgeoning new talent as well as being in awe of the legends, and about embracing the democracy of the medium. Make sure to grab your copy and read it in eager anticipation on your trip to the festival. We'll see you all in Harrogate!
Luke Pearson, Kim-Joy, Benji Goldsmith, Abz J. Harding, Ellie Wright, Colin Bell, Brenden Fletcher, Michele Assarasakorn, John J. Pearson, Antonas Deduchovas, Dave Barker, Kthova, Jock, Alexandra Jane Mallinson, Anna Botsou, Gerry Duggan, Lee Garbett, Tula Lotay, Rachael Smith, Daniel Warren Johnson, Richard Starkings and Mingjue Helen Chen (cover artist) • Image Comics, $3.99
Check out the Thought Bubble 2019 site for more information on the festival.
Review by Andy Oliver