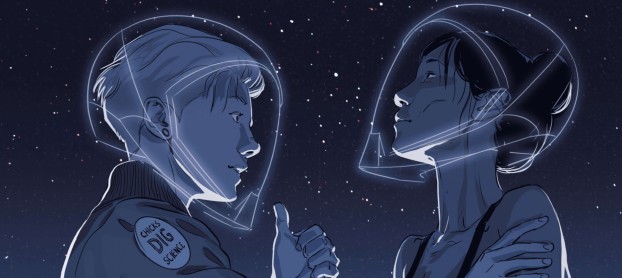 Cast Iron Books are the newest mover and shaker on the UK comics publishing scene but there's a very familiar face behind this boutique publishing enterprise. Lizzie Kaye, who most recently built up an eclectic list of graphic novels at Unbound, is the driving force behind this venture. Their first book Future, by Tom Woodman, Rupert Smissen and Aditya Bidikar, smashed its Kickstarter target in a handful of days this past week. I chat today with Lizzie about the plans she has for Cast Iron Books, the opening line-up of titles, and an exclusive reveal or two about what's coming in 2021…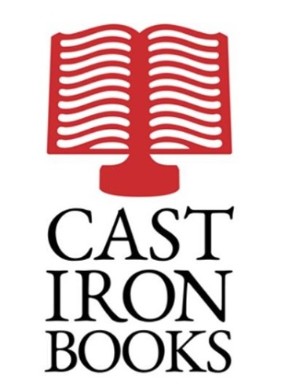 ANDY OLIVER: You've worked with a number of graphic novel and comics publishers over the years. So let's start with the scene-setting. Give us the background on Lizzie Kaye's adventures in comics publishing to date?
LIZZIE KAYE: Oh god, there have been lots. In a nutshell, I started out a decade ago at SelfMadeHero where I was lucky enough to work with some of the very best, and I got to continue in that vein when I followed my curiosity about the single issue market over to Titan Comics. I went freelance in order to move to the countryside, and was simultaneously offered the opportunity to build a graphic novel list from scratch at Unbound – who were extremely ahead of the curve in that I worked remotely from the start – and commissioned, crowdfunded and had published five graphic novels in eighteen months – Grafity's Wall by Ram V, Anand Radhakrishnan and Aditya Bidikar; Reel Love by Owen Michael Johnson; Life Drawing by Jessica Martin; The Carpet Merchant of Konstantinyya: Vol 1 by Reimena Yee; and Barking by Lucy Sullivan. I left Unbound at the beginning of this year – they were shifting their focus slightly and I had firmed up the plan for Cast Iron Books, which had been simmering away for a while thanks to many chats with the Unbound management team.
AO: Cast Iron Books is your new venture. What's the significance of the name?
KAYE: Choosing a company name is hard, especially for a publishing company. It took me a long time. So many of my initial ideas were related to books or typography or mythology and they were already taken, which forced me to think a little more laterally. I wanted a name that captured the idea of an object that you treasure, that had slightly rustic artisanal connotations and, most importantly, that suggested timelessness. I landed on Cast Iron Books thanks to a good old pre-lockdown pub chat with a friend. We were joking about frying pans and fires and new beginnings and playing with that idea and the name Cast Iron Books made us both stop dead. That was it. Looking into it a bit more, it turned out that graphite plays a key role in creating cast iron. For a publisher specialising in illustrated titles, it was perfect.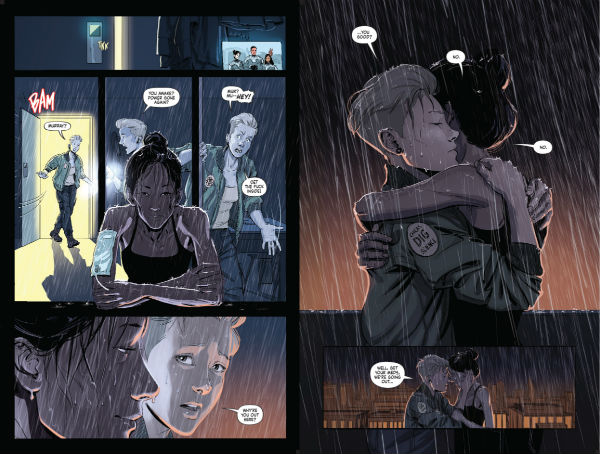 Future by Woodman, Smissen and Bidikar
AO: How would you describe your publishing ethos? What have you been looking for in terms of approaches to the form and subject matter?
KAYE: My publishing ethos is very much creator led. I see my role as a collaborator who is there to facilitate the process of getting a book into as many hands as possible. For that to work, it's important that there is a lot of trust and respect on both sides – that's how we'll make beautiful books that readers want. And since there's only one of me, and I work so closely with creators, there won't a be an enormous number of Cast Iron Books – I believe that if each book is given dedicated attention and support, there shouldn't need to be a huge list in order for a company to be financially viable.  I'm interested in longevity and books that readers will return to again and again – books a reader will form an attachment to and be pleased every time they see it on their shelves. That takes time. For now, I'm looking for longer form works, and I'm not particularly interested in restricting the list to any particular style or genre –the red thread that links all the Cast Iron Books projects is that there's an idea or a feeling that the creators are exploring or expressing or trying to unravel and understand. That's what I think art is for, so that's what a Cast Iron Book will always be.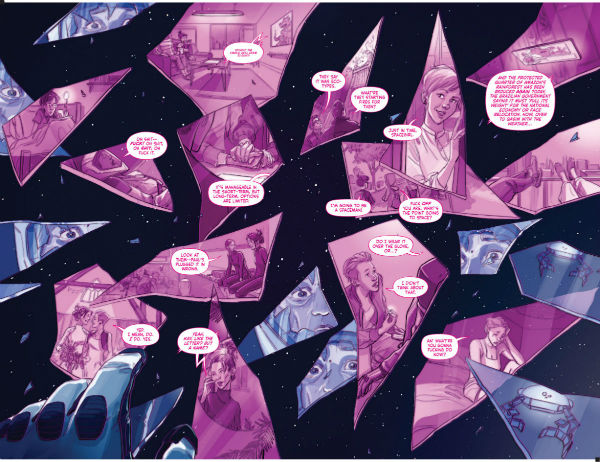 Future by Woodman, Smissen and Bidikar
AO: Your first book Future by Tom Woodman, Rupert Smissen and Aditya Bidikar went live on Kickstarter last week. Will crowdfunding form the basis of your business model going forward?
KAYE: For the next couple of years, yes. It's hard and labour intensive, but I do truly believe it is the publishing model that gives creators the best chance of reaching a large engaged audience in a way that allows them to see a financial return for their work in a more consistent and sustainable way. I do have plans for the future that won't rely completely on crowdfunding, but I do think it will always form a part of the business model. Apart from the financial benefit, the opportunities for building a readership that it offers can't be easily replicated offline, especially now, and it's the readership that matters..
AO: You've taken on some of the titles that you commissioned at Unbound before their publishing model changed. How will that affect those who already pledged on those titles?
KAYE: I was really thrilled to be able to do this. Cast Iron Books and Unbound have agreed a partnership arrangement that means those pledges will now be fulfilled by Cast Iron Books – absolutely nothing changes for those backers except that the logo on the spine will be different – their names will still be in the back of the book, too. It is wonderful for the authors who have come over as they worked so hard on the campaigns while the books were with Unbound and it's fantastic that we can honour that work and the support their backers gave them. The existing pledgers don't have to do anything at all, other than enjoy the books when they arrive.
Candles by Lyndon White
AO: Going back to Future it's done remarkably well on Kickstarter already. Why do you think the book has connected so immediately with backers?
KAYE: Thank you, we're delighted! I think there are a few things that have contributed to its success so far – when I commissioned the title initially, it was the first book for Tom and Rupert and they were new to the industry. Over the last couple of years they have really engaged with the comics community both in the UK and USA, which has raised the profile of the project, which is crucial when crowdfunding.
It goes without saying that the quality of the work is undeniably stunning, and that makes a huge difference!
But just as importantly, I think the subject matter is to thank – it is a love story. Yes, it's set in a dystopian near future and has space/time travel, but the beating heart of the story is the relationship between Kay and Murray. It's a beautiful marriage based on unshakeable love and support and trust. Even in its darkest moments it is never bleak. It's funny and quick and so incredibly full of hope it makes your heart swell. I think we all want, we need, to be reminded of the very best of humanity right now, and FUTURE does that.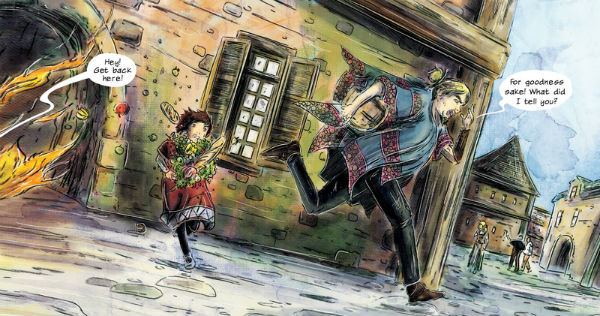 Candles by Lyndon White
AO: One of the other books that you picked up originally for Unbound is Lyndon White's Candles. Lyndon must be one of the most underappreciated artists in UK comics today and his work undoubtedly deserves a far wider audience. How would you describe the premise of Candles and Lyndon's distinctive visual approach?
KAYE: I agree completely, Lyndon is one of the UK industry's brightest stars and Candles is gorgeous – I'm so happy to be working with him on bringing it to the world. It's a full colour graphic novel about magic and secrets and being brave. It's the first title we'll be offering for a younger audience and it's very reminiscent of Studio Ghibli films, something that captured my attention immediately. The book is well underway and it's a joy every time Lyndon shows me a new page – his line-art has a dynamism that belies its delicacy and the artwork seems to leap off the page. It's utterly compelling.
AO: Your other announced book is The Plague and Doctor Caim by G.E. Gallas. Can you tell us a little about how the style of this book reflects its themes and subject matter?
KAYE: This book has a special place in my heart – which perhaps seems an odd thing to say about a book centred around a plague doctor, but it is steeped in a quiet charm that is all down to its gentle, thoughtful pace. It's wryly funny at the same time as being poetic – quite unlike anything I've read before. It's sequential art and storytelling, but pared back, laying out the reality of moving through a world we all thought was long gone and are now learning that the opposite is true.
The Plague and Doctor Caim by G.E. Gallas
AO: What else do you have in the pipeline for us in 2021? Any hints to future projects?
KAYE: There are a couple of confirmed titles that I haven't officially announced yet…
I'm thrilled that Cast iron Books will be publishing the next stand-alone graphic novel from the multi-talented Jessica Martin – Conrad, a graphic biography of Conrad Veidt, the silver screen movie star of The Cabinet of Dr. Caligari, and The Man Who Laughs. Working with Jessica is always a joy, and what she has planned for Conrad is simply lovely.
Rachael Smith will also be bringing her gorgeous book, Isabella & Blodwen (below), over from Unbound in 2021, and we can't wait to start work on this title in earnest, it's brilliant. Rachael is one of the cleverest writers I've worked with, and in Isabella & Blodwen she really demonstrates her skill – there's an idea she presents that takes my breath away, it's just devastatingly smart.
Isabella & Blodwen by Rachael Smith
AO: Launching a new publishing venture in the midst of the horror show that is 2020 must have come with its own challenges. How have you had to adapt your plans to an ever changing social landscape?
KAYE: I think launching a new business is always daunting, and from that perspective there's never a "good" time. The general horror of this year, and the effect the global pandemic has had on the publishing industry has actually galvanised my belief that this is the right thing to do. The plan was always to be lean and agile, and I'm hopeful that the wider publishing machinery will start to refocus in a way that is more supportive of independent publishers and creators. This is already proving to be the case in my experience – the IPG have been incredibly welcoming and helpful to Cast Iron Books, as have the team at Kickstarter. I think readers will continue to support independents and buy direct from publishers and independent booksellers as they have already been doing in lockdown – I believe that will lead to a change in the way the whole industry operates – a change which is long overdue.
AO: And, finally, you did run an open submissions period over the summer. Will that kind of window of opportunity be a regular event as time goes on?
KAYE: Because Cast iron Books will be putting out a boutique list, submissions will most likely only open for full length graphic novels and books once a year. However, some of those aforementioned plans for the future involve working with creators on… not full length graphic novels or books. So there will definitely be more opportunities, I just can't say too much more about when right now – obnoxious this phrase is… watch this space!
For more on Cast Iron Books visit their site here. Follow them on Twitter here and on Instagram here. 
Interview by Andy Oliver