For Michelle, Siobhan and Neil – three aimless recently graduated housemates – life has not lived up to expectations since they left university. Would-be writer Michelle is trapped in a boring office job, aspiring artist Siobhan is serving coffee to obnoxious suited types, and wannabe comedian Neil is putting up with the trials and tribulations of working in a bar. All around them there are constant reminders of the good old days as the hustle and bustle of the uni world continues apace without them. Wallowing in nostalgia for their student days, the trio decide to organise a huge house party to recapture the glories of times past. But some things can never truly be recreated, and the events of this one reality-changing night will force all three to confront some harsh truths about themselves and their futures…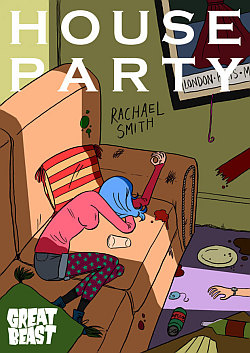 I first reviewed Rachael Smith's work at Broken Frontier last year when I covered her similarly dark comedy, the self-published I Am Fire. Back then I was immediately struck by the depth of characterisation in the book, noting that she had created "a cracking cast of characters all with their own little quirks and personality tics" and being particularly impressed with the biting edge to her dialogue. House Party – her first full-length graphic novel funded by a Kickstarter campaign earlier this year and published by Great Beast – gives Smith the chance to develop those strengths in a longer-form work, and it's an opportunity she clearly relishes.
While the out of control shenanigans implied in the title may lead the casual punter to believe the book is simply a catalogue of rampantly drunken student capers, House Party is a far more layered piece of storytelling than that. Anyone who has taken that university journey will be able to identify with the cast here because when the social whirlwind of student life comes to its abrupt end nothing can ever quite prepare you for the crashing post-graduation anti-climax. There's a sense of loss – almost a grieving process – in those first months after finishing college that Smith captures so acutely here, as can be seen in our introduction to Michelle in the top banner image on this review.
But beyond that flawlessly observed portrayal of the aimlessness that comes in the void between leaving education and finding our place in the world, Smith uses Michelle, Siobhan and Neil to remind us of those points in life where we have to stop looking backwards and embrace the future. Through the events of their disastrous "one last hurrah" and the wreckage – both literal and emotional – that comes in the fallout of this ill-advised shindig she underlines with an almost weary resignation a reality that nobody wants to have to face. Sometimes friendships and relationships are bound together by a shared experience and without that glue to bind them they slowly begin to come apart.
Lest this all begins to start sounding far too heavy and introspective I have to emphasise that House Party is also a very funny graphic novel as well. Pretentious student band The Helveticas, the tedium of Come Dine with Me re-runs, slapstick inebriated carnage and some cracking one-liners – "Has there ever been a better symbol of two completely different worlds colliding than a tagged baking tray…" – are just a small sample of the ways in which Smith will bring a wry smile to your face in these pages. Sometimes the comedy works so well because it evokes an empathic sense of familiarity, and sometimes because it makes you squirm in discomfort, but it's all perfectly set up and impeccably timed.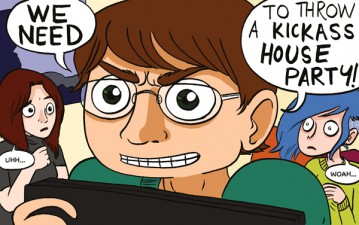 Great Beast have done their audience proud with the physical presentation of this handsomely packaged softcover which allows Smith's art to really shine on the high quality paper stock. Her cartooning is as spirited and vibrant as ever and those accustomed to her work will not be surprised when I say that her ability to succinctly summarise a character's mood in just one all-expressive look remains undiminished. Just check out the crowd scenes in the party to see the smorgasbord of emotional states on show.
Given the longer form nature of House Party there's also room for making use of the occasional single-page illustration for dramatic purposes which Smith ably employs to stress reactions in key scenes, or to make us linger on pivotal character moments. There's a key sequence late on where one character's sense of profound shock is underscored by the partygoers that she is now oblivious too slowly disappearing from each frame and only the lyrics of the music remaining. It's a brilliant use of comics to stress a sudden moment of crushing devastation and just one example of many in House Party that prove what an innate understanding Smith has of how to manipulate the form to her needs.
House Party is an expertly structured offering – essentially a three-act drama bookmarked by a prologue and epilogue – and another Rachael Smith tale where every character, no matter how small their part in the proceedings, counts and has a role to play. As with some of her previous work she retains that ability to place the bleak and the whimsical side-by-side, and to leave the reader desperate to see more of this cast of characters regardless of the neatly tied up finale. Emotionally brutal, yet poignant, recognisable and refreshingly optimistic as well, House Party is an exquisite encapsulation of that moment of epiphany when we finally realise the nature of life's constantly evolving state.
This one is going to be on a lot of 2014 "Best of" lists…
House Party is available from Great Beast priced £9.99 in print or just £1.49 for a PDF copy from their online store here. For more on Rachael Smith's work check out her website here.
For regular updates on all things small press follow Andy Oliver on Twitter here.