Thought Bubble 2016 is nearly upon us and, with somewhere in the region of 440 tables across the three exhibitor areas, to say that punters will be spoilt for choice is something of a colossal understatement. If you're a regular Broken Frontier visitor, though, you may want to take the opportunity to check out the work of some of the attending creators who have made up the first two generations of our Broken Frontier 'Six Small Press Creators to Watch' initiatives. Five of them will be tabling at Thought Bubble – here's where to find them over the weekend!
Class of 2015
Rozi Hathaway
Rozi will be at Table 180b in the New Dock Hall with her new comic Ø (below right and recently previewed here at Broken Frontier) and the second volume of her multi-creator anthology Sneaky Business. She'll also be selling copies of the first Broken Frontier Small Press Yearbook.
Jess Milton
Jess will be at Table 165a in the New Dock Hall with the print debut of her The Flying Ship comic (read a full interview with Jess on the book here) and other work like Red, her acclaimed take on the Red Riding Hood story. She'll also have copies of the Broken Frontier Small Press Yearbook on sale.
Emma Raby
Emma will be at Table 147b in the New Dock Hall. Her gorgeously rendered work has proven a consistent draw at every show Broken Frontier has tabled at this year and her The Dead Moon: A British Folktale (below right) has proved to be a consistently excellent seller. Her table is the third venue where you can pick up a Broken Frontier Small Press Yearbook.
Class of 2016
Brigid Deacon
Brigid can be found at Table 54b in the Royal Armouries. You can find reviews of her excellent stream-of-consciousness comic Coma Deep here at BF and her incisive and insightful zine Room here. She's also the cover artist of One Beat Zines' Performance anthology debuting at Thought Bubble (you can see a preview here).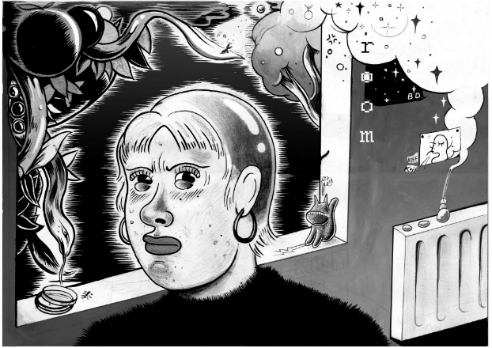 Emily Rose Lambert
Emily will be at Table 34a in the Royal Armouries with her sisters Karis and Freya who make up the Big Brown Eyes Collective. They'll have their new anthology Myths and Monsters debuting (previewed here at BF) and don't forget that Emily also has a story in this year's Image Comics-published 10th anniversary Thought Bubble Anthology collection.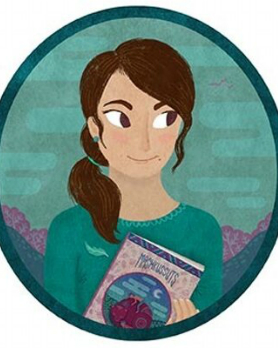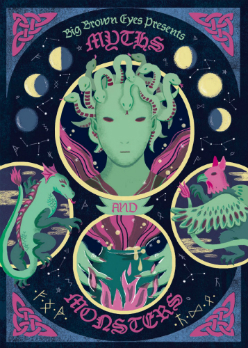 And, finally, if you've yet to pick up our first Broken Frontier Small Press Yearbook then don't forget Rozi, Jess and Emma will have copies on the day. The Yearbook is a showcase anthology celebration of comics culture site Broken Frontier's 'Six UK Small Press Creators to Watch in 2015' that spotlights the work of Rozi Hathaway, Jess Milton, Danny Noble, Emma Raby, Alice Urbino and Adam Vian, with a guest story by Rebecca Bagley.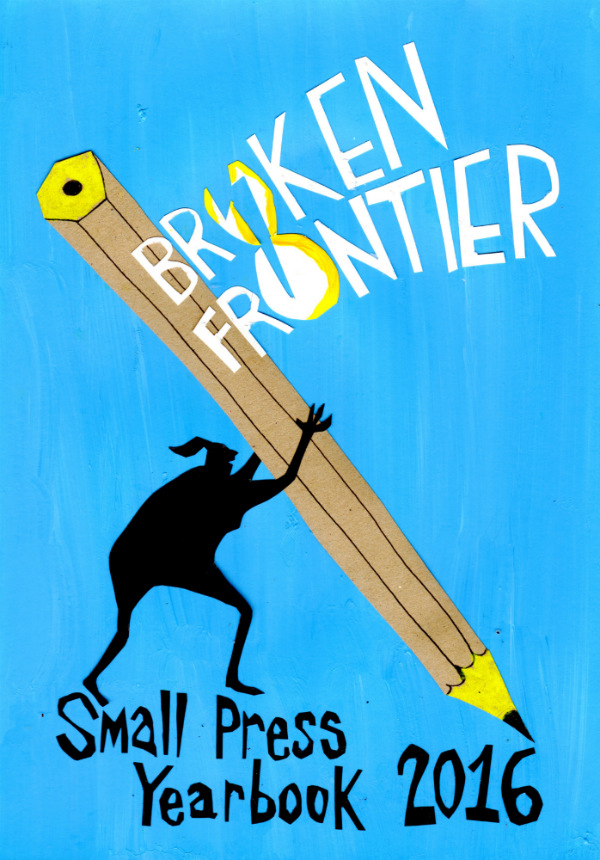 Comprising 83 story pages pages in colour and black & white, the Yearbook also features shorter back-up stories by established indie creators like Gareth Brookes, Gill Hatcher, Jessica Martin, Mike Medaglia, EdieOP, Owen D. Pomery, Alex Potts, Paul B. Rainey, Donya Todd and Kim Clements, with a foreword by Simon Moreton.
You can see an extensive preview of the book here.
Review feedback has been overwhelmingly positive:
"I really can't recommend this book enough. This is what comics is." – Richmond Clements, Forbidden Planet International Blog
"Top-notch A5 anthology published by Broken Frontier whose website, ringleader Andy Oliver and his equally eloquent cohorts continue to scout out and promote to the heavens the very best emerging British talent, nurturing it as they do so. Truly they are custodians." – Stephen L. Holland, Page 45
"At six quid, this is a no-brainer, and it left me with a list of artists I'm going to check out further. Andy Oliver has done a great service in putting this together, and the least you can do is buy a copy so that next year's volume is a sure thing." – Pete Redrup, The Quietus
"A celebration of alternative comics" – Camila Barboza, Orbital Comics
"Brilliant, absolutely brilliant" – Geek Syndicate
"A fantastic showcase for everything that makes the scene so great" – Pipedream Comics
If you're not at Thought Bubble you can still order the Yearbook online here.
For regular updates on all things small press follow Andy Oliver on Twitter here.