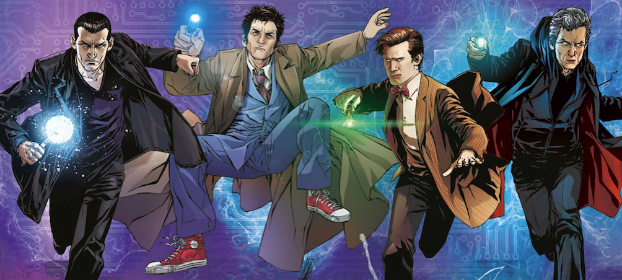 With the tenth series of the relaunched Doctor Who debuting this Saturday on the BBC, Broken Frontier's Tony Ingram looks back today on over 50 years of the good Doctor's adventures in comic strip form. 
It's been over fifty-three years since Doctor Who first materialized on Britain's TV screens, opening those battered police box doors on a universe of adventures in time and space in the longest running sci-fi series of all time.  Pretty much everyone with an interest in cult sci-fi knows that, but rather less know or care that for most of that time, including that desolate sixteen year period when the TV show was off air, the good Doctor has also been starring in comics! In fact, aside from a brief period in 1979, there has been a Doctor Who comics series running somewhere for more than fifty-two years. That's actually pretty impressive, when you think about it!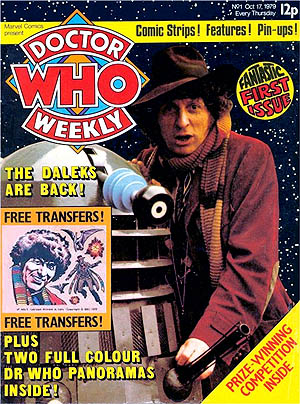 The first ever Doctor Who strip appeared in issue #674 of TV Comic, a long-running British juvenile humour anthology based around popular TV shows, on November 14th 1964. Drawn in a charmingly whimsical style first by Neville Main and then Bill Mevin, the strip was imaginative, fun, and bore absolutely no resemblance to the TV show whatsoever.
The Doctor (inexplicably accompanied on his travels by his previously unsuspected pre-teen grandchildren John and Gillian Who) seeming more like a wizard than a scientist, complete with a magic bag that held a gimmick for every occasion, and with none of the tetchiness that characterized William Hartnell's performance on TV.
There were no Daleks or other TV monsters in evidence, since TV Comic didn't have the rights to them (the Daleks appeared instead in their own beautifully crafted series in rival comic TV Century 21) so instead the Doctor contended with rather less sinister adversaries such as the robotic Trods, the aquatic Kleptons and the wheeled Go-Rays. It was all rather silly, and very definitely aimed at younger readers, with the Doctor at one point helping Santa Claus save Christmas!
Rather less silly was the Doctor's American comics debut in early 1966, when Dell Comics published an adaptation of the 1965 movie Doctor Who and the Daleks starring Peter Cushing, but of course, Cushing's very human scientist was not really the Doctor beloved of fans of the TV show. The regular TV Comic strip, meanwhile, went its own rather strange way until the end of 1966, when the arrival both on TV and in the comics of Patrick Troughton's impish Second Doctor coincided with the arrival of artist John Canning, who would remain on it until 1970.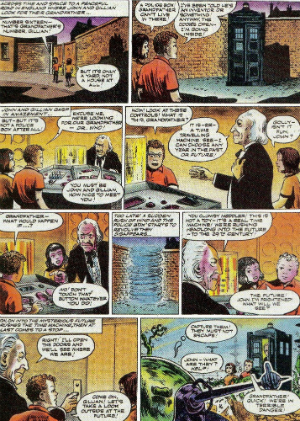 While remaining very much for the younger audience, following this change the strip would gradually come to look a little more like its TV counterpart, with the sillier storylines curtailed, the irritating John and Gillian replaced by TV companion Jamie, and various monsters from the show – including the Daleks, at last, as well as the Cybermen and the Quarks – replacing the likes of the Trods, who had only ever been Dalek knock-offs anyway (rather satisfyingly, the Daleks actually got to exterminate the Trods as soon as TV Comic acquired the rights to them).
Canning continued to draw the strip even after the Second Doctor had given way to the Third, as played by Jon Pertwee, but not long after that momentous event, TV Comic lost its time-travelling star as he moved to a new home in the pages of new title Countdown.
Countdown, launched in 1971, was a very different kind of comic, aimed at an older readership and with higher production values and a correspondingly higher price. With the Doctor's TV adventures now aimed at a slightly older audience and in colour at last, his strip adventures in Countdown (nestled comfortably alongside the likes of Gerry Anderson's Thunderbirds) likewise became a little more mature under writer Dennis Hooper, with Canning's quirky black and white art replaced now by some stunningly beautiful colour work by first Harry Lindfield, then Frank Langford, and finally possibly the definitive Third Doctor artist, Gerry Haylock.
With the Doctor now Earthbound and operating out of a country cottage rather than the TV show's U.N.I.T HQ, the strip pitted him against mad scientists and alien invaders (including the Daleks and his arch enemy the Master) on behalf of the British government in what remain some of the finest Who stories the comics medium has ever seen, even as Countdown went through a number of title changes before ending up as TV Action.
The Second Doctor from TV Comics, The Daleks from TV 21 and the Third Doctor in TV Action & Countdown
Sadly, despite its undeniably high quality, Countdown/TV Action was just too expensive to produce and therefore, inevitably, too expensive for its readers' pockets. It was cancelled in 1973, and the Doctor slunk off back to TV Comic with #1204. Not long afterwards, the Doctor changed his appearance again, and with the Third Doctor's departure, strip artist Gerry Haylock also moved on, to be replaced by the equally great Martin Asbury.
Sadly, Asbury departed after just two stories to draw the adventures of Garth in The Daily Mirror, and while TV Comic's editor lost no time in assigning old warhorse John Canning back to the strip, his later work lacked the spark of his Sixties material, somehow. From #1385, no new material appeared; instead, readers were treated to reprints of Second Doctor strips with Tom Baker's head and scarf superimposed on them. This ludicrous situation, the lowest point in the Doctor's history in comics by far, finally ended when the series was discontinued in May 1979. Fortunately, this was to prove a blessing in disguise.
In October 1979, five months after his ignominious departure from TV Comic, the Doctor resurfaced in his own title at last, Marvel UK's Doctor Who Weekly, and the strip entered a new golden era courtesy of writers Pat Mills and John Wagner and artist Dave Gibbons. The title changed to monthly frequency after 43 issues, and Doctor Who Monthly became Doctor Who Magazine not that long afterwards, briefly also spawning its own American reprint title in 1984 (below left and centre).
Under the stewardship of first Marvel and then, since 1995, Panini, DWM has continued to give us new, ongoing comics adventures of the Doctor and his associates ever since, thirty-seven years and counting, with some of the finest talents in the comics industry contributing to them, among them John Ridgway, Steve Parkhouse, Grant Morrison, Paul Cornell, the late, great Steve Moore and Steve Dillon and even, in a handful of fondly remembered back-up strips from the early Eighties, Alan Moore. Even one of the Doctor's own TV avatars got in on the act, when sixth Doctor actor Colin Baker scripted the one-off special Doctor Who: The Age of Chaos!
In the late Eighties and early Nineties, with the TV show no longer on air, Marvel nonetheless also spun the Doctor's adventures off into other titles, among them the anthologies The Incredible Hulk Presents and The Marvel Bumper Comic, and even reprinted the majority of the strips from TV Comic and Countdown in 27 issues of Doctor Who Classic Comics. And in 1996, following the troubled Time Lord's brief return to our screens in a one-off TV movie, he even got a regular comics series in the BBC's TV listings magazine, The Radio Times!
Since the Doctor's triumphant return to TV in 2005, his presence in the world of comics has become ever more widespread, with Doctor Who Magazine being joined on British newsagents' shelves in 2006 by the juvenile publication Doctor Who Adventures first published by the BBC themselves, and later by Panini) and also by Doctor Who: Battles in Time, a magazine based on a trading card game.
In 2007, American publishers IDW negotiated a licence to publish both new comics based on the character and reprints of the old Marvel material for the US market, something they continued to do until 2013. And since then, Britain's own Titan Comics have taken up that particular baton, with a deservedly successful line of ongoing titles telling new stories of the Ninth, Tenth, Eleventh and Twelfth Doctors and a succession of limited series featuring several of our hero's earlier incarnations, as well as a new series based on the spin-off show Torchwood.
Titan also have a presence in Britain's high street newsagents, since many of the US titles are regularly reprinted in the UK in Tales from the TARDIS: Doctor Who Comic.  With both Titan and Panini continuing to give us around half a dozen new stories per month, even as the Doctor is about to return to our screens for his thirty-sixth TV series since 1963, his comics incarnation seems to be going from strength to strength. Long may it continue to do so.
For more on Titan's Doctor Who comics visit their site here and follow them on Twitter here. You can find out more about Doctor Who Magazine here and follow it on Twitter here.