Titan Comics provided BF with their solicitati​ons for October 2013.
BRAND-NEW COLLECTION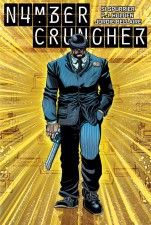 NUMBERCRUNCHER
Writer(s): Si Spurrier
Artist Name(s): P.J. Holden
Colorist: Jordie Bellaire
Format: Hardcover Collection
Page Count: 112pp
Retail Price: $19.99
Street Date: December 31, 2013
Heaven: the ultimate bureaucracy.
At its head, not a white-haired anthropomorphic deity with a harp and a throne but a wizened, weaselling old man with bad breath and bad attitude. At his right hand, Bastard Zane, a surly civil servant with a big gun whose job it is to stop those who think they can buck karma.
And then there's Richard Thyme: genius mathematician and a man who will do whatever it takes to defy Fate and return to his one true love – even if he is dead.
Cue a critically-acclaimed and twisted tale of reincarnation, resurrection and Karmic Accountancy! Mesmerisingly written by the superb Si Spurrier (X-Men: Legacy, Crossed: Wish You Where Here) with gorgeous art from PJ Holden (2000 AD) and colorist Jordie Bellaire (Captain Marvel, Rocketeers, Manhattan Project), this is for anyone who has ever wanted to beat the system – senseless!
Check out this special trailer from Si Spurrier discussing Numbercruncher here
AVAILABLE TO ORDER FROM AUG PREVIEWS
Order Code: AUG131454
BRAND-NEW COLLECTION

FIRST KINGDOM VOLUME 2: THE GALAXY HUNTERS
Writer(s):  Jack Katz
Artist Name(s): Jack Katz
Format: Hardcover Collection
Page Count: 160pp
Retail Price: $24.99
Street Date: December 31, 2013
An unforgettable epic, 25 years in the making, is finally collected in an ultimate, six-part library!
The second in a series of six post-apocalyptic graphic novels, created by industry legend and unsurpassed artistic visionary Jack Katz!
After the generations-spanning excitement of the first volume, 'The Galaxy Hunters' takes Jack Katz's epic future history in a bold new direction, as humanity lifts itself back up to the stars, and strikes out for new frontiers, thirsting for new knowledge. But the 'Gods' of Helleas Voran, who have watched, guided and schemed against humanity all the while, may not allow a second human empire to dominate the universe! This is a story of love, war, science and destiny, played out on the grandest canvas of them all.
The First Kingdom is presented here in a complete collectors' library for the first time: completely relettered, and with cleaned and restored art taken from high-resolution scans of the original art pages!
Comprising six volumes in total, each book also includes features on the history of the strip, as well as all-new introductions by Jack Katz and his many industry fans!
Check out the teaser trailer here
AVAILABLE TO ORDER FROM AUG PREVIEWS
Order Code: AUG131453
BRAND-NEW COLLECTION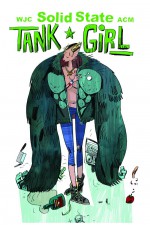 SOLID STATE TANK GIRL
Writer(s): Alan Martin
Artist Name(s): Warwick Johnson-Cadwell
Format: Hardcover Collection
Count: 112pp
Retail Price: $19.99
Street Date: December 31, 2013
The heavy-weapon honey with a mouth like an open sewer has returned!
So, here's what's happened: Booga, Tank Girl's marsupial lover, is near death. To save him, she must shrink herself and her cronies down to microbial size, enter his blood stream, clean up the mess, and be home in time for beer and snacks.
But their Incredible Expedition goes horribly wrong when, deep in Booga's scrotum, Tank Girl encounters her ultimate opposite: Anti-Tank Girl!
There may be trouble ahead…
Written by Alan Martin and with hyper-kinetic art by newcomer Warwick Johnson-Cadwell, this epic new collection proves it's easier to get further with cute good looks, a tank, a kangaroo boyfriend and big, steel-toed boots than just cute good looks.
AVAILABLE TO ORDER FROM AUG PREVIEWS
Order Code: AUG131455

DEATH SENTENCE #3
Writer(s): Monty Nero
Artist Name(s): Mike Dowling
Number of Issues: 3 (of 6)
Page Count: 32pp
Retail Price: $3.99
Street Date: December 11, 2013
Given amazing superpowers – and six months to live – by the G+ Virus, three Londoners struggle to make their time count!
Discover what made Monty such a manipulative s**t – can he use his powers to climb all the way to the top? Washed-up singer-songwriter Weasel puts in a paternity visit – and ends up on the run from GCHQ's power-hunting division! Already imprisoned, can Verity's artistic side flower in captivity? More importantly… is there a chance that the G+ Virus could be cured?
Death Sentence is a critical smash-hit! Don't miss your chance to get on board this shocking rollercoaster ride!
Check out the teaser trailer here
AVAILABLE TO ORDER FROM AUG PREVIEWS
Order Code: AUG131452