Titan Comics has provided BF with their pre-order information for shipping in November 2103.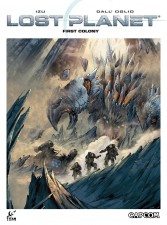 LOST PLANET®: FIRST COLONY
Writer(s): Izu
Artist Name(s): Dall'Oglio
Format: Hardcover Collection
Page Count: 52pp
Full Color, B&W, or partial color: FC
Cover Dimensions: 205mm x 276mm
Retail Price: $9.99
Street Date: December 31, 2013
September PREVIEWS Order Code: SEP131323
A comics-exclusive story of Capcom's LOST PLANET® universe, from the writer of DmC: DEVIL MAY CRY: THE CHRONICLES OF VERGIL!
Dive into a terrifying adventure of ice and Akrid, as a mission of interstellar salvage turns into a furious battle for survival!
The planet of E.D.N. III seemed ripe for colonization – its icy climes ready to be warmed and terraformed. That was, until the first settlers discovered the indigenous Akrid – ravenous creatures, powered by their own thermal energy, who proved resistant to every weapon the colonists could muster.
That first terraforming effort ended in tragedy, with the colony – and its rich haul of terraforming equipment – hastily abandoned.
Now, looking for an easy mark, the ragtag crew of the pirate vessel Crusader have set course for E.D.N. III, looking to pillage these tempting resources, before NeoVenus Construction (NEVEC) can swoop in and reclaim their investment!
But E.D.N. III takes coldly to strangers, and the Akrid are ready to welcome them into their fearsome embrace…
Fans of the LOST PLANET® series, and star-spanning science fiction, shouldn't miss out on this vibrantly-illustrated, self-contained epic. Who will live? Who will die? And what dark secrets of E.D.N. III will be revealed in the process?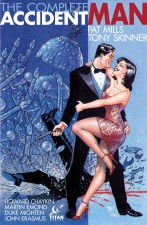 ACCIDENT MAN
Writer(s) Names: Pat Mills, Tony Skinner
Artist Name(s): John Erasmus, Martin Emond, Duke Mighten
Cover Artist(s): Howard Chaykin
Format: Hardcover Collection
Page Count: 256pp
Full Color, B&W, or partial color: Full Color
Cover Dimensions: Oversized
Retail Price: $29.99
Street Date: February 25, 2014
PREVIEWS Order Code: SEP131320
The cult series returns, remastered and collected in its entirety for the first time ever!
From the writer of legendary titles Charley's War, Marshal Law, Nemesis the Warlock and many more, with artwork by a murderer's row of lost talent, and a cover by the indomitable Howard Chaykin!
Mike Fallon is smooth, suave and sexy, and a genius at the subtle art of making an assassination look like one of those unfortunate, all-too-frequent accidents. Handsome as James Bond, lethal as Carlos the Jacket, discrete as an air bubble to the heart. Broken neck in the shower? Poor guy probably slipped on the soap!
Collected for the first time, Accident Man features four darkly humorous tales of sex, revenge, brutal violence, and people drowning in the bath! It's also packed full of never-before-seen sketches and art, as well as creator commentaries.
Drop the Accident Man a line – before he gets the drop on you!
TOMORROWLAND
Writer(s) Names: Paul Jenkins
Artist Name(s): Stellar Labs
Format: Hardcover Collection
Page Count: 144pp
Full Color, B&W, or partial color: Full Color
Retail Price: $19.99
Street Date: December 31 2013
PREVIEWS Order Code: SEP131324
Can two superstar DJs change the course of history – and save the world?
From the Eisner award-winning writer of Spider-Man, Wolverine: Origin, The Inhumans and The Darkness comes a music-led adventure like no other!
Meet Dimitri Vegas and Like Mike, two young DJs – and the public faces of the world-renowned Tomorrowland festival – as they are drawn into an impossible adventure to save the vital spark of creativity!
Over the course of this retina-blasting fantasy adventure, the pair find themselves sucked into an eternal war between two worlds – a battle waged between the forces of creation and destruction for the energy we all carry inside us. It's a war we're rapidly losing – but can two DJs turn the tide over the course of just one festival?
There's only one way to find out!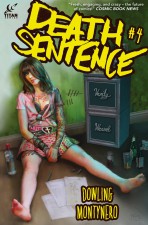 DEATH SENTENCE #4
Writer(s): Monty Nero
Artist Name(s): Mike Dowling
Frequency: Issue #4 (OF 6) / Monthly
Number of Issues/Volumes in Series: 6
Format: Comic
Page Count: 32pp
Full Color, B&W, or partial color: FC
Retail Price: $3.99
Street Date: January 8 2013
PREVIEWS Order Code: SEP131321
Time is running out, as Monty takes an explosive step towards world domination!
This issue:
• All the soldiers in the country aren't enough to stand against Monty, as he brings society crashing down!
• Sparks – and bottles of vodka – fly as Verity and Weasel meet!
• And a final page that will blow your mind!
Death Sentence is a critical smash-hit! Don't miss your chance to get on board this shocking rollercoaster ride!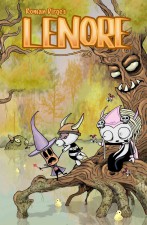 LENORE #9
Writer: Roman Dirge
Artist: Roman Dirge
Issue Number: 9
Number of Issues/Volumes in Series: On-going
Format: Comics
Page Count: 36pp
Full Color, B&W, or partial color: FC
Retail Price: $3.99
Street Date: November 13, 2013
PREVIEWS Order Code: SEP131322
Taxidermy is missing and Lenore has an important question for him, so she forces Pooty and Ragamuffin to join her in a mighty quest, dressed as fantasy heroes, to rescue their lost friend from the evil clutches of something that is clutch-y. What obstacles will be thrown in the path of our brave and noble warriors? Honestly, no idea yet. Seriously, I just thought of this like 2 minutes ago while watching TV. It'll be epic-y though. EPIC-Y!
This is the last issue before the big battle happens that destroys the town of Nevermore and forever costs one of the main characters their lives. It's all been leading up to this. Well, not THIS, this. Next issue is the THIS, this. THIS is confusing. Whatevs… Lenore and gang do a fantasy quest. Funny happens. *Drops mic*