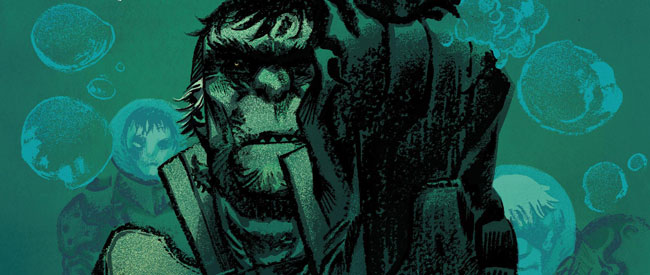 Image Comics describes Undertow as a 'pulp monster' series, promising readers a mythic creature-feature. Is its debut issue the oceanic epic we're expecting?
Undertow #1 is set in a prehistoric Earth where the undersea world of Atlantis is the sole civilisation and superpower. The story's premise is that not all Atlanteans like, or indeed benefit from, the system they are born into. Chief amongst its critics is former scientist turned rugged revolutionary – Redum Anshargal. Anshargal has gathered a following of disenfranchised Atlanteans, including a former member of the Atlantean army – Ukinnu Alal – to live onboard his advanced city barge, 'The Deliverer'. Their ambition is to live away from the influence of Atlantis on the surface world. But in order to do so, Arshangal seeks a legendary creature, 'the Amphibian', which may provide the genetic means to breathe out of water.

The best thing about Undertow is its visually arresting artwork. A large part of that captivating power is its use of colour. Scrolling quickly through my digital copy was like dropping my eyeballs through a rainbow. However, on a page-by-page basis, the colours are kept the same so that the palette designates the act or scene of the story. Another positive feature is the final panel. This is a good cliffhanger, hinting at the pulp monster promise to come.
However, my poring over artwork is usually a bad sign – i.e. I was bored. This issue suffers because pacing and tension were set aside for story-setting. This is somewhat unavoidable as issue #1 introduces the Undertow concept. But inherent problems aside, this debut is in need of a stiff edit. For instance, Ukinnu's reasons for his animosity towards Atlantis forms his opening narrative and is then repeated in discussion with Anshargal later on. Furthermore, the evil of Atlantis is not demonstrated in action; it is merely the subject of endless monologue and conversation between the insurgents. Hence, I found myself not caring.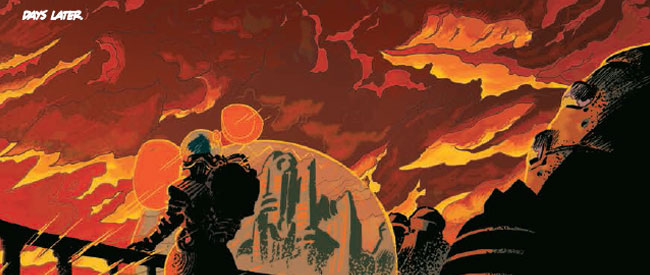 Also, despite the artwork being grotesquely lovely, the panel composition does not always lend itself to impactful storytelling. Such as when 'The Deliverer' appears in a battle scene – remarked on with awe by one character – it is crammed into the corner of the panel giving little indication of its immense size.
Orlando and Trakhanov obviously have big ideas for this story, that much is clear. I think the scale of their task overwhelms this issue's action, however. But if the final panel is anything to go by, the telling of tale rather than setting of it will be evident in issue two.
Steve Orlando (W), Artyom Trakhanov (A) • Image Comics, $2.99, February 19, 2014