Journalist Zoe Meadows doesn't think much of the Northumberland "Solstice Festival," considering it a fluffy puff-piece downgraded from her usual "investigative journalism," but she needs the money. As does the Festival, which Zoe comments to her husband has "become as commercial as it gets. You can't move for stalls selling all sorts of tat." She isn't aware that such stalls are also compromised by capital (neither are her friends who the sausage-selling stall), with hormone-pumped pigs in cramped conditions spreading a strange "stomach bug" to the similarly squished Festival attendees. Resistance: A Graphic Novel, by Val McDermid and Kathryn Briggs, shows the local organisers, on-site doctors and even government officials neglect to investigate these bubbling concerns, dismissing that it isn't "worth" the time or cost. But the fatalities slowly spread in Resistance, until the Solstice Festival becomes ground-zero for a deadly pandemic that decimates the regular way of life. "It felt like I'd sleepwalked straight into something much more scary," Zoe later remarks, as the silly escapism of Solstice mutates into a waking nightmare.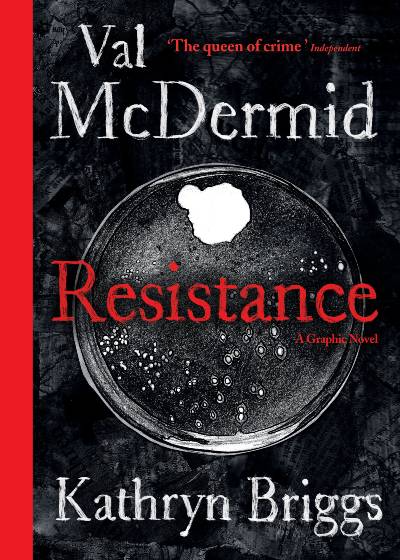 It's impossible to discuss Resistance without mentioning the parallels to COVID-19. Resistance originated as an audio-drama in 2017, and its disease Erysipelas (nicknamed "The Sips") is, despite initial miscalculations, a bacterium instead of a virus. Indeed, Resistance takes aim at Big Pharma and unethical meat for creating "unnecessary immunity" that results in stronger bacteria – a subtly different narration from our current pandemic (although they aren't exactly innocent). Still, Resistance contains striking parallels, including the "perfect storm" of a 7-10 day incubation period (proliferating the infection rate while preventing it from "burning out"), the relatively safety of Australia (due to natural borders and strict government), and the hemming and hawing of politicians (determined to not be the first "one to shout 'crisis'") that prevent the disease being stopped in its tracks. As in our reality, capital and politics become intertwined in science, which ends up suffocating humanity since "there's not enough profit in saving lives."
Val McDermid, best known for her Scottish crime novels, pens this pandemic story with a well-informed forensic understanding and regional Northumberland accents. She grounds this global spread to competent and likeable people, like Zoe or Dr Aamah Siddiqui, who provide insight and justified anger over the Sips, even if it means the disease is often more described than shown. McDermid is a novelist adapting to the comics medium, and exhibits an expository, text-heavy dependency, and Resistance lacks a letterer to make the words properly flow. This is true in both domestic interactions and international developments, as McDermid's voice can lean towards a lecturer. Still, such lectures can be interesting, as Dr Siddiqui discusses the difficulties of creating a scientific solution with her international team. Plus McDermid has a solid sense of pace, as Resistance quietly escalates between each stage of emergency, with you almost not realising how bad things have gotten until you step away.
Kathryn Briggs illustrates this story with a sketchbook style artwork. This may sound like a backhanded compliment, but her smudged and simplistic pencils feel like a diary entry looking back on this era. Straightforward human interaction isn't always convincing, as Briggs' figures can be inconsistent and the panelling somewhat off-kilter. However, it works much better when more creative, like having the layouts backgrounded with Tarot Cards or Wild West posters that are thematically resonant with that page. Briggs also processes scenes into experimental tableaux and infographics, inventively presenting the information as "traditional" structures (including human contact) begin to break down. Even earlier scenes have panels singling out the ground-zero sausages and everyday fomites (infectious surfaces), hinting at the hidden diseases before it comes out in the text.
Resistance is, thankfully, more apocalyptic than our current reality. It features a total collapse of national governments, while towns create militia barring "outsiders" from approaching them. In reality, the worse threat is people who ignore restrictions altogether. COVID-19 perhaps has changed how we view the sub-section of "pandemic apocalypse fiction," and although a film like Contagion gives a startling prescient view of the sociological factors surrounding an outbreak, Resistance somewhat avoids the overflowing hospitals or gruelling self-quarantine to give a more streamlined "scientific" approach. Plus, Resistance holds a somewhat fatalistic view of humanity, with the Sips almost a retaliation against our "hubris" that scorches the earth bare, forcing us to "begin again."
Resistance isn't perfect when looking at the big picture, but it gets enough details right to prove a captivating and informative read. It's up to individuals, of course, whether they find pandemic chronicles comfortingly cathartic or hitting too close to home. Resistance is sometimes strained by its format and exposition, but it briskly documents an eerie resemblance to what, it argues, has been a long time coming.
Val McDermid (W), Kathryn Briggs (A) • Profile Books, £18.99
Resistance is published this May by Profile Books. Pre-order copies here.
Review by Bruno Savill de Jong