Can it really be 20 years since The Walking Dead first hit the pop cultural consciousness? Apparently so, and Top Cow have plans to celebrate that anniversary with a series of special covers. Full details in the press release below.
THREE TOP COW/THE WALKING DEAD 20TH ANNIVERSARY VARIANTS REVEALED AND SET TO INFECT COMIC SHOPS THIS OCTOBER
 THE WALKING DEAD 20th Anniversary variants include three connecting covers creating an epic triptych by artist Giuseppe Cafaro and colorist John Starr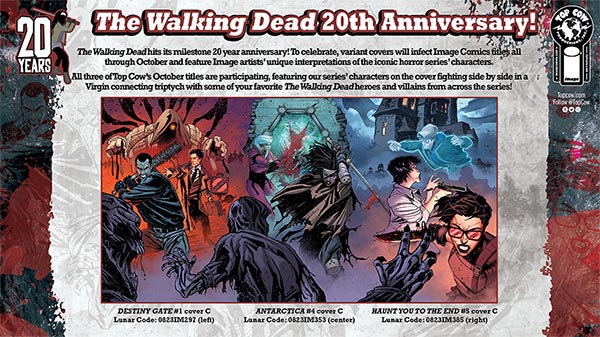 Top Cow Productions, Inc., the company behind THE DARKNESS and CYBERFORCE, is thrilled to celebrate Robert Kirkman's THE WALKING DEAD 20-year milestone anniversary with collectible variants by artist Giuseppe Cafaro and colorist John Starr. Together, these three virgin variant covers will connect to create a panoramic masterpiece featuring Top Cow characters from DESTINY GATE #1, ANTARCTICA #4, and HAUNT YOU TO THE END #5, fighting side-by-side with THE WALKING DEAD iconic horror series heroes and villains this October.
Artist Giuseppe Cafaro says, "Being part of something done by Top Cow was one of my biggest dreams. It was super fun to work on and John did an amazing job on colors! It was great to put together the characters from some new and awesome Top Cow series and some of the most iconic THE WALKING DEAD characters."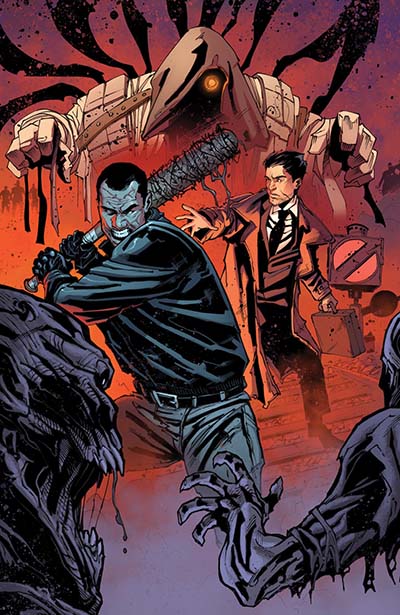 To create a feel to match each respective book and also tie them all in together, colorist John Starr says, "DESTINY GATE, I gave a hellish vibe. ANTARCTICA, I used cool colors, but the lighting was mostly dictated by the portal. And, HAUNT YOU TO THE END, I used the blue's and red's that are used in that book. I added some of Giuseppe's cool texture splatter and fog across the covers to give it some grit and mood. He did a great job on this and I really had fun coloring it!"
Lee Thomas, the creative director of EP1T0ME, Top Cow's partners on the series DESTINY GATE exclaimed, "When offered the opportunity to resurrect one of the greatest comic book characters from the original THE WALKING DEAD series, we took that opportunity. Lucille… she lives, again! A ferocious Negan explodes from the macabre annals of Destiny Gate's horrors with a determinism worthy of his character's savagery and focus."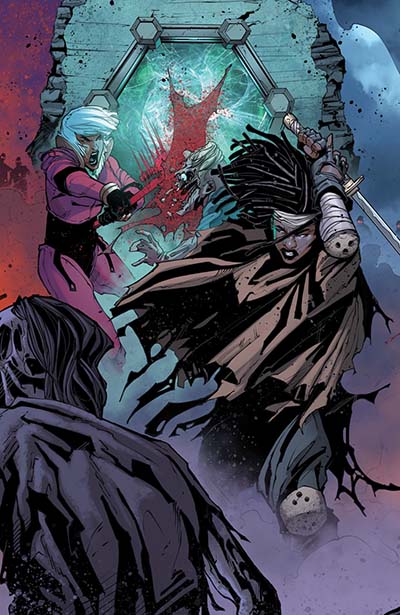 TOP COW/EP1T0ME series DESTINY GATE #1 by Ryan Cady and Christian DiBari, THE WALKING DEAD'S Negan is wielding the mighty Lucille as he struggles withDESTINY GATE protagonist Mitchell Slate while the demonic character 'Madness' looms.
While in ANTARCTICA #4, Michonne's sword is drawn with ANTARCTICA heroine Hannah, as they fight back to back as zombie's claw at them.
A huge fan of THE WALKING DEAD, ANTARCTICA artist Willi Roberts exclaims, "It's one of my favorite comics and TV shows of all time – it was hard to believe…that Hannah gets to fight back to back with Michonne!"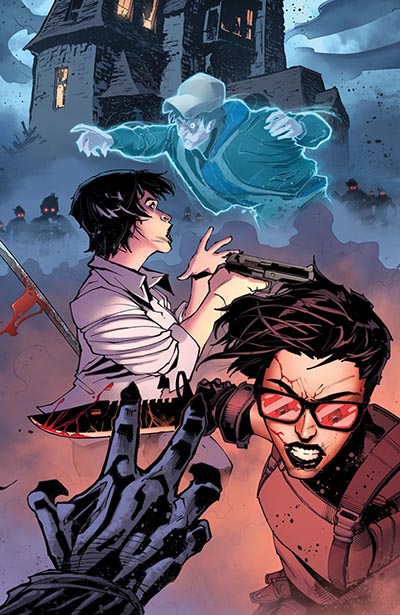 Lastly, the cover to HAUNT YOU TO THE END #5, features the tough as nails mercenary Gersh, as she struggles in the foreground while behind her the THE WALKING DEAD'S Maggie fights for her life against ravenous Zombies, tears in her eyes in shock and surprise, as next to her she sees the mangled, broken, ghost corpse of the love of her life, Glenn.
Writer of DESTINY GATE and HAUNT YOU TO THE END Ryan Cady says, "Giuseppe and John have masterfully merged the worlds of HAUNT YOU TO THE END and DESTINY GATE with the post-apocalyptic nightmare of THE WALKING DEAD."
Be sure to pick up all three to create what ANTARCTICA creator calls "zombie multiverse heaven."
ANTARCTICA letterer Lyndon White adds, "This feels surreal."
For readers who feel that October is their favorite month like Ryan Cady, "Seeing Negan on the cover of DESTINY GATE and Gersh paired with ghost Glenn makes this Halloween season an extra special one."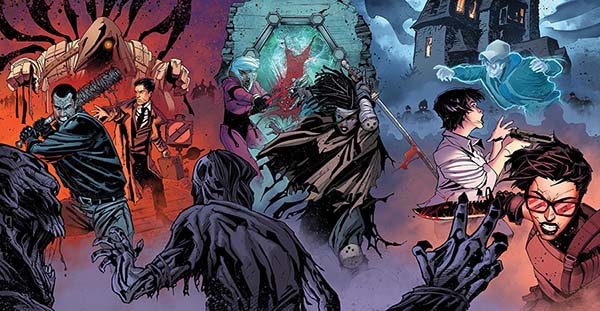 Covers by Giuseppe Cafaro and John Starr are available now to pre-order:
DESTINY GATE #1 Cover C – Lunar Code: 0823IM297 (left) – On sale Wednesday, October 11, 2023
ANTARCTICA #4 Cover C – Lunar Code: 0823IM353 (center) – On sale Wednesday, October 18, 2023
HAUNT YOU TO THE END #5 Cover C – Lunar Code: 0823IM385 (right) – On sale Wednesday, October 11, 2023
All will be in comic shops this October and also available for purchase on digital platforms, including Amazon Kindle, Apple Books, and Google Play.