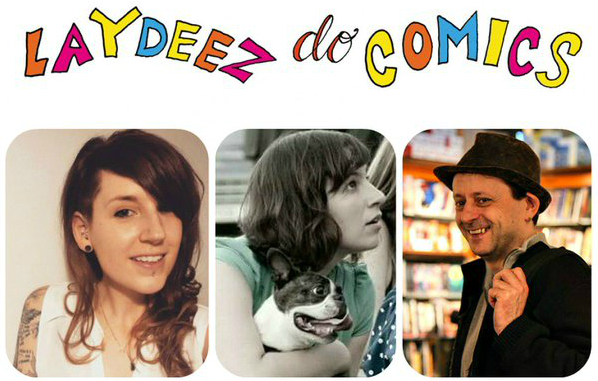 We're back! Did you miss us…?
Firstly, an apology from all of us at Broken Frontier for our downtime over the Christmas period and into the New Year. We won't dwell on the technical issues that curtailed our usual committed coverage of all things indie, alt and small press in the comics world but, suffice to say, we're returning with a bang this week and we couldn't be more delighted.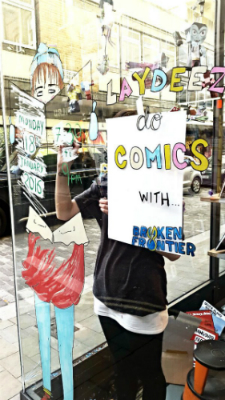 Later today you can expect to see the delayed announcement of our 2015 Broken Frontier Award winners, while on Wednesday you should be on the lookout for our Small Pressganged column's annual 'Ten UK Small Press Comics You Need to Own!' round-up. But the big news doesn't stop there.
Next week, on Monday January 18th, we are extremely proud to have been asked to take part in a very special Broken Frontier-themed edition of the acclaimed comics meet-up Laydeez do Comics at London's Gosh! Comics. If you're lucky enough to have secured yourself a ticket for the event (they "sold out" in less than 24 hours!) then you get to see presentations by comic creators Rozi Hathaway (pictured right designing the event's window display at Gosh) and Danny Noble, two of our 'Six UK Small Press Creators to Watch in 2015', and one from myself (BF Editor-in-Chief Andy Oliver) on Broken Frontier's aims and philosophy as a comics culture site.
As an added bonus, Laydeez do Comics attendees will be the first to hear who the six creators selected as the Small Pressganged 2016 'Six Small Press Creators to Watch' are, with those names being revealed on BF the following morning. You can also look forward to a very special exclusive Broken Frontier-related announcement at Laydeez. Details to follow shortly after on the site.
Going forwards, 2016 will be a banner year for BF. We have the publication of the all-star creator Broken Frontier Anthology coming very soon, the return of the Gosh! Comics/Broken Frontier Drink and Draw in February to look forward to, and the usual mix of reviews, interviews, features and columns to enjoy on a daily basis in the meantime.
Thank you for your patience over the last few weeks. Now let's get back to championing the ninth art and exploring that comics universe…
Andy Oliver
Broken Frontier Editor-in-Chief