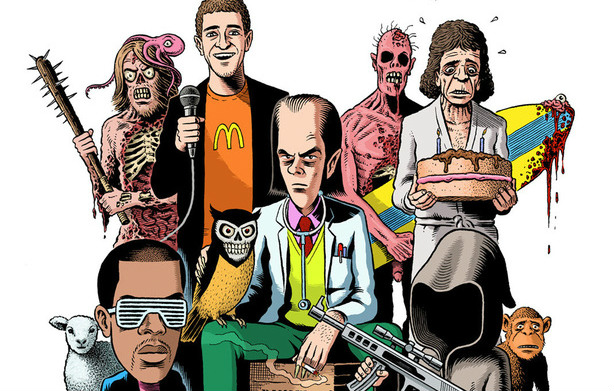 The third 2016 gathering of the ever popular Gosh! Comics and Broken Frontier Drink and Draw nights takes place this week on Tuesday 24th May at Soho's BrewDog pub on Poland Street. Full details of the night can be found on the official Facebook event page or here for those who eschew the social media world. Joining our regular Artist-in-Residence Danny Noble this time around are two creators with very different approaches to the page but whose work, nevertheless, shares a very similar mordant wit.
Krent Able's acidic lampoons of music industry figures in The Stool Pigeon were collected by Knockabout as Krent Able's Big Book of Mischief in 2012. From Johnny Cash and Morrissey to Nick Cave and Lady Gaga no one is safe from his scathing send-ups. S.J. Harris's debut graphic novel Eustace was published by Jonathan Cape in 2013; a biting caricature of British society circa the 1930s, as seen through the eyes of the sickly, bedridden, juvenile lead.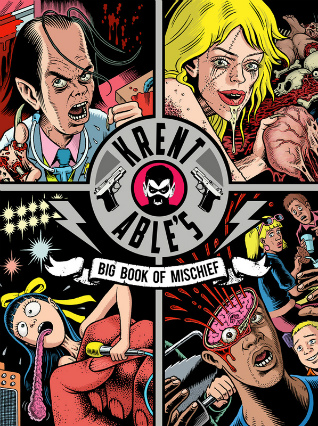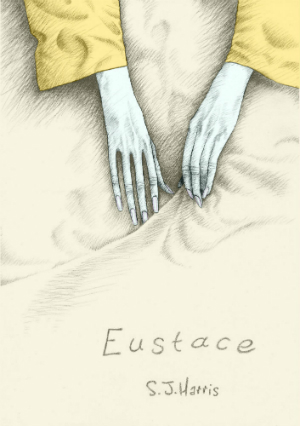 In readiness for tomorrow's night of alcohol-inspired artistry it seems an appropriate moment to take a look through two books from the back catalogue of our guests in eager anticipation of what they have in store for us…
Krent Able's Big Book of Mischief
Krent Able's wickedly warped world of skewered celebrity has echoes of the work of Ken Reid, Basil Wolverton and Leo Baxendale to its delightful grotesquerie. The Big Book of Mischief is replete with near-to-the-knuckle running gags and depravity so delicious you can almost taste it. Able's incarnation of Nick Cave, or Doctor Cave as he is here, makes the biggest impact; a melancholy, soliloquizing figure of fun whose detached bedside manner reflects the dark intensity of his creative output.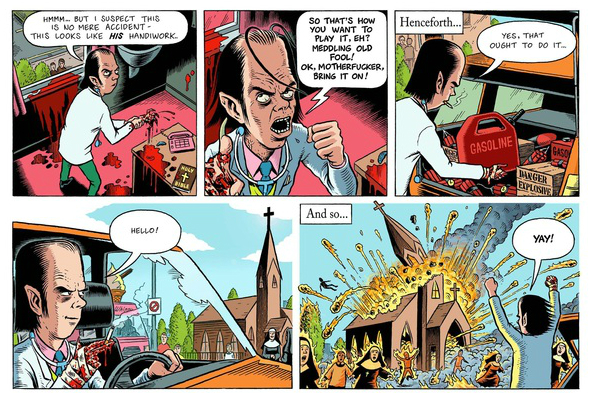 There are moments where the parody takes on something of a Viz-style spoofing of British weekly comics from the IPC and DC Thomson mould. 'The Curious Adventures of Morrissey and His Hearing-Impaired Driver, Clyde', for example, is brilliantly ludicrous in both the pacing and delivery of its ever escalating central gag. 'That Joke Isn't Funny Anymore' sang the Mancunian master of misery in his The Smiths days but there's no sign of those words becoming a reality here. Read the full strip here.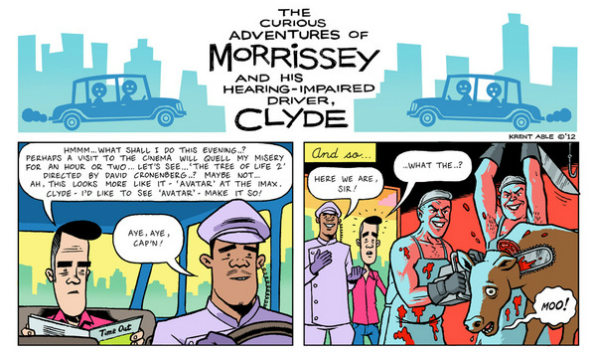 There are call backs to other comics traditions inherent in Able's strips as well. This piece below from 'Surf's Up' has a Lovecraftian-style Beach Boys emerging from the sea like something out of The Shadow over Innsmouth. There's a positively EC Comics vibe to its creeping terror.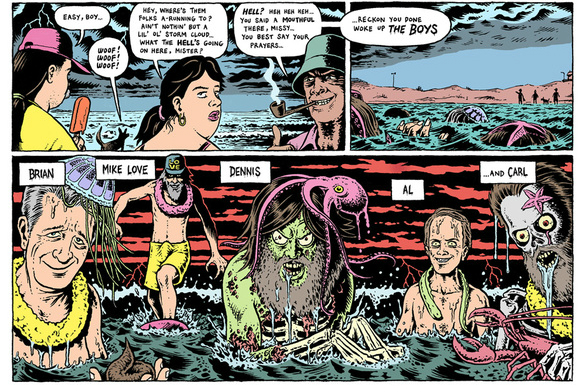 Is there a hidden fondness for his "characters" (like Alison Goldfrapp below) secreted away amongst all the gratuitous icky-ness, body horror and snarling satire of Able's oeuvre? Very possibly… but it's like the fondness an older child has for the sibling whose toys he deliberately breaks. Work as wonderfully and gloriously offensive as this is a rare and cherished treat indeed.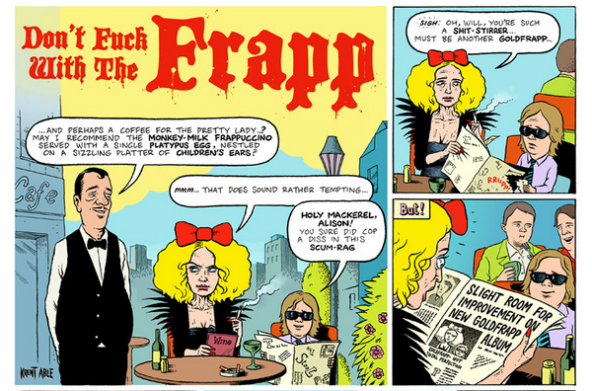 Krent Able's Big Book of Mischief is published by Knockabout.
Eustace
S.J. Harris produced his first volume of the adventures of the titular Eustace as part of a projected series of books following the life of his sickly protagonist. Elements of farce combine with social commentary in this tale of an ailing, bedroom-bound child whose world is turned upside down when his shady, on-the-run Uncle Lucien takes up residence beneath his bed. You can read my full review of Eustace here.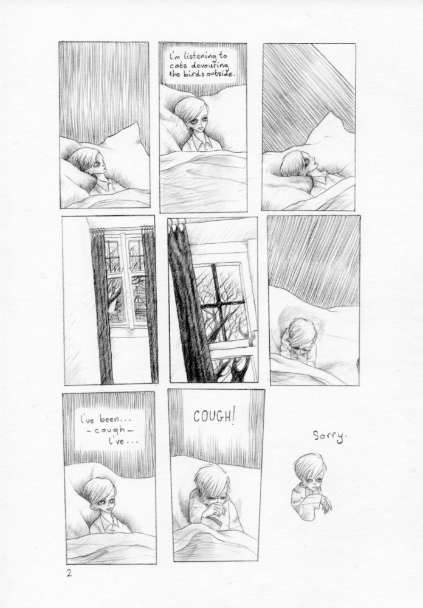 That sense of confinement is a central theme to Eustace. Focus on the page above to see how acutely Harris fosters that claustrophobic atmosphere  – multiple angles building up a feeling of entrapment and solitude as the four walls of our protagonist's world seem to be malevolently oppressing him. If there's one wall that Eustace can break free of, though, it's the fourth wall. Just look at how expertly paced the panels are in the page below as he prepares for a visitation from the dreaded Great Aunties.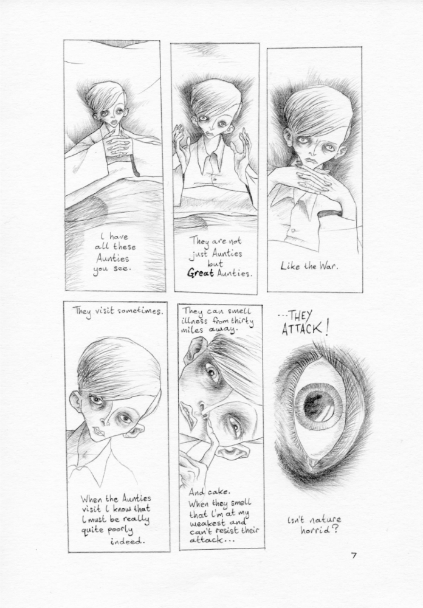 When I reviewed Eustace I remarked that Harris's visuals had something of the "H.M. Bateman meets Edward Gorey" to them and that his "sketchy and shadow-filled penciled art brings Eustace's world to a macabre and melancholic life." Harris's use of language (below), though, is of equal import in reminding us that we are seeing the world through the eyes of a child. One who often appears old beyond his years but a child nonetheless.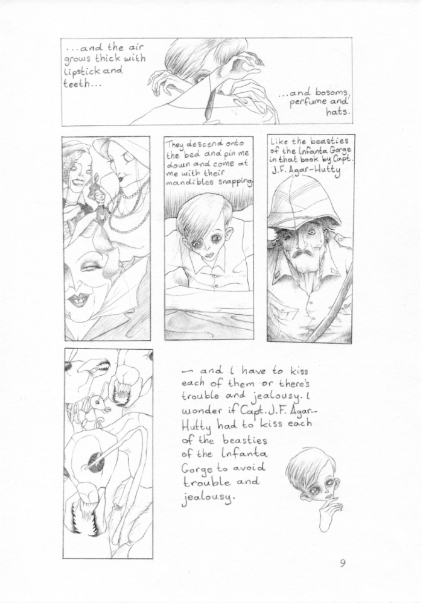 It's the observational humour, as seen below, that makes us instantly sympathise with Eustace however. The overbearing, ostentatious affections of the smothering entourage of relatives acting as a shared and recognisable experience between protagonist and readership. For the discerning comics reader, Eustace's return to the printed page in the second part of his exploits is surely one of the most eagerly awaited  new Cape offerings.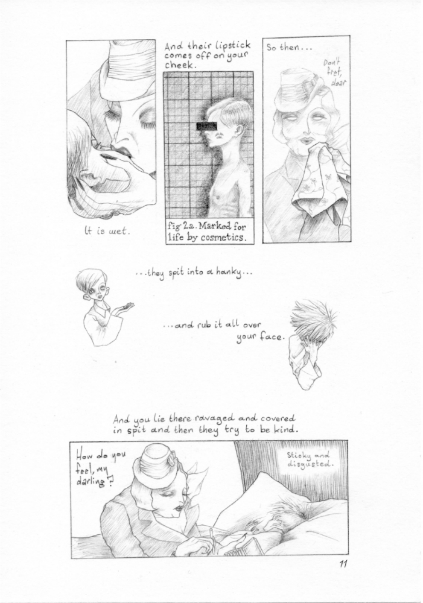 Eustace is published by Jonathan Cape.
Krent Able and S.J. Harris join regular Gosh! Comics and Broken Frontier Drink and Draw Artist-in-Residence Danny Noble at our May 24th meet-up and are available to sign their work at Gosh! from 6.30pm.