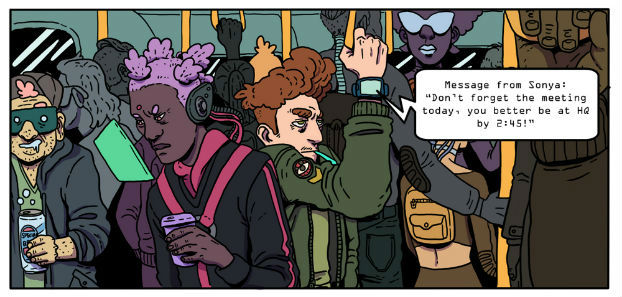 Shoreditch, London 2050, and CCTV operator Ted Fairfield's job as part of the agency that monitors the city is far from rewarding. His slapdash attitude to his employment is hardly helped by the environment he works in, replete with an aggressive bullying boss and irritating co-workers.
Life takes a significant turn, though, when he begins surveilling a notorious tagger wanted for vandalism and, instead of aiding in her detainment, helps her evade the security forces instead. What will the repercussions be for this unlikely duo? And how will Ted's one moment of disobedience affect both their futures?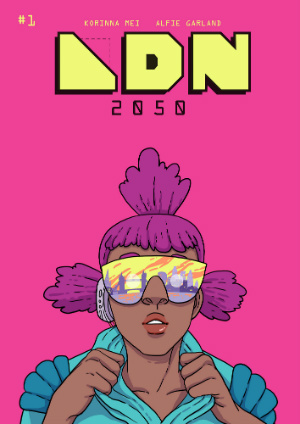 Writer/artist Korinna Mei (with art assists from Alfie Garland) brings us a fast-paced opening episode of this near-futuristic drama that ably serves to both introduce us to this semi-dystopian world and also to the chalk and cheese relationship that sits at its heart. Despite being set in a technologically advanced era, some thirty years down the road from our own, Mei wisely keeps the London of 2050 essentially recognisable as our own beyond the surveillance net that engulfs it and the advanced evolution of the online world.
But what makes LDN 2050 so relatable is that Ted Fairfield's everyday struggles are so akin to our own. He's trapped in the tedium of the the 9 to 5 and an unfulfilling job. He works with people whose anti-social behaviour drives him to distraction. And he's terrorised by the boss from hell that we all encounter at one time or another in our working lives. No wonder he suddenly snaps…
As with any serial genre comic this opener serves as prelude to what is to come and we still have to see where Mei takes the concept as the plot progresses over coming issues. But LDN 2050 #1 is a tidy intro to the characters that throws the reader into the action and tells us all we need to know about them without unwieldy exposition. Mei's cartooning pops with energy with animated panel-to-panel storytelling in the chase sequences and some effective visual characterisation, particularly in the case of Ted's superior who is only seen on a monitor screen with his grotesque visage positively bulging out of the display.
The book's A4 side allows the art a true chance to breathe, though whether that will be to the comic's detriment in getting that all-important small press shelf space in shops remains to be seen. Those attending the next Gosh! Comics and Broken Frontier Drink and Draw on Tuesday May 23rd will have the chance to meet guest artist Korinna Mei who will be launching LDN 2050 in the shop beforehand! Full details here.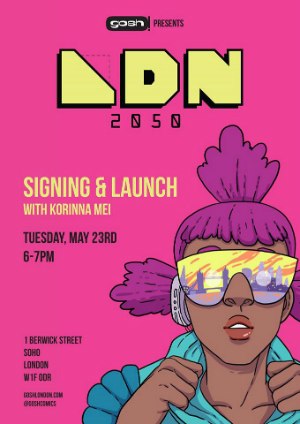 You can follow Korinna Mei on Twitter here and find her tumblr here.
For regular updates on all things small press follow Andy Oliver on Twitter here.