I love comics that I can't easily define! Where No One Goes fits neatly into that niche area of comics practice whose genre classification is at best hazy. It's kind of slice-of-life, exploring universal themes that are familiar to us all, echoing as they do our own experiences. But they're also couched in an overtly fantastic allegorical presentation, asking the reader not to think so much in terms of specifics but to make their own inferences from Zarika Gaeta's borderline surreal representational scenarios.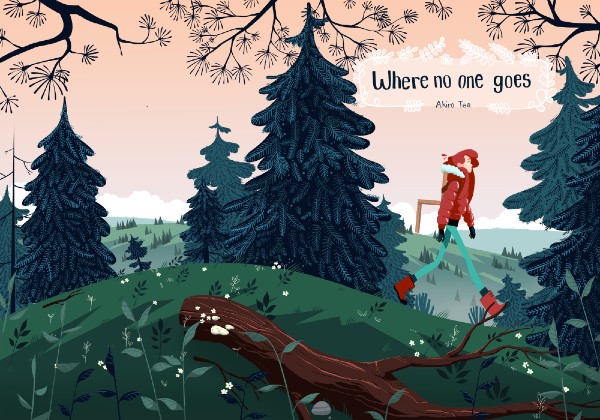 The Where No One Goes series is currently crowdfunding its fourth issue on Kickstarter with three issues published to date and available to buy online (Where No One Goes, Where No One Lives and Where No One Grows). The comic is, on a surface level, the story of the nascent relationship between characters Marlo and Basil. In the opening chapter a hesitant Marlo invites Basil to get to know her better by entering her mind and living her memories in a direct and yet still somewhat intangible way. That's because each of these revisitations is cloaked in metaphor, events depicted symbolically rather than literally, and each fragment of the past only accessible by a nexus point of closed doors within Marlo's subconscious.
The second and third issues expand on some of those key memories with the second issue taking us to Marlo's time living in quiet domesticity in a remote house in the woods with her friend Skeleton Girl. In the third instalment we observe Marlo's travels and her time spent in the jungle with flaming monkey, another stand-in avatar for a prior period of her life. Along the way Gaeta explores ideas of home, belonging, friendship, relationships, loneliness and social interaction.
With that fourth issue (No One Else) due to look at events from Basil's perspective it remains to be seen how (or even if!) all these absorbingly disparate elements will be drawn together. But these first three issues are a wonderful exercise in bringing us into the emotional immediacy of someone's world without necessarily needing explanations of the exact particulars. Gaeta's clear but stylised visuals and deftly crafted panel-to-panel sequencing heightens that sense of a reality hidden within fantasy trappings, and there's a vibrant use of colour here that washes over the reader as much as it washes over the page. Where No One Goes is a canny piece of storytelling in that it recognises that the confounding and the enchanting can often go hand in hand. Those wanting to take the recommended action and back the Kickstarter for issue #4 can do so here.
Zorika Gaeta (W/A) • Self-published, £10.00 (Volume 1), £9.00 each (Volume 2 and 3)
Review by Andy Oliver