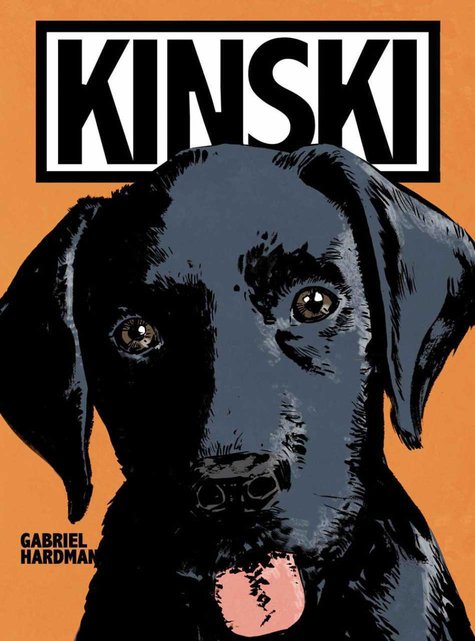 The fine folks at Monkeybrain should be commended for a number of the great titles they have given a platform to. Award-winning comics like Bandette and Masks and Mobsters go to show what can be accomplished in the medium when creators are allowed unfettered opportunity to create.
To me though, the single biggest accomplishment from Monkeybrain has been publishing Kinski. It's not a stretch to believe that Bandette or Masks and Mobsters (one a superhero comic, the other a crime/superhero comic) could have found a home elsewhere. But, Kinski, from writer/artist Gabriel Hardman, is something else entirely.
Kinski is the story of a man who finds a lost dog. Then steals the dog from its rightful owner. Then regrets the decision.
In short, it's the type of story you would read in a book or see in a theater. But never the type of story you would experience through a comic book.
The novelty of this kind of plot in a comic book format isn't what makes it so appealing though. What makes it appealing is the work that Gabriel Hardman puts into it. The first thing you will notice about the book is the artwork. Gabriel Hardman has impressed me before, on everything from Hulk and Secret Avengers to the Planet of the Apes books. But when I read this book I feel like his art was meant to black and white. It's the kind of art that evokes the black and white movie era that this book is somewhat inspired by, while remaining clearly contemporary. 

He puts the same touch into the plot as he does into the art. The story is a much more complex than it may initially sound. The tone manages to range from screwball comedy, to a darker Coen brothers like tale, and multiple places in between. I think much of it is simply about a man's love for a dog, you can't look at any of the Hardman's illustrations of Kinski and have any doubt that the man loves dogs.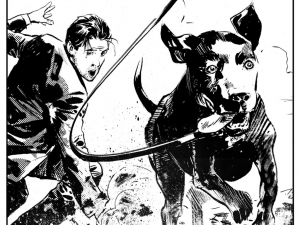 But there's much more there than that. After three issues I have no idea where this man's mindset is – but I'm deeply fascinated by the whole thing.
It's a mystery in the simplest and loosest interpretations of the word. Why would the character steal a dog in the first place? Why would he change his mind? What is he thinking?
It's the kind of small scale adventure that is rarely done in comics, and is becoming increasingly rare even in the movies. It's a throwback to storytelling of a long-past film era, and it's a blast for that alone. At $1 an issue, this series is one that deserves you give it a chance.
Gabriel Hardman's Kinski is available for purchase at comiXology.