Bries is a Belgian publishing house that focuses on the creative aspect of comic books. It was founded in 1999 by Ria Schulpen and is still going strong under her guiding hand.  It has launched the careers of international greats like Olivier Schrauwen, Pieter De Poortere, Brecht Vandenbroucke and Ephameron – artists who have seen their books published by the likes of Drawn & Quarterly and Fantagraphics.
Ever the champion of innovative, non-commercial artists, Bries opened its own gallery space in 2011, exhibiting talents from all over Europe, and is currently curating a book fair called Klaxon, where art meets comics in Antwerp, Belgium on May 9th.
With graphic novels becoming ever more popular and the public embracing more and more expressive means of communication, 2015 is turning out to be a very productive year for Bries, with some outstanding publications already. This month Crossing Borders celebrates Bries with creator interviews, in-depth looks and reviews of their latest releases.
Wide Vercnocke's debut My Muse Is Lounging on the Sofa surprised and astonished as a poetic graphic novel in which the line work was as fluent as the prose. His follow-up, Scar Tissue, mines the same vein but feels richer and assured but no less strange.
His phantasmagorical tale about a woman encountering a wounded deer who then transforms into a man turns into a tale of unattainable love, as a sexual affair runs into the choices between dispossession or renewal. Wide Vercnocke spoke to us about the book.
BROKEN FRONTIER: Scar Tissue and My Muse Is Lounging on the Sofa both delve into some sort of constructs of the flesh of man.

WIDE VERCNOCKE: I think it is connected to the finitude of the human body, the extraordinary limits of it while one lives its life. That's what makes us human beings. Every person is confronted with this. The same goes for me, and it keeps me wondering.
How does a shoe sole wear out after a year but the sole of your feet does not? How does a wound just close out of itself? How is the flesh shaped by its muscles?  That animal lust, that primal feeling that we all got keeps me awake at night.
Having a body and doing stuff with it goes back to your essence and that is the flesh, the meat: being able to touch, soft or hard. There's a good symbolism to use in stories.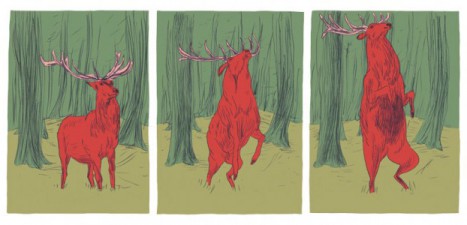 You utilize a rather fluid drawing style, not wondering too much whether or not characters look exactly the same from panel to panel.
That style is rather coincidental and comes from the way I work. I don't like to repeat things so I try to create a drawing only once (unless it's a total failure). I believe in the strength of spontaneity and intuition. Just start drawing and let the hand decide. That's why the drawings get that fluid effect, which feels quite natural.
Your rough line work also displays a certain aesthetic.
I used to be totally captivated by CoBrA and Matisse and other Fauvist artists like Kees van Dongen. I really reacted to their spontaneity of color and line usage. Very direct, very powerful.
When I started drawing comics, I looked a lot at the work of Bastien Vivés, Ruppert and Mulot, Olivier Schrauwen… It's especially the line work that intrigues me. Like the sketches of Lucian Freud or David Hockney. They display a pure and honest line where you can feel the hand of the artist. I always get a titillating and happy feeling when observing that.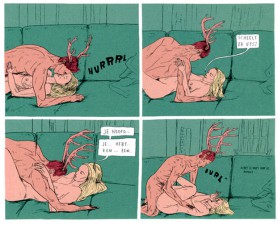 Scar Tissue ups the ante on My Muse in terms of ambiguity in story endings.
Usually there is a grand idea of how the scenario should run. The ending is fixed but the road getting there is not. It's just my way of putting in some space for creativity and is not something I hesitate to tinker with.
Alain de Botton, philosopher and founder of The School of Life believes in the inherent beauty of banality, like the light that falls on a dish of fruit in a kitchen. How do you look upon life?
Hopefully with an unconscious balance between gently steering and putting faith in the coincidence of transcendental moments. But mainly just by living and doing stuff. Or not doing and just lounging in my sofa, fantasizing. And sometimes losing yourself in the rush of creating something.
Scar Tissue (Wild Vlees) is published in Dutch by Bries. It is a full-color softcover counting 80 pages and retails for €19. Follow the artist on his blog.
For more news and info from Europe's comics community, follow me on Twitter right here.