The team behind the long-running anthology World War 3 Illustrated started producing issue #51 in the fall of 2019 before COVID shut down life. Now finally released, this institution of comics continues its tradition of spotlighting new and recurring injustices in all areas touched by the cold hands of blind capitalism. A variety of subjects are covered in comics, essay and illustration form, including housing rights, police brutality, climate change, foreign wars, Trumpism, and the other virus COVID-19.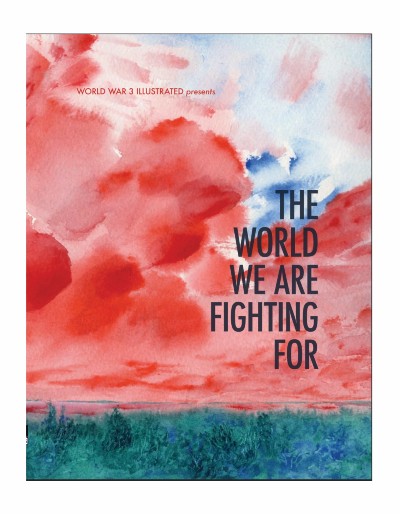 World War 3 Illustrated embraces left-leaning activism, but you won't find reductive worldviews between its covers. Most stories are personal and grounded, field notes from people and events involving systemic issues. The impressive depth that its contributors have managed to squeeze into their respective pages inspires the reader to read up more on the given subject.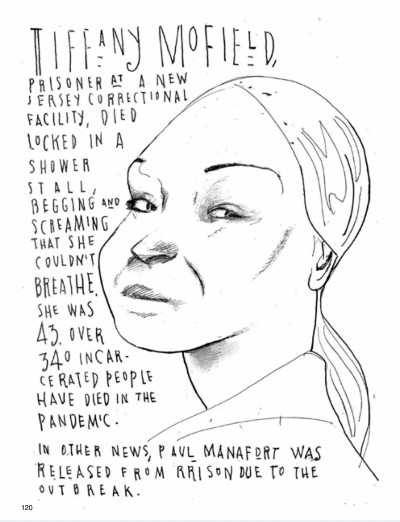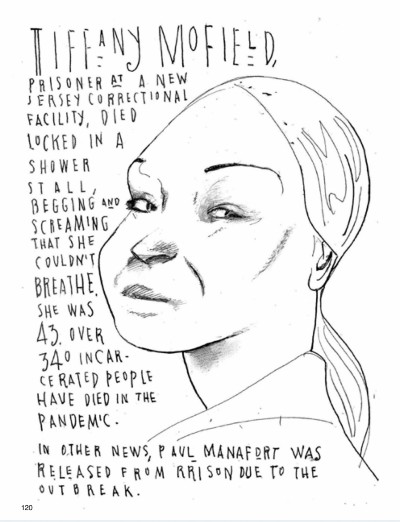 From 'The Greater Quiet' by Steve Brodner
Courtney Menard's 'Good Days', a dystopian piece about life under a smog-filled sky in which everyone wore a mask and corporations sold clean air, felt almost slice-of-life in light of the red skies of the American West Coast. In a stark black and white palette, we see the lead turn to activism and "save the day" to usher in a new era that may or may not be as glowing as that of older generations.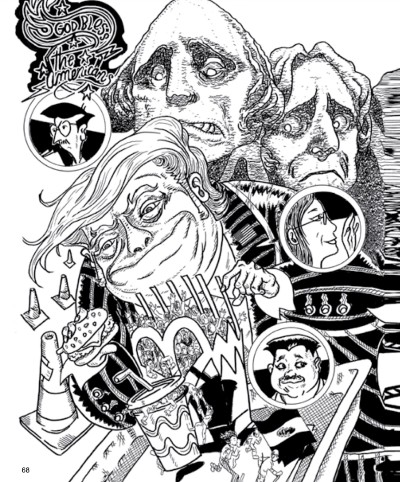 Some stories examine Trumpism on a personal level. In one of the book's standout pieces 'God Bless the Americans'(above), Sandy Jimenez shatters stereotypes of a Trump fan. His work colleagues include an A-type, Trump-loving Indian who clashes with a white, racist "comedian". His white boss is married to an Asian woman, whose experience with racism impacted him viscerally, even though that didn't stop him from voting for Trump. He insinuates regret and wishes that Americans understood what it meant to be Asian. Some may view the story as apologist, but it ultimately it demonstrates real cognitive dissonance that occurs when a vote pits practical self-interest against personal values. Rebecca Migdal's "Trump Dreams", a whimsical series of Trump dreams, have less weight than other pieces, but only if you overlook the man's remarkable effect on the American psyche.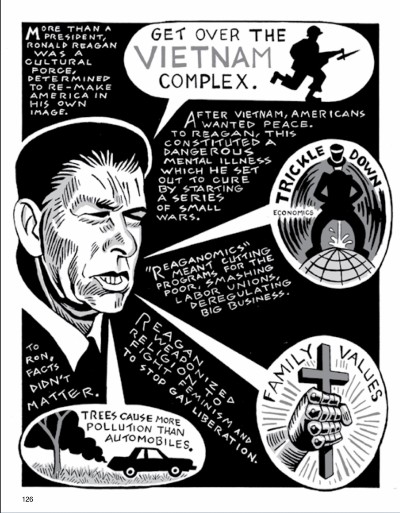 From 'What to Do About It?' by Seth Tobocman and Tamara Tornado
This volume was set to release just before the pandemic, so pieces on COVID are slim. Of the few, the one-page 'A Safe Investment' by Ben Katchor stands out for its examination of how real estate, pharmaceutical companies and for-profit prison system conspired to take advantage of New York's wave by converting condos into ICUs. The result was subpar health care at exorbitant prices paid by COVID patients.
Mohammad Sabaanneh's series of double-page tableaux called 'The History of the World' are as emblematic of WWIII's strengths as they are arrestingly poetic about the nature of major societal issues: they're interconnected and feed off each other. Turrets and smokestacks break down trees and mothers alike, their effects passed down to new generations that come up against the same forces.
In an ideal world, World War 3 Illustrated wouldn't need to exist. In the world we live in, it must. The work and subjects are impressive enough. It's quite unnerving to find stronger resonance in pieces that, at best, could only predict the archetypal nature of problems we're facing in October 2020 what makes the book particularly admirable is its creators and/or their subjects, many of whom empowered themselves and others to become activists long ago. We'll always have stories that raise awareness; what we need, more than ever before, are individuals like these creators, who have the conviction and pragmatism to help fix their pocket of the world before sharing their experience.
Colleen Tighe, Kill Joy, Meredith Stern, Elizabeth Haidle, Jackie Lima, Terry Tapp, Sue Coe, Courtney Menard, Ben Katchor, Bec Young, JB Brager, Eric Laursen, Ethan Heitner, Sasha Hill, Annable Heckler, Carlo Quispe, Sandy Jimenez, Rebecca Migdal, Deb Lucke, Joe Sances, Tamara Tornado, Seth Tobocman, Mac McGill, Anton van Dalen, Liniers, Steve Brodner, Jon Vasquez Mejias, Jordan Worley, Susan Simensky Bietila, Mohammad Sabaaneh, Pablo Delcielo, Raimundo Günen, Kevin Pyle, Eric Drooker, Roger Peet, Peter Kuper, José Muñoz (W/A), Ethan Heitner, Peter Kuper and Seth Tobocman (Editors) • World War 3 Illustrated, $15.00
Review by Moe Abbas