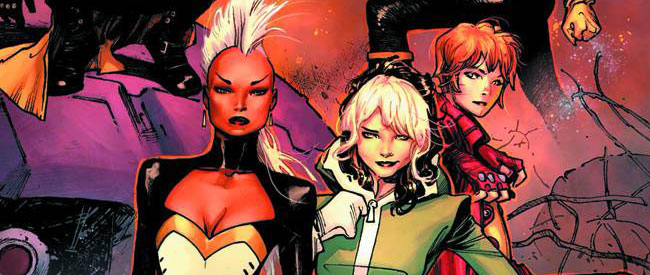 Right from Olivier Coipel's striking cover it's clear that these X-women mean business.
After getting his feet wet for twelve issues on the previous X-Men volume, Brian Wood is back to helm a full-blown Marvel NOW! relaunch of the series that stars an all-female cast of mutant heavy hitters. Indeed, one could argue that with the exception of Emma Frost and Jean Grey, who're not part of the line-up for obvious reasons (see All-New X-Men), all of the truly relevant X-ladies of the last three decades are on this roster.
Storm once again sporting her 80s mohawk and Jubilee dressed in her 90s yellow jacket certainly provide a nice wink to the past, as does the fallen Sentinel on the cover. But make no mistake, this is a comic book that really looks to further the legacies of its characters well into the future.
While this is very much a set-up issue for what's to come, it's clear that Wood is penning this comic as a true action adventure where the words 'epic' and 'brawl' are bound to pop up time and again without degrading into mere superhero fisticuffs with some T&A sprinkled on top.
In this opening salvo, Jubilee returns to the Jean Grey school with John Sublime hot on her heels. Formerly a very naughty person (very evident during Grant Morrison's New X-Men run), he's now come to warn the X-Men of the imminent return of his evil twin sister,  who's hell-bent on destroying all mutantkind, if not planet earth. It'll be up to our new band of X-women to stop her.
Whoever feels that Wood is an odd choice to write this series should look at some of his previous work. DMZ, Local, Demo and New York Four/Five are all books in which he successfully gave female characters a strong voice, and he'll no doubt repeat that trick here. The fact that he's quickly found each character's beat and his focus on interaction as much as he does on action are positive signs in that direction. I must say though that I think it'll be hard for him to top writing Kitty Pryde the way Josh Whedon did in Astonishing X-Men, but I do look forward to him penning miss Jubilation Lee as someone much more adolescent than the teenage angst/comic relief character hanging on Wolverine's coattails. I hope we'll also continue to see a Psylocke who's on edge as she was in Uncanny X-Force.
The one thing* that was a bit disappointing was Coipel's art, which looked uneven at times. It's clear that his art is much crisper on the pages where Mark Morales is inking him, but even aside from that, his pencils weren't as sharp as they were on Siege, let's say. Here's hoping Coipel picks it up as of next month.
Brian Wood (W), Olivier Coipel (A) • Marvel Comics, $3.99, May 29, 2013.
*Come to think of it, there's a second thing that bugged me: why didn't Marvel name this book 'X-Women'? Probably because it reminded them of this little evildoer: