David Aja is the industry's modern Jim Steranko: an innovative artist who masterfully dissects storytelling like no other. His art is largely responsible for making Hawkeye the best Marvel comic currently on the stands.
David Aja literally dropkicked the US comics scene on his back with his stunning visuals in 2006 in The Immortal Iron Fist series, rejuvenating Marvel's Iron Fist character with writer Matt Fraction. Born in the same town in 1977 as Miguel de Cervantes, the author of Don Quixote, Aja seemed destined for a career in storytelling. After his studies and subsequent work as an illustrator, he started in comics with his international breakthrough appearing in 2006 with The Immortal Iron Fist.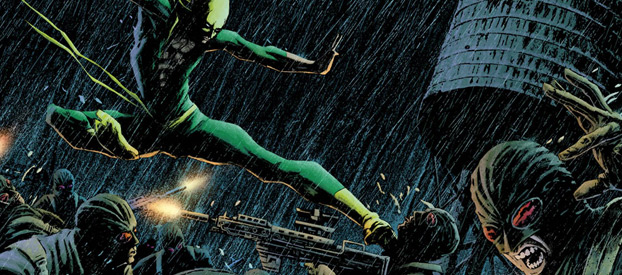 His highly graphical approach to comics is reminiscent of Jim Steranko, a comparison further strengthened by his elongated and realistic figure work. Just like Steranko, Aja takes the time to dissect the storytelling, not only dividing sequences up into panels but analysing the characters and scenes and transforming these essential elements into a figurative externalisation.
With his latest series (once more with Matt Fraction), he shows that he is also not afraid of adapting his drawing style to fit the subject. Hawkeye, fresh from his movie stint, gets a solo series in October 2012 – and still ongoing – that turns out to be fresh, hip and innovating both in visuals and in stories. Aja draws inspiration from David Mazzuchelli's earlier gritty work and he turns Hawkeye into a stylish slacker noir series where the team of colourist Matthew Hollingsworth, letterer Chris Eliopoulos, and Fraction and Aja all work together, bouncing off of each other's ideas and making sure that every month, Hawkeye looks like the best that comics can be.
Apart from his sequential work, Aja also did numerous inventive covers. As usual, diverging from the static pin-up style of most covers, Aja tries to capture the spirit of the story in a highly graphical piece turning in not only great works of art but also stand out covers on the spinner racks.
So, it's easy to see why David Aja, the comics industry personification of visionary director Sam Peckinpah, won the Best Artist – Mainstream award. Here's a toast to inventiveness, always trying to walk the line and to lots of more work in 2014 from this amazing artist. If you want to follow David Aja's work, visit his blog at blog.davidaja.com.