Promoting up-and-coming talent is at the heart of what we do here at Broken Frontier so our heartiest congratulations to Cara Grainger, Rohan Rooney and Bianca Hsu, the recently announced winners of the 2021 Young Cartoonist of the Year Competition. Full details in the press release below.
The Cartoon Museum and British Cartoonists' Association announces winner of Young Cartoonist of the Year 2021
We are delighted to announce the winners of the 26th Young Cartoonist of the Year competition. Over 150 entries were received from all over the UK, with winners decided by a panel of judges comprised of luminaries of British newspaper and comic cartooning.
The winners are:
Under 30s – Cara Grainger (age 22) from Stoke-on-Trent
Under 18s – Rohan Rooney (age 13) from Trim, County Meath
Woodcock Prize – Bianca Hsu (age 9) from London
Each of the winners receives prize money and a certificate. The certificates will be presented to the winners at an event at The Cartoon Museum in May, alongside a display of the artwork winners and runners-up.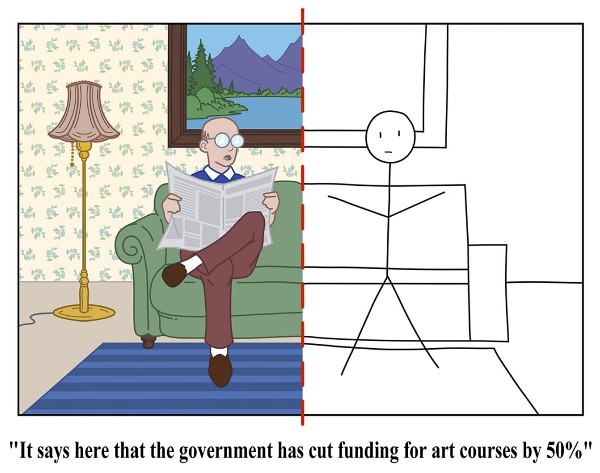 Cara Grainger, under-30s category
The 2021 awards were judged by a panel that included Martin Rowson (BCA Chairman and The Guardian cartoonist), Christian Adams (The Evening Standard), Banx (The Financial Times), Ella Barron (The Sunday Times), Steve Bell (The Guardian), Grizelda (The Spectator), Matt (The Daily Telegraph), Nick Newman (Private Eye), and Oliver Preston (Chairman of The Cartoon Museum).
The Young Cartoonist of the Year competition was originally set up as the 'Mel Calman Young Cartoonist Competition', in memory of the great Times cartoonist and Cartoon Arts Trust founder. In 2001 the competition morphed into its current form, led by Martin Rowson who recruited judges from each national newspaper, leading to wide publicity for the competition. The competition, now in its 26th year, has produced winners including Nick Edwards (2009) who went on to win an Emmy for his work on Uncle Grandpa in the US, New Yorker cartoonist Will McPhail, and political cartoonist Matt Buck.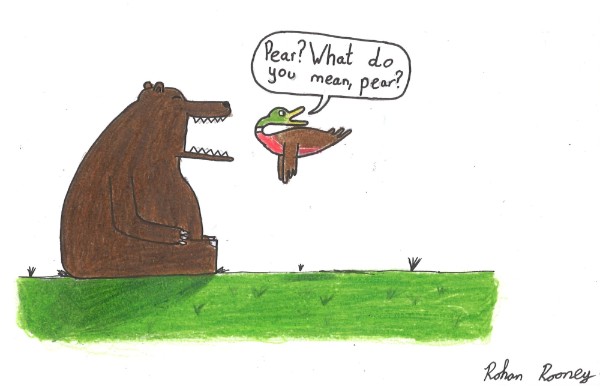 Rohan Rooney, under-18s category
Chair of the British Cartoonists Association, Martin Rowson said:
"For the last 21 years I've always joked that the real purpose of the annual Young Cartoonist Competition, awarded by the British Cartoonists' Association, is to remind everyone that ours is a crowded and frequently beleaguered profession and that the last thing we need is competition from the whippersnappers. So this way we can identify the best ones and break their fingers. And if it's the kind of gag which causes offence to the winners, that sort of suggests they've chosen the wrong path in life. But to be serious for a fleeting second, the wealth of talent which we see coming up each and every year shows Cartooning is alive, kicking and screaming, just like it should be."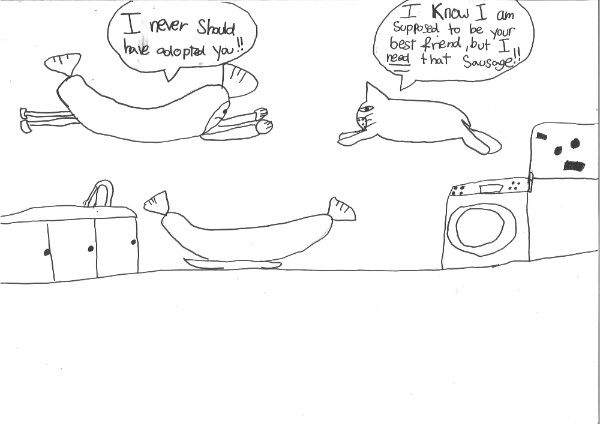 Bianca Hsu, Woodcock Prize
Director of The Cartoon Museum, Joe Sullivan said:
"A huge congratulations to Cara, Rohan and Bianca on their wonderful winning entries! This competition is so important to the museum and to the cartooning community, encouraging young artists to pick up a pencil and draw a cartoon, and displaying the very best on our walls alongside the greats of Hogarth, Gillray, Darly, Low, and the rest. It is fantastic to see so many great cartoons roll in each year, and we look forward to continuing to unearth the brightest and best young cartoonists in the years to come."