The
Cartoon Museum
has announced return of the Young 
Cartoonist
of the Year competition, now in its impressive 27th year. More details in the press release below and the accompanying flyer.
Young Cartoonist of the Year Competition Returns!
Entrants will get their art in front of a judging panel made up of luminaries of the British cartooning and 
comic
 industry, and winners will receive prize money and a certificate. The certificates will be presented to the winners at an event at The 
Cartoon
Museum
, alongside a display of the artwork winners and runners-up. Last year over 150 entries were received from all over the UK for the two age categories, Under 18 and 18 – 30s.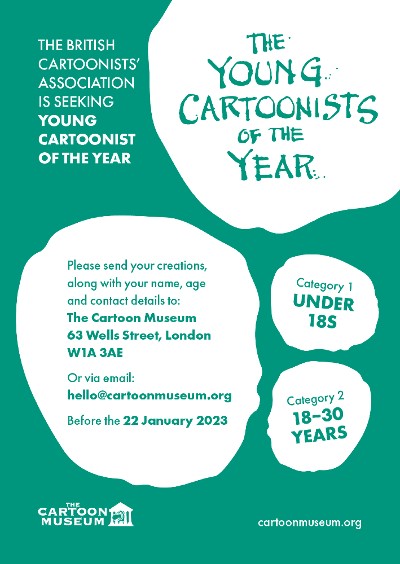 The Young 
Cartoonist
 of the Year competition was originally set up in 1995 'The British Cartoonists' Association and The Times Young 
Cartoonist
 of the Year Awards' (or 'The Mel Calman Awards' for short). Since 2001 the competition has been run by the BCA in association with the 
Cartoon
 Art Trust. The competition, now in its 27th year, has produced winners including Nick Edwards (2009) who went on to win an Emmy for his work on Uncle Grandpa in the US, New Yorker 
cartoonist
 Will McPhail, and political 
cartoonist
 Matt Buck.