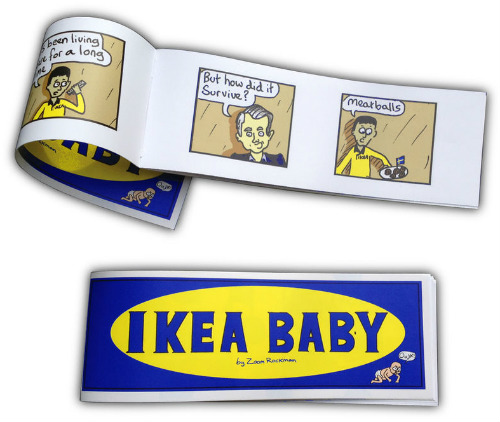 Those who do the rounds on the UK small press comics circuit, particularly those in London, will need no introduction to prolific cartoonist Zoom Rockman. Broken Frontier is, of course, a site with an international audience so first some brief words to bring readers from outside these shores up to date with this teenage phenomenon…
Fourteen-year-old Zoom has been creating his self-published comic The Zoom! since he was 9 and has produced ten issues to date (you can catch up with back reading and trace his artistic development on his site here). He's also a contributor to the legendary British children's comic The Beano with his strip Skanky Pigeon.
Rockman's latest project is a collection of four satirical minicomics – Charlie and the Cadbury Factory, iSmell, IKEA Baby, and Google: There's a Glitch and We've Lost Everything – that are described as "mini graphic novels". From the titles of each I probably don't need to elaborate much further as to their intended targets, all of whom – as the covers of each comic make clear – do not endorse the publications!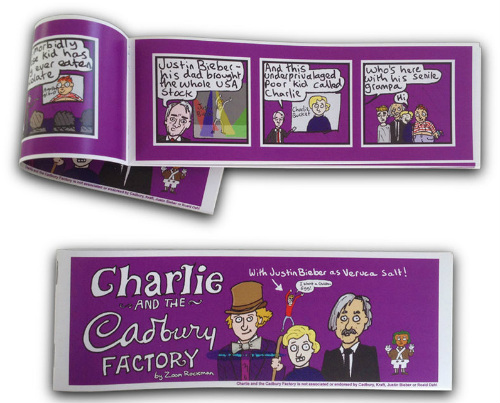 IKEA Baby takes the legend of Edgar Rice Burroughs' Tarzan and transports the future lord of the jungle's story to the environs of a Scandinavian furniture store instead while Charlie and the Cadbury Factory transforms Roald Dahl's much loved story into one of corporate greed and childhood obesity.
Of the two most successful of these minicomics iSmell introduces us via a press conference to the newest technological development from a certain multinational corporation that allows its users to smell their playlists and contacts from a distance, and even to get a whiff of celebrities from afar. While the punchline is, perhaps, a little obvious it's still a neat send-up of consumer culture and our gullibility in being sold products we don't need.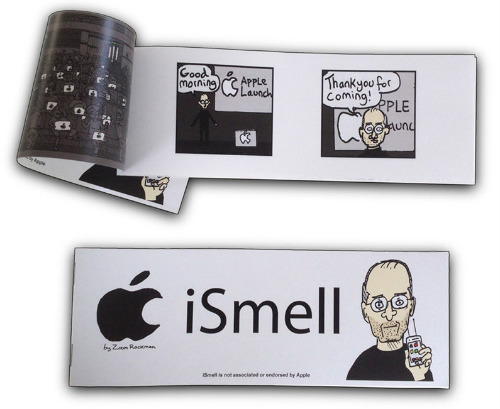 Google: There's a Glitch and We've Lost Everything, wherein the search engine giant essentially loses the internet is less sophisticated than iSmell but it does work its way up to a corker of a final line.
The physicality of each of these minicomics – a long landscape-style presentation – gives them a sense of tactile fun but in some cases the strips contained within have been pulled apart a little to fit the format. While the inconsistent panel placement can be visually a little jarring one element that does work to great effect is the colouring which matches the corporate identity of each of Rockman's subjects. It's a clever touch that makes the skewering of each object of parody feel all the more satisfying.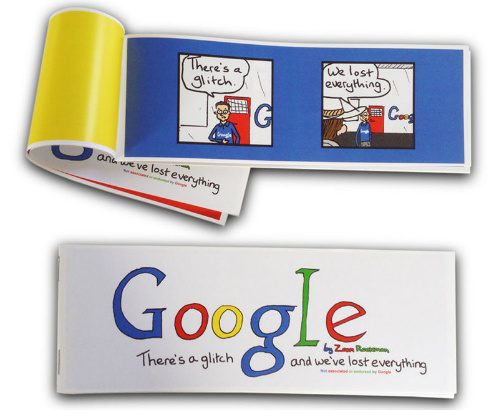 If I have one small criticism to make on the writing front it's that the comics would have benefitted from a final dialogue proofreading but that, in itself, doesn't detract from their contents. There's always been a degree of social commentary to Zoom's work but these four offerings represent some of his most accomplished satire to date.
For more on Zoom Rockman visit his site here. You can buy copies of each of his "mini graphic novels" from his online store here priced £2.00 each. You can also follow him on Twitter here.
For regular updates on all things small press follow Andy Oliver on Twitter here.