It's indicative of the current levels of entitled toxicity in certain demographics of UK fandom that although apparently consisting of some of the highest selling issues of the year 2000 AD's Regened initiative seems to consistently irk a very vocal minority of its older readership. These quarterly sidesteps into (mostly) self-contained one-shot issues for a younger readership provide not simply an entry point into the worlds of 2000 AD but also an opportunity for parents and kids to enjoy a feast of Thrill-Power together. Building new audiences and providing an accessible introduction to a long-running comics institution is more than worth the brief interruption to running serials every few months, as the latest Regened collection in Prog #2296 attests.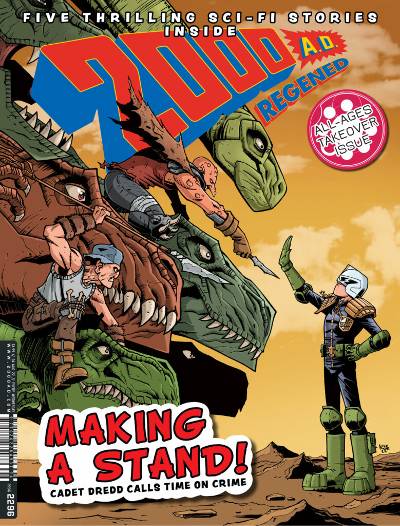 Comprising five features 2000 AD #2296 kicks off with a story of the comic's infamous future lawman Judge Dredd in his younger years as Cadet Dredd. James Peaty and Luke Horsman depict Dredd taking on a group of slavers in the radiation-devastated Cursed Earth, outside of the confines of Mega-City One. Peaty's script never patronises the younger reader and underlines that in Dredd's world the true villain of the piece is usually the ultra-authoritarian grip of the state, while Horsman's art is dynamic in the action sequences and full of imagination-catching character designs.
The highlight of Prog #2296 is fantasy/detective story Renk, simply because it boasts art by the remarkable Anna Readman (one of our Broken Frontier 'Six to Watch' artists back in 2019) who ensures every packed panel of Paul Starkey's script is so rich in detail that it becomes a story in itself. One-armed dwarf investigator Renk is hired by a princess claiming her parents have been kidnapped. But is she telling the whole truth? A witty and twisting one-off from Starkey, moodily coloured by Matt Soffe, this short yet again underlines Readman's place as one of the emerging stars of UK comics. Visual world-building at its finest.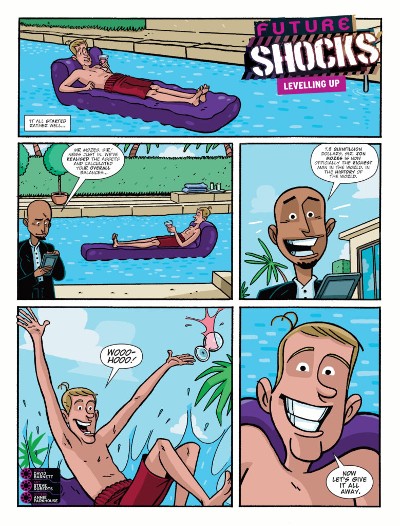 2000 AD has a long history of darkly political/satirical tales going back to its inception and 'Levelling Up', a complete-in-one entry in its long-running Future Shocks series, lives up to the "twist-in-the-tale" structure of the format, with more than one clever narrative about-face. David Barnett's anti-capitalist parable starts with the question "what if everyone became a billionaire?" and is illustrated with a quirky energy by Steve Roberts. Again underlying that appealing to a younger readership does not necessitate an exercise in dumbing down, Rory McConville's frenetic Department K story gives Nick Dyer plenty of opportunities to let his imagination run riot as the eccentric squad dedicated to stopping interdimensional incursions has to deal with an invasion of alternate versions of one of their team.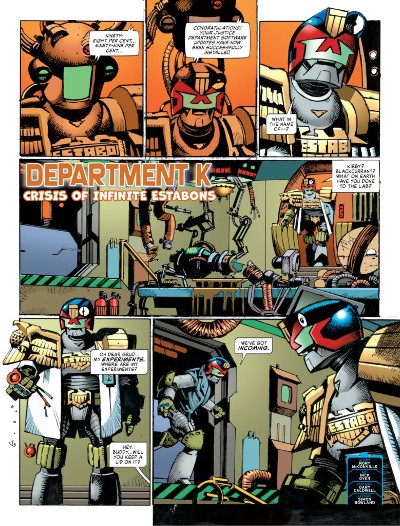 And, finally, there's a Fantastic Voyage homage of sorts in 'Splorers as a family's day out becomes a miniaturised trip into their alien pet's insides. Gordon Rennie and Emma Beeby provide another fun foray into the absurd for these characters with artist Neil Googe taking us on an extra-terrestrial, intestinal adventure that in places feels like a jaunty body horror version of Noah and Nelly.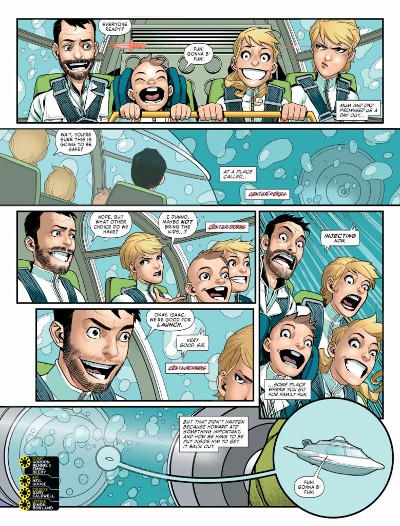 What shouldn't be forgotten about these "All-Ages Takeover" editions of 2000 AD is that aside from the target audience they also provide lapsed older readers with a jumping-on point to revisit the Galaxy's Greatest Comic. The US super-hero comics market made the mistake of pandering to an ever-ageing readership for decades and the results of that are there for everyone to see today. Regened remains an excellent resource for attracting the next generation of 2000 AD fans. Long may it continue.
James Peaty, Paul Starkey, David Barnett, Rory McConville, Emma Beeby, Gordeon Rennie (W), Luke Horsman, Anna Readman, Steve Roberts, Nick Dyer, Neil Googe (A), Matt Soffe, Gary Caldwell (C), Annie Parkhouse, Jim Campbell, Simon Bowland (L) • Rebellion, £4.99 (print) £1.99 (digital)
Buy the latest 2000 AD Regened issue online here
Review by Andy Oliver