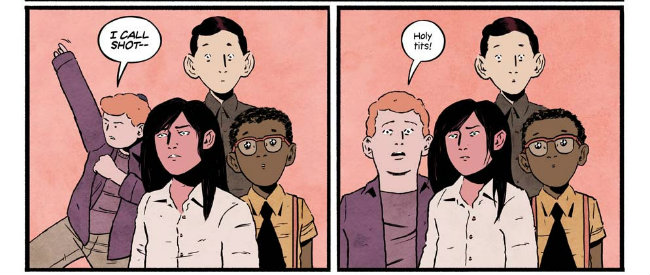 Matthew Rosenberg turned heads last year with his breakout series, We Can Never Go Home, co-written with Patrick Kindlon and with art by Josh Hood. Chronicling the fates of two fugitive teens who discover they have superpowers and head out on the road, the series was an instant hit with critics and fans alike for its fresh take on the superhero genre.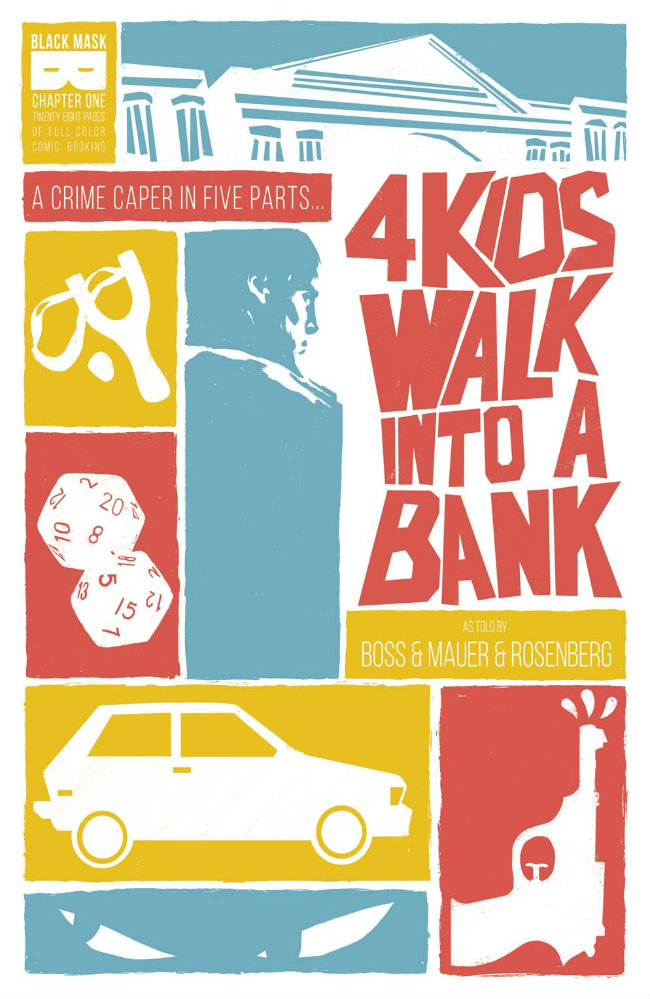 This week, Rosenberg returns with artistic collaborator Tyler Boss for a new creator-owned series that once again mashes up genres with unpredictable results.
Fusing comedy, crime, and – as we discovered during the course of our discussion with him – the undead, 4 Kids Walk into a Bank is a smart, dialogue-rich thrill ride that will make you laugh your ass off. No, seriously – your ass might fall off from all of the laughing.
We spoke with Rosenberg via email about his latest series, what it's like to "work" with kids as a writer, and how the sins of the past always seem to come back and haunt not only ourselves but those we care about most.
So, first off, this was one of the funniest books I've read in a long, long time. The dialogue and character development are razor-sharp. Is humour an aspect of your writing that you spend time developing or is it more off-the-cuff?
Thanks for saying that. No. I don't think of myself as a comedic writer. It isn't something I have ever worked on at all. I know a lot of folks who work in comedy and study it, jokes per minute, pacing, delivery styles, all that stuff.
I never did that because I don't want to be a comedy writer. I just wanted to make a book that I'd think was funny, which I sort of did, I guess.
There's a wicked dark comedy tone about the book. What were some of your influences when sitting down to write it?
I love the writers who have characters who can hold their own with dialogue. Whit Stillman, David Mamet, Quentin Tarantino, Brian Bendis, Elmore Leonard, folks like that. I think you can do a lot in a story if your characters can go from sweet to nasty, scared to fierce, and anywhere in between. So that informs my work a bit, I guess.
The other thing I think that is important to me is to care about my characters but not be precious with them. Those things combined mean I end up with characters a lot of people find endearing, but I put them through some heavy stuff.
The kids in the book will be familiar to most readers in the sense that we all knew a Berger or a Paige. Was this your experience growing up?
Yeah, for sure. My Berger, who is like a horrible nightmare version of one of my childhood best friends, is still a very good friend of mine. And I didn't have a Paige in my life as a kid as much as all of us probably thought we were Paige. But for me it isn't so much about realistically capturing these characters and archetypes from real life as creating idealized ones.
I don't want to have those characters who do and say what people would really say – I want them to do and say what people wish they would really do and say. So there is a definite basis in reality, but that's the start of the character.
Is writing kids harder than writing adults?
No. Not for me at least. I think understanding where people fail at writing kids is easy to see. Look at the way some adults talk to kids. They treat them as intellectual and emotional inferiors. If you talk to kids in a patronizing manner you probably write kids in a patronizing manner.
I talk to kids like they are really short grown-ups and they respond in kind. For me, writing kids that matter is simply about respecting them. I think the same goes for villains, for bit players, for any character. Write them like you respect them and your readers will respect them too.
As the title indicates, these four kids are at some point going to walk into a bank with the intention of robbing it. What makes them right for the job?
Theoretically yes, at some point they walk into a bank. And we never said that they were right for the job.
Paige's dad certainly knows his way around a rifle. What kind of past is he hiding, and will he allow his past to become his daughter's present?
Paige's dad is a great dad put in an unfortunate situation. He has a history that will come rushing back to him when he wants nothing to do with it. Who he is, or rather who he was, will be very clearly laid out as things go forward.
In a lot of ways he is the real tragic figure of the story, because he's a good person thrust into a bad situation. It is partly of his own making, but we see that he isn't [that] person anymore. But when these things come back around they often don't just affect you, they affect the people you love too.
So everything that happens to Paige is in some way of her father's making. I know some people are going to end up mad at Paige's dad, but I sort of love him.
What do you think people will be most shocked by as the series progresses?
To be totally honest? Tyler's art. Tyler [Boss] is one of the most talented and versatile artists I have ever seen. He can create these amazing pages, beautiful layouts and architecture, brilliant panel structures, but he never sacrifices story to do it.
His stuff is smart, stylish, and reads perfectly, and that balance is so rare. I think if nothing else, people should be picking the book up to watch Tyler give a class in comic making.
Also, I think people will be really surprised when the zombies show up in issue #2.
4 Kids Walk into a Bank #1 is out today (April 27) from Black Mask Studios