THOUGHT BUBBLE 2023! When zine specialists Colossive Press (you can read a full-length interview with them here at Broken Frontier) began adding comics material to their already impressive array of small press publications they did so with their customary considered curatorial eye. Their Colossive Cartographies series has spotlighted some of the very best UK self-publishing comics talents applying their skills to experimental narrative; they've provided a publishing platform for challenging and important work from newer voice A. Wolfgang Crowe with Fractures; and they've brought two hugely influential veteran indie cartoonists Ed Pinsent and Glenn Dakin to new audiences. The latter's comics are today's Thought Bubble review subject as we take a look at the new Colossive collection of some of his '80s/'90s work in A Trial Death and Other Stories, featuring his Abe character.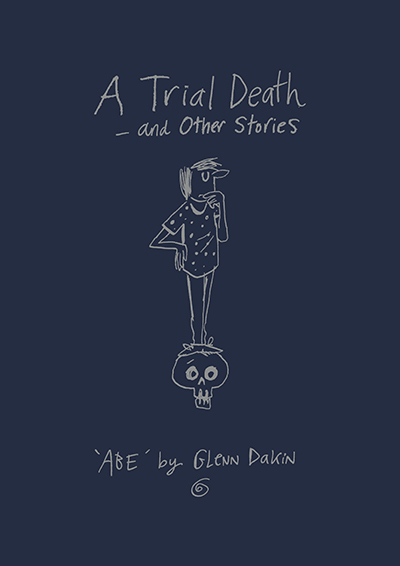 As Eddie Campbell explains in his introduction to this one-shot, Dakin's Abe character has had more than one incarnation but essentially remains the cartoonist's alter ego. This is autobiographical comics but it's autobio that acts as a forerunner to the work of people like Joe Decie; slice-of-life comics that often veer off into whimsical flights of fancy. "I had a trial death, and I didn't like it" is the quote that Colossive Press have chosen to pull from the pages of the comic in their publicity and it's a very apt one, encapsulating the droll eccentricity of the strip to perfection.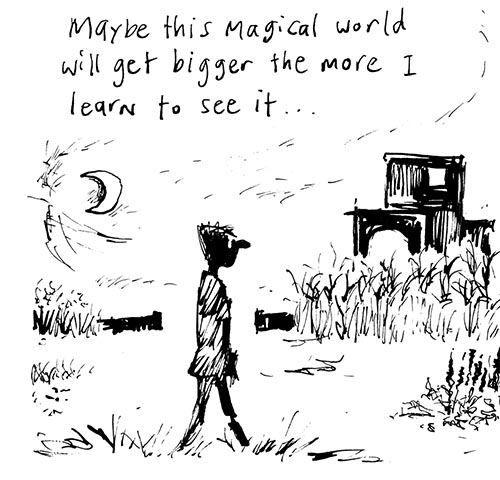 Dakin's loose, scratchy cartooning and densely packed pages take us into a world that is sometimes everyday and pedestrian, and at others embodying the quirkiest kind of magic realism. In the titular strip 'A Trial Death' a period of melancholy leads to a moment of epiphany. In 'Abe Inherits the Moon' our hero gains a lunar legacy and finds himself fighting the US government for its ownership. While in 'A Dream England' he meditates on the reality of his homeland with input from a troll, King Arthur, and Rupert Bear.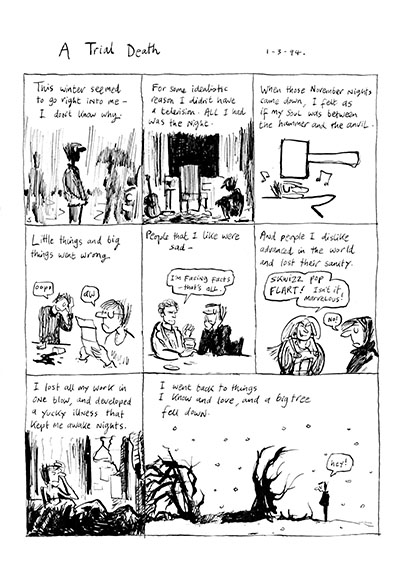 The strips herein are all gentler and slower-paced, and as such have a markedly pacifying quality to them. In the tranquillity-inducing 'The Hobbit', for example, each panel shows Abe in a different location as time progresses, with snippets of Tolkien's classic floating above him as he devours its pages. In other stories Dakin's use of language in Abe's existential reflections has a laid-back poetic nature to it. Every year for Thought Bubble we try and pick one short-form and one longer-form debut offering as highlights of the con. This year, without a doubt, Glenn Dakin's A Trial Death and Other Stories is our Comic of the Festival.
Glenn Dakin (W/A) • Colossive Press, £8.00
Colossive Press are at Table A6 in the Redshirt Hall at Thought Bubble 2023
Review by Andy Oliver