Over the last 18 months we have all got very used to alternative online methods of delivery in every aspect of our lives, and the comics scene has been no different. Events in particular have had to adapt to a world where in-person meet-ups have been put on hiatus, with both established fixtures on the comics calendar and newer happenings having to reappraise their approach.
For some that has been an exercise in replicating their existing practices as best they can in a non-physical environment, while for others it has involved a complete re-think of how we can explore the unique opportunities that an online event encapsulates. Throughout October acclaimed publisher Shortbox have put their own spin on this with an e-marketplace of exclusive digital comics shorts from a wide array of indie, alt and experimental comics voices.
The Shortbox Fair is a treasure trove of potential purchases, some from long-term favourites and some from creators whose names are less familiar to me. In short, a reflection of what we would be looking for in any well-curated "real world" show. One of the first comics to catch my eye was Anabel Colazo's All the Things I Forgot, initially grabbing my attention for its entrancing use of colour as I scoured the proffered minicomics for creators who were new to me.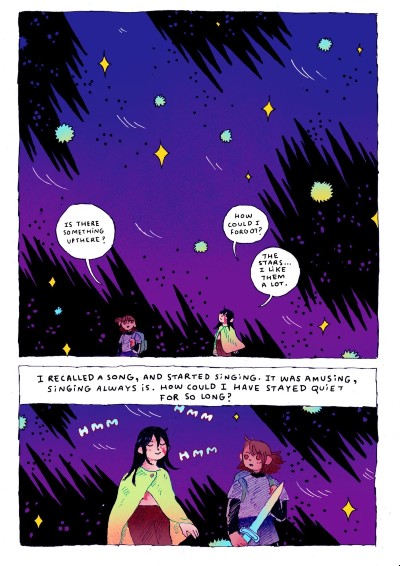 All the Things I Forgot is described very simply as a story about "an unexpected encounter in a little pond". Its plot is not a complex or heavily involved one but, of course, narratives that seem slight on a superficial first consideration can possess profounder layers. In a woodland glade a humanoid creature of myth emerges from a pool, aware that while once they knew the land around them intimately now much of their existence is a hazy uncertainty. Encountering a human named Mar, they begin a journey to the sea on a quest to rediscover their roots and reconnect with the kin who long since left this realm…
Colazo's tale leaves interpretation to the reader. Its themes of identity, belonging, displacement and embracing our heritage can be absorbed on an allegorical or directly personal level; as can its motifs of companionship, the kindness of strangers and the importance to our lives of the people we travel with, however briefly, along the way.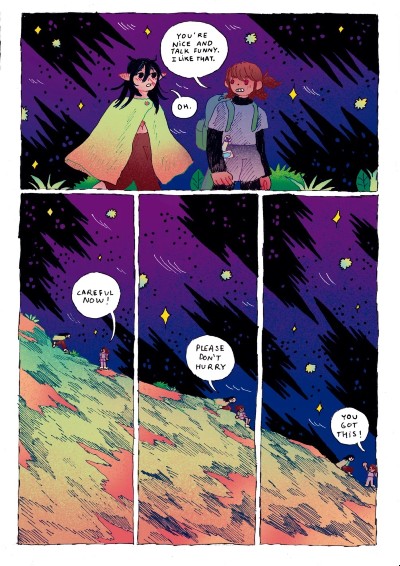 There's a pleasing faux naivety to Colazo's visuals, and the aforementioned vibrant and striking application of colour gives the world the characters move through a fantastic and mysterious feel. Use of differing perspective also emphasises the often eerie nature of this landscape – characters juxtaposed against the majesty of a night skyline that almost engulfs them, or a downwards panel-to-panel transition as they move towards sea level. While there are occasional moments of awkward grammar in some of the dialogue this actually works rather well in underlining the protagonist's self-perceived discomfort with their surroundings. We'll be returning to the Shortbox Fair offerings very soon. In the meantime check out all the digital releases here.
Anabel Colazo (W/A) • Shortbox Comic Fair, £2.40+
Review by Andy Oliver