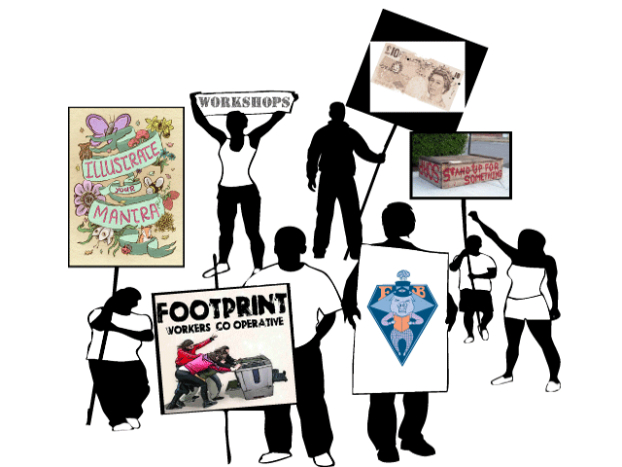 Alternative Press have announced the line-up here of exhibitors for their second Takeover event at 47/49 Tanner Street on Saturday May 9th. Championing radical publishing from small press comickers to zinesters, it's a celebration of the worlds of self-publishing and DIY culture.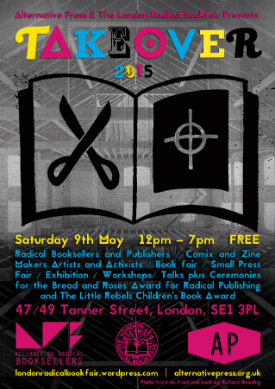 After the hugely successful first Alternative Press Takeover, this year's festivities see the greater part of 100 exhibitors either tabling individually or as part of the First Publications Corner. There's also an amazing programme of events which includes AP's 'Arooo on the Roof' installation (inspired by Virginia Woolf's essay A Room of One's Own and pictured below) and the 'AP Does Bread and Roses' exhibition where 21 small press artists respond to the Bread and Roses Award for Radical Publishing.
Talks and workshops include Screen Printing with the Alternative Press and Minesweeper Collective, the Board Game Workshop with Fancy Butcher Press, spoken word activities at the Speakers' Corner, Zine in a Day with Footprints Workers Co-op, Creating Monsters with Juliet Sugg, and Illustrate Your Mantra with Mike Medaglia.
For regular 'Small Pressganged' readers a number of familiar names from reviews in this column will be selling their wares at the Takeover or taking part in the exhibition. If you haven't checked out the comics and zines of the following people before then here's a chance to refresh your memories about what I had to say about them in preparation for May 9th, with a soundbite from me and links to previous reviews here at Broken Frontier. Remember – this is just a small selection of all the talented people who will be exhibiting on Saturday!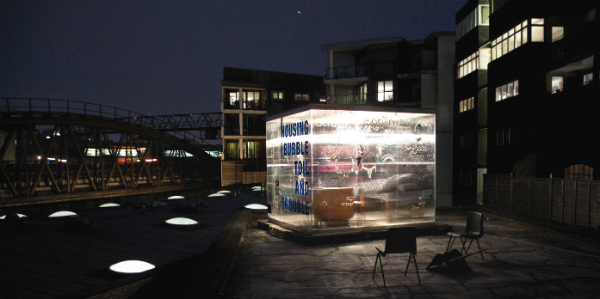 Adam Vian
Adam is one of the Small Pressganged 'Six UK Small Press Creators to Watch in 2015'.
"Long Lost Lempi is a whimsical piece of stylised fantasy that has most obviously been constructed as a true labour of love by its creator."
Long Lost Lempi #1 reviewed here.
Long Lost Lempi #2-3 reviewed here.
Alex Brady
"There's a lingering quality to Alex Brady's detailed linocut pages that ensures you will dwell long on each brooding image, digesting the carefully observed frailties of the lives depicted therein."
Ordinary Street reviewed here
Ex Libris reviewed here
Avery Hill Publishing
"A reputation as an an outfit with an astute eye for up and coming talent."
EdieOP's Maleficium reviewed here
Tim Bird's Grey Area: From the City to the Sea reviewed here
Alex Potts's A Quiet Disaster reviewed here
Backwards Burd
"Backwards Burd have established themselves as a small press collective with a noticeably irreverent and off-the-wall approach to comics."
F*ck You! Kitty Jenkins reviewed here
Petty Beach #1 reviewed here
Centrala
"Blacky: Four of Us is standout offering from Centrala that will have you avidly investigating the rest of the European material in their back catalogue."
Cykle reviewed here
Blacky: Four of Us reviewed here
Danny Noble
Danny is one of the Small Pressganged 'Six UK Small Press Creators to Watch in 2015'.
"Wondrously, wildly, wickedly witty, I have no doubt whatsoever that the publication of Was it… Too Much for You? marks the moment that Danny Noble finally begins to get the level of recognition she so thoroughly deserves."
Monday Morning reviewed here
Was it… Too Much for You? reviewed here
Dirty Rotten Comics
"An invaluable platform for the disenfranchised would-be practitioner."
Dirty Rotten Comics #3 reviewed here
Elizabeth Querstret
"Querstret comics have a charm and a pull all of their own and a creative voice at their core who, quite simply, redefines the term "idiosyncratic"."
Enter My Working World reviewed here
A Day with Querstret and Love Thy Neighbour reviewed here
Elliot Baggott
"Nuanced and layered storytelling."
Hundred Metre Garden covered here
Emma Raby
Emma is one of the Small Pressganged 'Six UK Small Press Creators to Watch in 2015'.
"Stunningly rendered storybook visuals."
The Dead Moon: A British Folktale reviewed here
Fancy Butcher Press
"A gleefully, wilfully, wonderfully silly romp through every hackneyed crime comic motif you can think of, Bazoik's crafty mix of visual gags, satire, wordplay and clever manipulation of the comics form is the perfect entry point for those looking to investigate the idiosyncratic comic stylings of Lord Hurk further."
Bazoik reviewed here
Gareth Brookes
"Clandestine first love with a papier mache twist is the order of the day in this remarkable debut graphic novel from creator Gareth Brookes."
The Black Project reviewed here
Hitsville UK
"A riotous, frenzied whirlwind of a comic book."
Hitsville UK #1 reviewed here
Hitsville UK #2 reviewed here
Katriona Chapman
"Refreshing, sincere, and impossible to dislike, Katzine is one of the standout offerings I've covered in this column so far in 2015."
Katzine #1 reviewed here.
Keara Stewart
Keara will be debuting her dreams and nightmares anthology zine at the Takeover along with zines like On the Escalator and Excalibur Estate. Look for an exclusive preview of the anthology this week at Broken Frontier.
Mike Medaglia
"Medaglia's pensive and meditative narratives are always worthy of your time – delicately constructed and reflective in delivery."
Seasons reviewed here
Last Days of Nobodies covered here
Robert Brown
"Brown consistently captures these isolated episodes from his past as identifiable and common experiences his readership can empathise with."
Killjoy #1 reviewed here
Killjoy #2 reviewed here
Killjoy #3 reviewed here
Rozi Hathaway
Rozi is one of the Small Pressganged 'Six UK Small Press Creators to Watch in 2015'.
"Stunningly rendered, and painfully beautiful in its own way, The Red Road is an outstanding debut print offering."
The Red Road reviewed here
Sally-Anne Hickman
"An uncompromising honesty that makes this work so utterly endearing."
Bang! Crash! Whizz! reviewed here
Diary Comics reviewed here
Sarah Gordon
"Sarah Gordon's work is always animated, buoyant and lively."
The Last Tape in Hell reviewed here
Box of Things reviewed here
Sean Azzopardi
"Rain on Glass is the perfect opportunity for latecomers to sample the work of one of our very best homegrown slice-of-lifers."
Rain on Glass reviewed here
Spelling Mistakes Cost Lives/Darren Cullen
"Join the Army serves as both a clever piece of graphic design and a defiantly antagonistic refutation of the glorification of combat."

Join the Army reviewed here
Below reviewed here
Tiny Pencil
"A vital showcase of graphite-based talent just begging to be investigated further."
Tiny Pencil#1 reviewed here
Tiny Pencil #2 reviewed here
Tiny Pencil #3 reviewed here
Tiny Pencil #4 reviewed here
Wallis Eates
"If memory could ever be described as a medium to work in then Wallis Eates is one of comics' most accomplished practitioners in the field."
Fleeting Faces reviewed here
You Chew I Spew and The Tales of a Trichotillomaniac reviewed here
Zoom Rockman
"Zoom Rockman has found his own voice and style of presentation… a comic that is infectiously fun in both approach and content."
The Zoom! reviewed here
For more on the Takeover – including a full list of exhibitors and travel directions – check out the website here.
For regular updates on all things small press follow Andy Oliver on Twitter here.