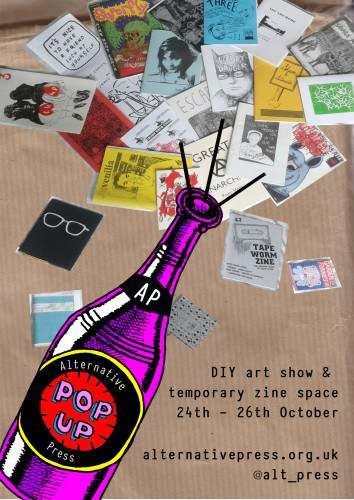 Earlier this year we previewed the Alternative Press Takeover here at Broken Frontier – a small press comics and zine fair that included a whole host of exhibitors familiar to readers of our regular 'Small Pressganged' column including Alex Brady, Gareth Brookes, Lizz Lunney, Isabel Greenberg, Simon Moreton, Tiny Pencil, Darren Cullen and many more. Held in conjunction with the London Radical Bookfair at the Bishopsgate Institute – former home to the Comica Festival Comiket – the event proved to be an enormous success for participants and punters alike, with the relaxed and friendly atmosphere of the day spilling over into an informal evening of socialising and networking afterwards.
A second Takeover is in the works (provisionally for next May) and the Alternative Press team are already inviting suggestions for related workshops and exhibitions here. In the meantime, though, they've just announced a rather intriguing weekender at the tail-end of this month. From the 24th – 26th October the Alternative Press Pop Up! will be taking place in Greenwich at 139 Greenwich South Street (look for the Twitter hashtag #APPOPUP or follow Alternative Press on Twitter @alt_press).
AP happenings are always a multi-faceted affair and this one is no different. AP Pop Up! will include a DIY Art Show with an open access philosophy that means anyone can apply to take part in it and there will be a "public view" on the evening of Friday 24th October. Across the weekend the event will be a celebration of all things self-publishing and DIY culture with opportunities to buy and experience small press work, attend workshops and view films.
Full details on the Pop Up can be found here with guidelines for those thinking about exhibiting in the show here and info for zinesters/self-publishers here. The unrelenting growth of the world of small press publications in London continues apace!
For regular updates on all things small press follow Andy Oliver on Twitter here.