Way back in 2013, nearly a decade ago, I reviewed Hannah Lee Miller's short self-published comic Dementia Dad, an autobio offering that I described as "heartrending" in terms of subject matter yet "utterly uplifting in tone and presentation." Chronicling her father's life after developing vascular dementia as a result of a stroke it was a piece of graphic medicine that both informed and communicated, and one that reminded us to "appreciate what we have rather than dwelling on what we don't."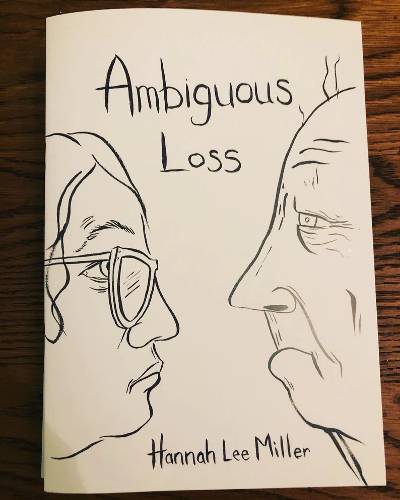 Last year Miller returned to the subject in a new comic Ambiguous Loss, the title signifying the experience of losing someone who has not died, with an aim to "acknowledge the loss of [her] father and honour him by loving who he is today." It's a comic that asks difficult questions with no easy answers. How do we grieve for someone who is still with us? How should we approach feelings of bereavement that are not sudden but incremental? What coping mechanisms can we adopt to make sense of such a complicated experience?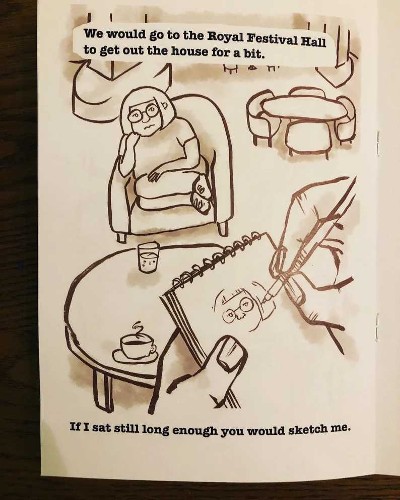 Miller explores this by using face-to-face contrasting timeframes. Each page is a single illustration with the left-hand side in sepia brown representing her past relationship with her father and the right-hand side set in the present in a sharper black and white. In this respect she can compare not just how their relationship has changed over the decades but also how the echoes of her father pre-dementia can resound through the years into his current environment. The child becoming parent motif, for example, as we look back on her father picking her up in her teen years after a drunken night out, something that mirrors her present day experience of helping her father to stand as his situation worsens.
Illustrated with a clear line and expressively characterised cartooning, this is a comic that is far more sophisticated in structure than its shorter page count and sparing use of narration may initially indicate. But therein lies its power. That economy of words, combined with the unspoken eloquence of Miller's visuals, saying more than enough without any further elucidation being needed. One set of images depicting Miller and her father holding hands at different stages of their lives being a particularly touching example of this.
A sad coda to Ambiguous Loss is that in the months since its publication Miller's father has passed away, but this beautifully nuanced comic pays tribute to him through all aspects of his life. All profits from the sale of Ambiguous Loss go to Dementia UK.
Hannah Lee Miller (W/A) • Self-published, £5.00
Review by Andy Oliver