Over the last few years Youth in Decline's Frontier series has provided an acclaimed space for creators to spotlight their personal approaches to graphic narrative. Sometimes these self-contained one-shots showcase their individual style and provide an entry point to their practice, while on other occasions they give the artist an opportunity to experiment with and interrogate the form. Curated with careful consideration and an eye for the variety and eclecticism that the medium inspires, the series has seen a consistently excellent procession of intriguing artistic voices and short but memorable narratives. Each issue is backed up with an interview giving wider insights into the creator's background and work.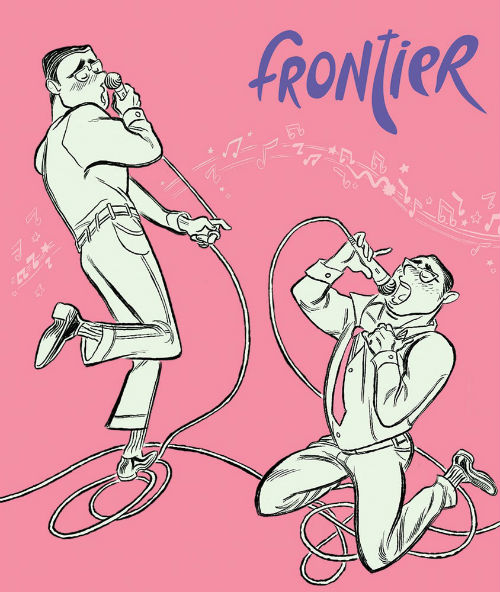 We will be catching up with a few of the more recent issues here at Broken Frontier in the immediate future, beginning with today's look at Frontier #20 – subtitled 'In the Name of Love' – in which Anatola Howard presents a number of short strips examining that titular emotion. Howard works in a number of media including film, animation and sequential art. A previous collection of her strips, What Are You Thinking About?, was published by Shortbox.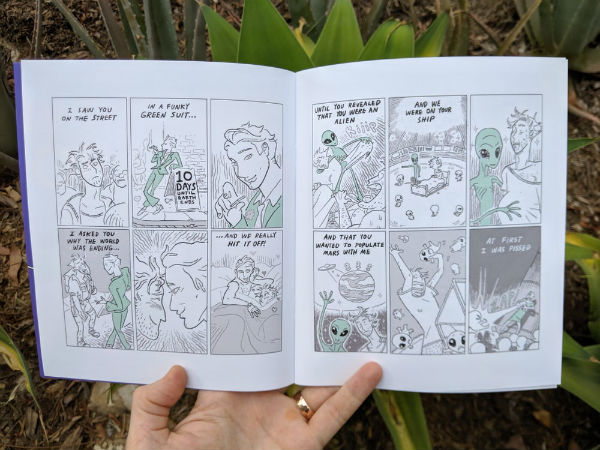 Love in its myriad forms is explored in this selection of varied shorts (seven stories, ranging from one page to ten in length) that include love against the odds, unrequited desire, hidden affection and the passions that can connect us all. While each vignette may seem transitory and fragmentary they all have an emotional resonance which we can immediately recognise, whether that be the jaunty cross-species romance of 'Is there Love on Mars?' (above) with its allegorical reflections on the ups and downs of relationships to the more straightforward, poignantly doomed love of the funfair-set 'Rollercoaster'.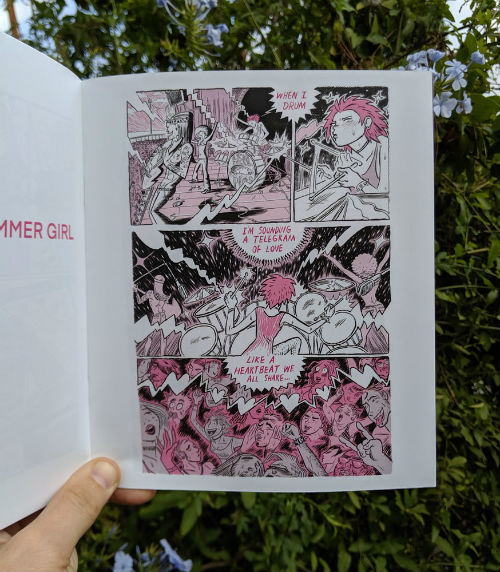 Many of these strips build up to what is essentially a punchline conclusion, though not always a humorous one. Howard's cartooning style has an often enthusiastic energy and an understated eloquence in terms of visual characterisation which instantly brings us into the lives of her players and allows us to connect with them despite their limited on-page time. Colour choices are cleverly executed throughout, with a green motif underscoring the alien in 'Is there Love on Mars?'; the intense pinks of 'I Know this Drummer Girl' (above) ensuring we, too, are caught up in the intensity of a rock concert; and the black and white of 'Stop! In the Name of Love' (below) giving her fluid, flowing depiction of a fervent karaoke session a vital vigour that immerses us in its protagonist's performance and the reasons behind it.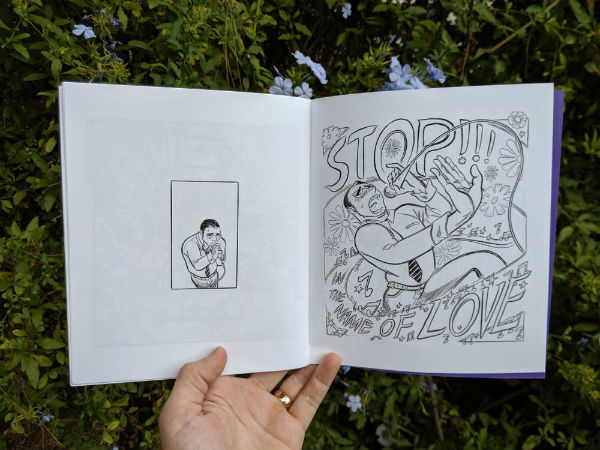 If you're an indie or alt comics fan then Frontier's award-winning status is unlikely to have passed you by. But it's also worth remembering that every individual edition also acts as an accessible gateway to that artist's work. We will be exploring more from the Frontier stable in the very near future…
Find out more about Anatola Howard's work on her website here. Frontier #20 is available to buy online from Youth in Decline here.
Review by Andy Oliver