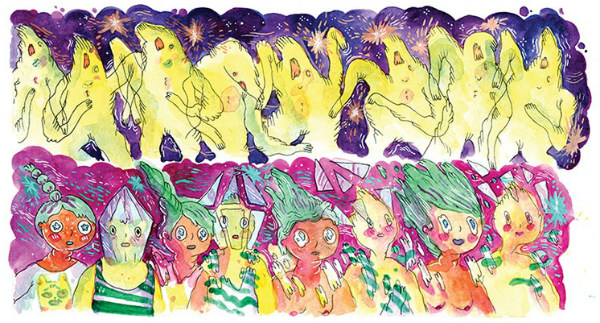 San Francisco-based micropublisher Youth in Decline's Frontier series of creator showcases has given us some cracking one-shot stories since its inception, particularly the issues by Emily Carroll and Jillian Tamaki. Its strength is not just in its formidable line-up of talent – this year's cast of artists includes Tamaki, Anna Deflorian, Michael DeForge and today's review subject Becca Tobin – but also in its dual appeal to both a newer audience and an established readership.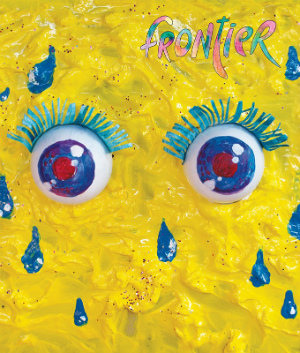 In that regard, the former group can pick up any edition and be introduced to a representative and complete example of the style of its author, while the latter demographic get a dedicated piece of storytelling from a respected and innovative practitioner. Given the accessibility and affordable entry point into the work of rising stars on the indie scene that such projects provide it's unfortunate, indeed, that such initiatives are all too rarely seen.
Frontier #9 spotlights the deliriously dreamlike stylings of Becca Tobin. Earlier this year I reviewed Tobin's work in her Hotel World one-shot from the British Comic Awards-nominated Comic Book Slumber Party collective, describing it as a "hallucinogenic swirl of weirdness". Tobin's Frontier offering has a perhaps more structured narrative than that CBSP piece but retains her signature sense of delightfully oozing otherness.
The story follows Butter Road, a musician whose rapid rise to fame with her band has hit a plateau. Where success once beckoned, now creative disagreements and indifference abound. Looking to engineer a whole new metaphysical sound for the group, she creates a musical instrument within the confines of her kitchen with ingredients including eggs, nails and blood. That latter addition has a major effect, however, turning instrument into sentient homunculus, and ensuring that the band's destiny will change forever. But Butter's intrinsic link to the newly named 'Saltdough' will have significant repercussions…
There's more than one level on which a reader can interpret and experience Frontier #9. Some will see it as a metaphor for the artistic process; the relentless drive to create embodied by Butter's relationship with her lifeforce-leeching creation. Alternatively you can enjoy it as a simple dark fantasy in the EC Comics/House of Mystery vein; a frothy parable on fame and the price we're prepared to pay for it as inspiration turns into vampiric predator.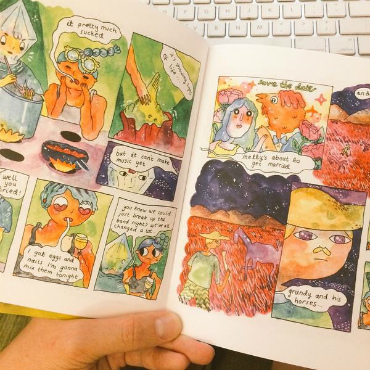 For a near 30-page story, Frontier #9 is perhaps slight in plot but the joy of a Becca Tobin comic is more in the journey than the destination/resolution. It's the worlds she creates with her kaleidoscopic use of colour and casual, melting strangeness that entice the reader with their alluring pull. There's always a bizarre sense of place to her work that is nonetheless oddly familiar; avian humanoids and celebrity selfies sharing page space for example (see sample pages above).
Irregular and evolving panel structure, a rythmic and dynamic sense of energy and movement to her characters (see top banner image), and that aforementioned vibrantly hued presentation all build up that feeling of off-centredness and detachment that are such a vital part of Tobin's comics compositions. Ironically, though, it's the casual and almost nonchalant acceptance by her characters of the weirdness that surrounds and envelops them that is perhaps the most disconcerting element to this issue.
As acclaimed as Becca Tobin's work has been to date it's difficult not to feel that it's flown under the radar of far too many potential readers. Visually inventive, unashamedly out there, and utterly entrancing, Frontier #9 will hopefully take her to a much deserved new audience of fans.
For more on Becca Tobin's work visit her site here and follow her on Twitter here. Visit Youth in Decline's site here and follow them on Twitter here. You can buy Frontier #9 here priced $7.95. 
For regular updates on all things small press follow Andy Oliver on Twitter here.