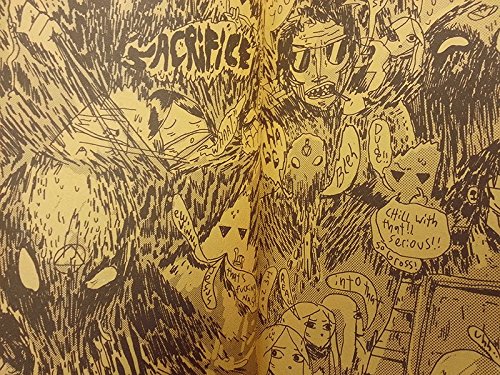 RAV 1st Collection compiles the first five issues of Mickey Zacchilli's previously self-published minicomic series, and comes to us via San Francisco-based micropublisher Youth in Decline, whose books I've been featuring here in 'Small Pressganged' since the beginning of the year. I briefly covered Zacchilli's work last month in my review of the wrestling anthology Screwjob from Hidden Fortress Press, being rather taken then by the whirlwind energy that is such an intrinsic part of her dizzying pages layouts.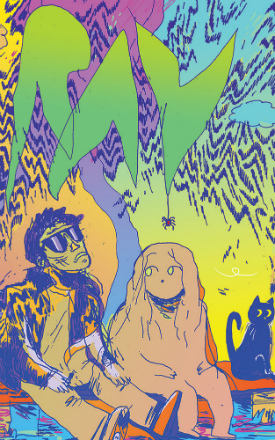 Our protagonists in this trippy dream-like odyssey are Juice and Sally, a couple whose visit to a graveyard to make out is interrupted by a group of ill-intentioned occultists. Separated by these events, much of the rest of the near 300 pages of this book deal with Juice trying to find his lost girlfriend on a long twisting journey that takes him to bizarre locales like the subterranean Meat Cave and an underground dice tournament.
Meanwhile, Sally has become involved with the reptilian Snake Prince Edward after first encountering him in a breakfast bar. Along the way there are monstrous transformations, an ever odder procession of colourful supporting characters flitting in and out of the story, time jumps, and a plethora of unresolved plot points. The concept of resolution, however, seems almost inimical to RAV's fundamental nature as a piece of storytelling…
What Zacchilli has put into motion here is a comic that trades on its obliqueness and its almost defiant lack of coherence as a linear read. It's not so much a structured narrative as a raw visual experience, and in that regard it reminds me of the work of the UK's own Donya Todd – comics you have no qualms about giving up trying to engage with analytically but rather just allow them to sweep over you and immerse you in their unrestrained irreverence. Trying to pin down RAV's thematic core seems like an exercise in futility and one that would largely miss the point of this free-flowing catalogue of random happenings.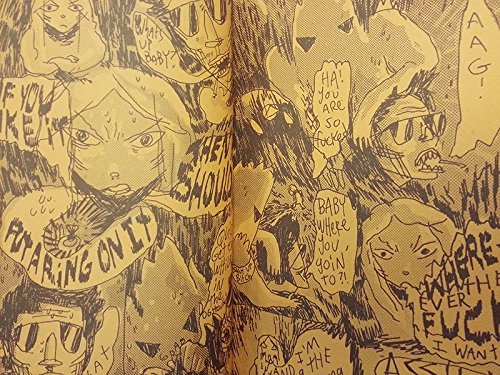 Even the book's graffiti tag-style title is something of a mystery with the foreword suggesting a number of possible things it could stand for – including everything from Romance Adventure Variety to Readers' Attitudes Vary – but largely leaving it for the reader to make their own decision. There's a stream-of-consciousness, "making it up as she goes"-vibe to the book that is echoed in Zacchilli's rebelliously scrappy and disorientating artwork – all knowingly unpolished, busy and giddy – with images merging in and out of themselves with maddening glee.
I can't pretend that the distorted manga-influenced abrasiveness of RAV 1st Collection will be to every reader's taste, and those looking for consistency and a rational storytelling foundation to their sequential art would probably be best advised to steer clear. Even the more adventurous reader will probably still find this something of a niche offering but those with the good sense to persevere will soon discover that there's absolutely no denying the hypnotically entrancing flow of Zacchilli's pages…
For more on Mickey Zacchilli's work check out her website here. You can buy RAV 1st Collection from Youth in Decline from their online store here priced $19.95.
For regular updates on all things small press follow Andy Oliver on Twitter here.