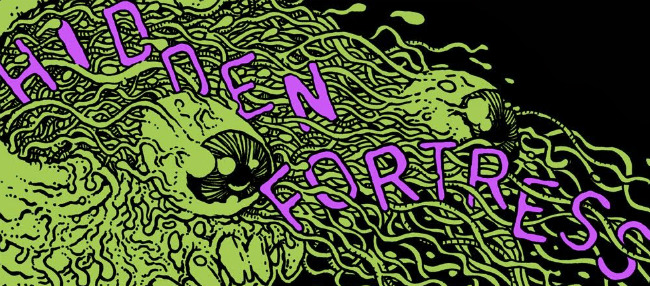 Screwjob – the recent anthology comic from Rhode Island micropublisher Hidden Fortress Press – adopts a distinctly frenetic, in-yer-face attitude in its celebration of both the extreme showmanship and the pantomime theatrics of the wrestling ring. The immediate thing that hits you on picking up this book is that wonderfully grotesque cover by James "Gunsho" Quigley which certainly sets the tone for the visceral delights inside. Flip open that cover, though, and the impressive list of names inside that editor Paul Lyons has put together from the current US small press scene – including the likes of Pat Aulisio, Josh Bayer, Mickey Zacchilli and Retrofit's very own Box Brown – will have you equally transfixed.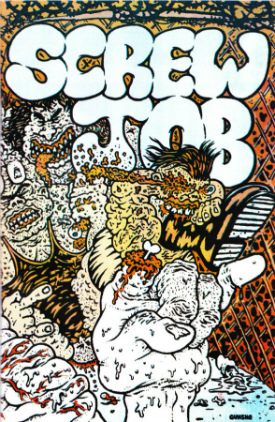 I have to freely admit that Screwjob is something of an education to me as a Brit whose sole contact with the sport was pop cultural references to Big Daddy and Giant Haystacks in the 1970s, and whose only extended exposure to the grappling mat in the comics arena was Johnny Cougar strips in Tiger,that dear old UK weekly paper of yesteryear. A number of the stories herein are based around some of the real movers and shakers in the wrestling industry in the States so, for the uninitiated, a little background research in that regard will prove beneficial when tackling this comic.
Box Brown (below left) leads the issue and he's one artist who does, of course, have comics form when it comes to wrestling; his Andre the Giant graphic novel being the recipient of much critical acclaim last year. Brown contributes 'Blood Test', a brief but enduring three-pager on Abdullah the Butcher – the "stage" name of ring performer Larry Shreve –  and accusations that his particular schtick resulted in  a fellow fighter becoming infected with a serious disease. It's slight in structure but to the point, with Brown's economical imagery underlining the cavalier brutality of the discussion with absolute precision.
Pat Aulisio's 'Shattered Dreams' (below centre) is a subdued, pensive piece that, from one small reference on its last page, I assume to be about the career of wrestler Goldust. All the photo-ref I could find of this individual suggests a flamboyant personality in the ring, and Aulisio's tale of a spent force looking back on their career with sadness is hauntingly poignant; the initial fairytale-style surroundings and use of yellow hues accentuating the facade of the "in ring" persona. 'Death to Hulkamania' by Blake Sims (below right) similarly places its narrative in the trappings of an alternative frame of reference by re-interpreting the renaissance of Hulk Hogan's career as a Christ-like resurrection.
Work from Box Brown, Pat Aulisio and Blake Sims
The immortalisation of names from the wrestling scene in a suitably dark altcomics fashion is, then, the staple ingredient of Screwjob. Sometimes the subjects are named and on other occasions – like Paul Lyons' clinical look at the ruthless violence of the ring in 'Medico Asesino' – a little search engine investigation gives one an idea of who the protagonist may be. Josh Bayer provides three shorts in this vein with his final one 'Adonis' – a defiant swaggering monologue from a bitter combatant – having the greatest impact, and emphasising that performance is as much a part of success in this world as any perceived ability. The caricatured portrayal of Bayer's monstrously misshapen central character mirroring his descent into self-parody as the story goes on.
Work from Lale Westvind, Josh Bayer and Mickey Zacchilli
I have no idea if Lale Westvind's 'The Return of Wild Wanda' (above left) – eight pages of entertainingly blasé mayhem, as a motorcycle-riding female wrestler returns to the sport after a year away and simply rips apart her opponents on her arrival – is another metaphorical entry or not. This frenetically illustrated deluge of gore and splatter may be gratuitously over-the-top but it is is a thematic reflection of much of the work on show here. Of the strips that are more obviously humorous, Mickey Zacchilli's 'Dear Deidre, Fantasy Role Model' (above right) – an account of a bear-fighting female wrestler who becomes a high school teacher – is an effective showcase for her frantically busy approach to the comics page. Zacchilli's dizzying layouts here giving a whirlwind energy to the grappling scenes.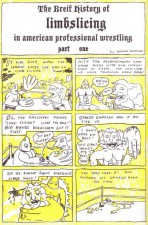 Walker Mettling's 'The Brief History of Limbslicing in American Wrestling, Part One' (right) is also pure send-up, providing a comedy account of escalating violence in the ring in the wake of limb slicing being legalised in the sport in 2019. By story's end shark-armed opponents, human-animal hybrids, and zombie Presidents are just a few of the new developments on the circuit. Mettling's visuals may be a little raw but the spiralling absurdity of his tale has valid satirical points to make. Brian Ralph's 'Folding Chair', meanwhile, is the most inventive use of the possibilities of the form in the anthology, juxtaposing the oft-used ringside weapon of choice against the backdrop of past bouts.
Despite its impressive line-up of indie creators, Screwjob's niche subject matter means it's not just the odd topical reference that will be lost on those who are not aficionados of the wrestling ring. Whether the anthology will necessarily appeal to a more casual audience is thus debateable. There's no question that this is a book that will require a little extra effort to make some of its contents fully accessible as a complete reading experience.
It would be my hope potential readers are not put off by that possibility, however. Screwjob is an excellent introduction to the diverse creative voices contributing to its pages and this first collection has already proved popular enough to ensure a second issue this year. With its colourful mix of blustering braggarts, savage satire and unrelenting violence, Screwjob is a furious, frenzied foray into the politics of professional wrestling.
For more on Hidden Fortress Press visit their site here. Screwjob #1 is available here priced $8.00.
For regular updates on all things small press follow Andy Oliver on Twitter here.