A week or two back at Broken Frontier we began a game of catch-up by looking at some of the recent issues of publisher Youth in Decline's acclaimed and award-recognised Frontier series. To recap, each issue of Frontier acts as a spotlight showcase on the work of an individual artist, allowing them to give a representative look at their storytelling style or, alternatively, to provide something a little different in terms of approach or subject matter.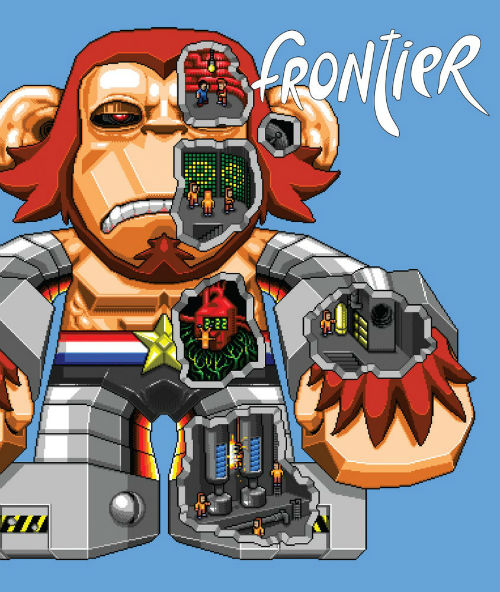 Derek Yu's contribution to the series is in the latter category. I will admit to no familiarity with the game designer's work coming into Frontier #21 and that, in itself, is one of the joys of a project like this in expanding our graphic narrative horizons. But, regardless, there's something innately universal about what Yu provides in these pages; a study of the act of artistic endeavour itself, with all its attendant self-reflections, fears and successes. One that will no doubt contain much that is recognisable to his peers but also provide intriguing insights into the creative process for the non-practitioners among the the readership.
A founding member of the cartoonist collective The Bang Gang and the creator of games including Spelunky, Aquaria and Eternal Daughter, Yu uses this edition of Frontier to consider and reflect on his creativity. It acts as a peripheral adjunct to his work with the artist providing fragmentary but insightful thoughts on his early practice and the motivations and philosophy behind it, all next to sketchbook-style designs and doodles, design concepts and colourful game screenshots.
This is one of those collections of scattered content that has a deceptive quality in some sense; a publication where the ephemeral is an unlikely wrapping for the profound. If you're a game-playing fan then no doubt the casual revelations he drops here – how very personal events like parenthood have fed into his creative approach or thoughts on the importance/rewards of freeware and its accessibility – will add extra layers to that experience. But there's much here that will resonate regardless, especially in the parallels between media and forms of graphic narrative.
Scattering his thoughts across reproductions of now abandoned working practices, vibrant digital imagery and rough sketches, Yu also creates a sense of condensed time here; of a career captured in visual shards and succinct meditations. In that regard Frontier #21 may not be comics but it is sequential art of sorts, and another fine example of what an eclectic and fascinating range of one-shots this is.
For more on Derek Yu visit his site here. Frontier #20 is available to buy online from Youth in Decline here.
Review by Andy Oliver