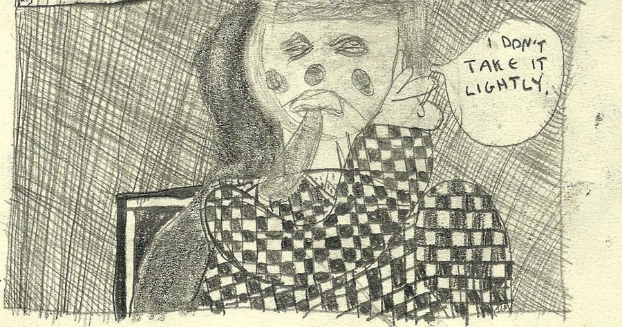 Austin English's unique creative voice first came to prominence through acclaimed and influential micropublisher Sparkplug Books, in publications like Christina and Charles and Windy Corner Magazine. His comics adopt a style that is naive yet profound, instinctive yet powerfully expressive; qualities that can also be seen in his upcoming collection Gulag Casual from Minneapolis-based micropublisher 2dcloud, containing five stories with recurring themes of intrusion and personal space. This anthology of English's work is part of the essential 2dcloud Winter Collection Kickstarter. With 2dcloud's crowdfunding campaign in its final week I chatted with English about his distinctive style, his place in the small press community, and breaking the established rules of comics…  
To see all interviews in the 'Small Press Spotlight on…' series at Broken Frontier click here.
ANDY OLIVER: For a creator with such a distinctive on-page voice you had quite a traditional route into discovering comics. How did your idiosyncratic approach to the page develop and evolve over the years? Is your style a reaction to – or even a rejection of – more traditional comics storytelling?
AUSTIN ENGLISH: I've always loved comics, so much so that I'd never think of rejecting their history. I honestly sit down at the start of every story with an ambition to make it 'traditional' like an old Will Elder comic or something, and then my natural lack of craft takes over by panel two and the project turns into something else. The punk rock nature of zines and mini comics I read in the mid to late 90s (like King Cat) sort of egged me on to embrace whatever my work became by the second drawing.
I also missed any distinction between comics and art books as I was growing up—my mom gave me Tintin, but she also had Matisse monographs laying around which she really loved. Books in general with images in them were very comforting to me as a kid, and somewhere along the line the two worlds blurred for me. I accept that for people in art and people in comics there are very clear borders, but I just never saw it that way.
Given that many readers will perceive your visuals as being experimental or abstract would you say that the small press comics community has been a more accepting environment for your markedly individualistic narratives?
I feel like I still stick out like a sore thumb in the small press world—even artsy comics people tend to look at work like Gary Panter's and, even when they praise it, call it 'crazy' or something. To me Panter's work is beautiful but basically in line with a lot of contemporary art-making, not 'out there' but rich with imaginative drawing. In terms of art-making, in the greater history of painting or avant garde image-making, my stuff is pretty conservative. But in comics, even in the alternative wing, it still strikes people as pretty weird.
Sample work from English's Christina and Charles published by Sparkplug
Your early work was published by Sparkplug Books who as many readers will have seen this month have announced that they are ceasing publication. How pivotal were they in mentoring you and bringing your work to a wider audience?
Dylan Williams and Sparkplug were beyond pivotal. Dylan was a mentor and so much more to me. I think about him every day—he passed away four years ago. Dylan's integrity, and his passionate scholarship and love for comics changed me forever. Dylan was someone who loved Mort Meskin and could also see personal, non-traditional work by younger cartoonists as part of the same lineage of the golden age artists he loved so much.
That view of comics—and of life in general, of celebrating personal expression and fighting for it—was something I'm so lucky to have been around. For Dylan to have published my work is almost an afterthought, for me, of how much I learned from the guy and continue to learn from him. But, yes…his publishing my work gave me such a pat on the back when I was very young, at a moment when I might have just made work in private rather than putting it out there and becoming more creatively ambitious with it.
The covers to Windy Corner Magazine which was edited and curated by English
Gulag Casual is the anthology collection of your work coming from 2dcloud. Could you give the Broken Frontier readership an overview of the type of stories contained within its pages?
It's a collection of 5 years worth of short stories, done in a variety of mediums. Two of them are published for the first time within the book. They all kind of operate in a theater type structure—a small cast of characters, very few locations.
How would you describe the comics contained within Gulag Casual in terms of where they sit within the greater body of your practice?
I had been making and publishing comics for about 7 years before starting work on the first story collected in this book…but I really feel like it was that story where I truly got close to the kind of work I want to do. I'm still very far away from making exactly the kind of work I want to make—I think every artist probably is—but the work in Gulag Casual feels like the beginning of being able to use the language (or my language) of comics coherently for myself, or to pull off even a little bit of what I want to do. For my work as a cartoonist, Gulag Casual feels like the beginning.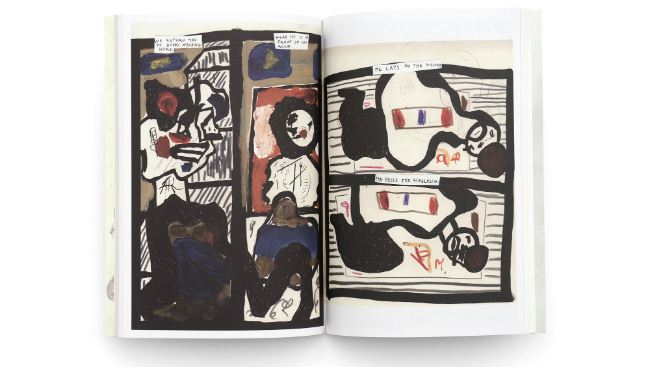 'The Disgusting Room' – longer-form work from English in Gulag Casual
A recurring aspect of Gulag Casual is its examination of invasion of personal spaces and the consequences of that on your characters' existences and environments. What is it about those themes that intrigues you so much?
I didn't realize how almost all 5 stories share that until seeing them all collected together in the book. But it's definitely there…it's really just one of my strongest fears, not being able to control the space I live in. Growing up my mom and I always had to move from apartment to apartment because the rent went up. Sometimes we lived in places where I had a room and she slept on the couch…so maybe it has something to do with being worried about controlling your own home? But I also think things from the past don't have much currency as motivations for art.
Most of this work was made in Sweden after I'd moved out of New York…and I think maybe the fear of people not respecting peoples boundaries really came into focus when I was living in Sweden, where people are really respectful of your space/privacy. It's definitely a fear I have, not being able to stop people from aggressively barging into the most personal aspects of your life….and making a negative assessment of what they see. I can't define it exactly but I try to get at the feeling of it in the stories.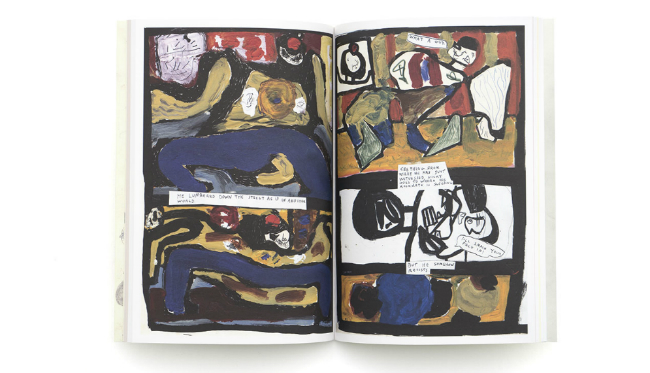 More interiors from 'The Disgusting Room'
Your work is notable for ignoring what some may see as the perceived standards of sequential art – an inconsistent depiction of characters and your freeform panel arrangement for example. How liberating is it as an artist to play by your own rules and embrace that constant sense of invention?
It's not exactly a choice…I've learned to embrace it and try to see where it goes, but at the start of each story I try to draw the characters the same. I do acknowledge that a basic tenet of all the works of cartooning that I truly love is that the characters retain the integrity of how they were drawn from the start to the end. But as I try to draw the characters the same panel to panel, I can't fight letting my others interests of playing with shapes and the fun of improvisatory drawing come through.
I sort of think of the stories in comics as an engine to let myself generate imagery that I wouldn't have thought of without the structure of the story. But…if I could draw the characters the same panel to panel and still retain the spark of what makes the individual images exciting to me, I'd do that. At some point, maybe I'll understand enough about cartooning and have enough control over my craft to approach doing that.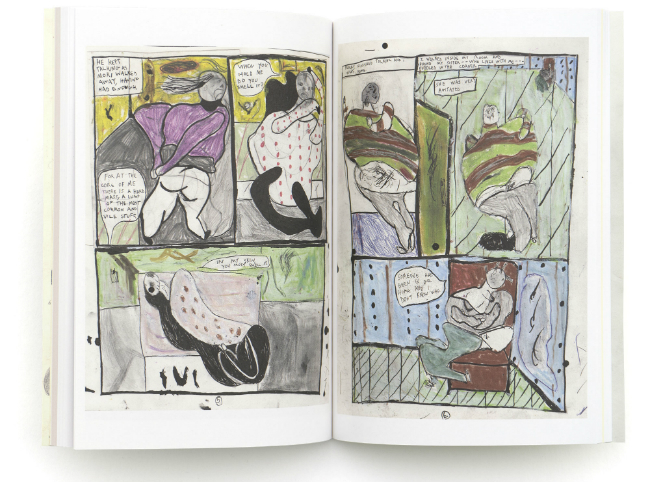 'My Friend Perry' from Gulag Casual 
There's also a feeling of unfettered spontaneity to the visual presentation of your comics. To what degree are you improvising with your narratives as you commit them to the page?
I have the basic structure of the stories planned before I begin, but I create the scenes and dialogue maybe a day or two before drawing the scenes, like giving actors lines before rehearsing a scene to keep things fresh. But the drawing takes so long for me…one story in the book, even though its twenty pages, took two years because I kept editing the drawings and replacing individual panels over and over. So the writing is a structure that usually stays in place, but the drawings improvise on that and then get edited and edited endlessly.
It's very interesting to read your thoughts on struggling to make work in the "art world" that is as creative as comics. What is it about the potential of the form that inspires you so much?
I keep trying to make isolated images that excite me as much as the drawings I do for narratives. Even though my stories are not very complex, they force me to draw so many things that I wouldn't think of drawing without having to satisfy the narrative. So each comic has so many moments of figuring out how to display certain interactions between characters, staging action, etc. Because I work intuitively, this creates (for me at least) some interesting moments of improvisatory drawing, or at least thinking through drawing. With static, individual images that I make to go into a show or something, it feels more arbitrary and less connected to an emotional tapestry of imagery that a comic requires.
You can find out more about the 2dcloud Kickstarter in the video above.
Anyone who has been observing the publishing schedules of 2dcloud over the last couple of years will be well aware of their boundary-pushing output. How did you become involved with them?
I was trying to find a good home for these stories I'd been working on over the past five years, and 2dcloud seemed like a place where this rare thing was happening: almost everyone who I thought of as an artistic peer seemed to be doing work with them and they were making a commitment to publish complicated work (by a group of artists that had all influenced each other) with a great degree of dignity and beautiful production values. So they seemed like an obvious place to give this work that I wanted to be treated with some care.
Could you tell us a little about your creative process in regards to the varied materials you use to illustrate the stories in Gulag Casual? 
Every time I use a new material, I figure out how to use it on my own, and it effects how I draw. So I'm always excited to use a new tool or material because it changes the tone of my stories in ways I couldn't have forced myself to do on my own.
You've spent some time living in Sweden. How was your work received there? Was there a greater level of acceptance for more experimental storytelling in comics there?
When I lived there, I barely interacted with the comics scene. I did love living in Sweden and still feel that it's a wonderful place to MAKE work, since it's quiet and a good place to focus. But in terms of my work interacting with other artists there…I doubt many people outside of my friends knew I made work when I lived there!
Sample images from 'Freddy's Dead' in Gulag Casual
How would you describe the publishing philosophy of your own imprint Domino Books?
I publish sporadically and anything I publish is something I 100% love. I don't have a distribution schedule I need to fulfill and while the business side of it I treat very casually, the projects I take on mean the world to me. I try to publish people who I think are making the best work in the world that no one else seems to be interested in. There are a lot of those people—artists who make beautiful, rich work that just doesn't seem to be part of the conversation. I try my best to get it out to people and to present it in a format where people can find it when they come around to it.
And, finally, after Gulag Casual do you have any other planned comics projects that you can elaborate on?
I'm currently working out of a studio residency program in Dumbo, Brooklyn and taking a year off from comics to try to teach myself how to work with paint. When the year's over, I'm gonna start working on a longish story, maybe 120 pages or so, that I've been slowly mapping out an outline to. I have mixed feelings about the movie My Dinner With Andre, but I think the idea of two people talking as the basis of a story is something I can't resist—I love Buñuel's Milky Way for that reason. I love to talk so I'm trying to map out a long-form comic of two people talking for pages and pages.
Gulag Casual is part of the 2dcloud Winter Collection Kickstarter. You can back it here. You can also follow 2dcloud on Twitter here and Domino Books here. 
For regular updates on all things small press follow Andy Oliver on Twitter here.