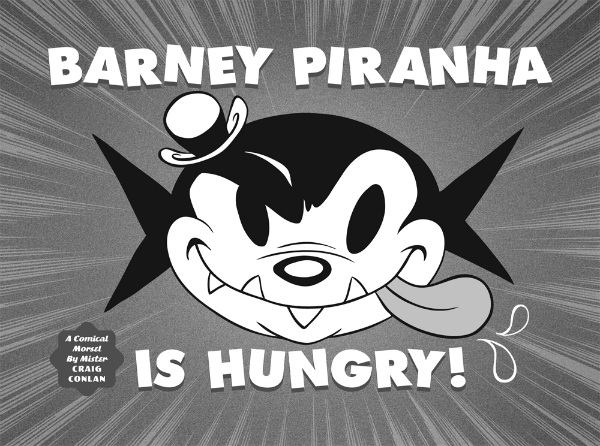 With their mix of pop cultural homage and markedly darker humour, Craig Conlan's minicomics have proven to be a consistent delight. Conlan was, of course, nominated for a British Comic Award in the Young People's Comics Award category last year and has featured here at Broken Frontier on a number of occasions. Most recently when I included his Ghost Cat comic on this list of ten top all-ages small press comics as part of our Small Press Day pre-coverage.
Barney Piranha is Hungry! is his latest short comics offering in print (also available to read online for free on his site here). Conlan has revealed that for many years Barney existed almost exclusively within the environs of his sketchbook, with only the odd sidestep into Instagram territory to bring him to an occasional wider audience. We should all be grateful that he took the decision to build a longer narrative around this carnivorous creation, though, because, as elegantly simple a concept as Barney is, he's still one of Conlan's wittiest creations to date.
Barney fits somewhere in that Daffy Duck/Wile E. Coyote mould; the kind of loser protagonist whose calamitous failures endear them to us all the more… even though we're firmly on the side of their objects of pursuit throughout. Indeed, the look of Barney's world in all its black and white glory and retro character designs is a clear shout-out to a long-lost age of animation. That's a call back that is also reflected in Barney's idiosyncratic Popeye-style speech patterns. These are aspects of Conlan's work that underline that genuinely all-ages appeal to it; entire levels of his strips which adults can appreciate in their own right while kids enjoy the more obviously slapstick elements.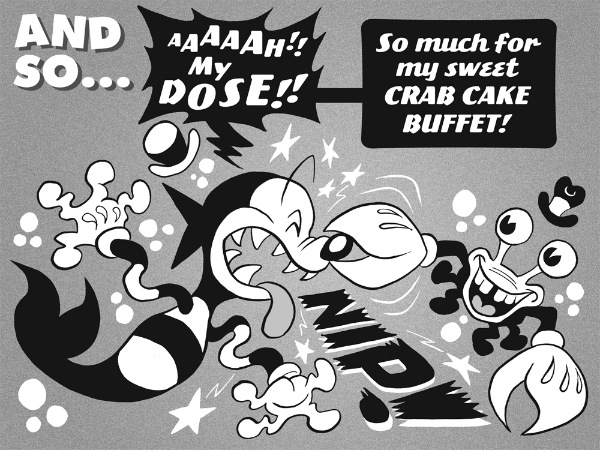 And there's certainly plenty of cartoon violence on offer here as Barney's quest to find something living, breathing and with a pulse to eat go constantly awry. Various denizens of the deep avoid his snapping jaws with predictable ease and ensure that our anti-hero lead gets a consistently painful comeuppance in a number of often quite brutal but deserving ways. The sight gags are expertly paced, the cartooning expressive and appealing, and the cyclical punchline proves to be a welcome and droll final destination.
A perfect piece of comics to pick up and share with a younger reader, Barney Piranha is Hungry! is yet another fine example of the comedy craft of Craig Conlan.
For more on Craig Conlan's comics visit his site here. You can buy print copies from his online store here and follow him on Twitter here.
For regular updates on all things small press follow Andy Oliver on Twitter here.