Found in a rubbish heap one winter's morning, French artist Barroux rescued the diary of a soldier in the First World War and turned it into a compelling graphic novel.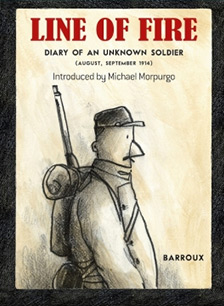 Perfectly timed with the commemorations surrounding WWI, Line of Fire: Diary of an Unknown Soldier is a welcome addition to the many books and other paraphernalia that are being published on the subject. Line of Fire however distinguishes itself in one rather important facet: this is not the grand drama of 'The Great War' but a small human story giving a glimpse at an ordinary life being drafted and dragged into an experience that no person – then and now – should ever have the misfortune to be a part of: war.
This graphic novel by Barroux delivers exactly what the title promises: while walking through the streets of Paris his eye falls on a diary book on top of a rubbish heap which he quickly grabs and starts perusing. The diary begins in August 1914 at the commencement of WWI with the last entry being 13th September 1914. Along the way we pick up fragments of the unknown soldier being drafted, the long incessant walks to battle sites, being in combat, being hurt, the longing for home etc. It's also thought-provoking to see the war from the French point of view which does not happen in the literature of WWI I come across.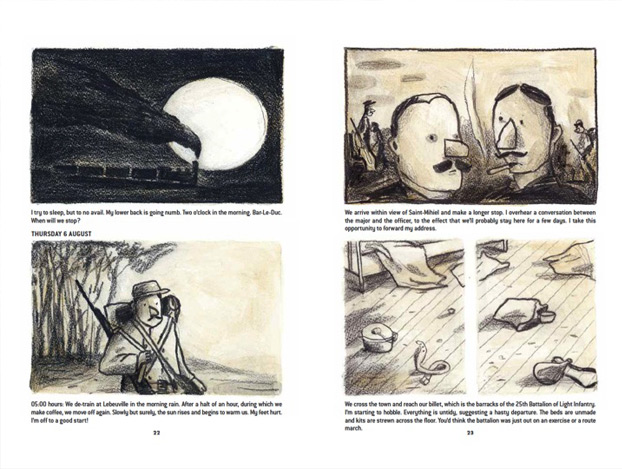 It shares a lot of similarities with a rather gripping account of a German WWII soldier at the front in Russia I read entitled A Stranger to Myself: The Inhumanity of War: Russia, 1941-1944. Both books are composed of diary entries though A Stranger to Myself focuses more on the dehumanization process that occurs while undergoing such a radical experience. Willy Peter Reese – the diary writer – had literary ambitions and as such it is a unique document chronicling the willpower – and breakdown – of one man. Line of Fire takes a more of a humanist stance being more uplifting in nature and the writer of this particular diary being more of a layman than Willy Peter Reese. If you are interested in these things I can highly recommend reading A Stranger to Myself: The Inhumanity of War: Russia, 1941-1944.
I don't know if Barroux illustrates every single entry that is present in his found diary but I imagine that the disjointed impression you get when reading the OGN is also present in the object itself. We see snapshots of a life, of a soul in a situation so utterly unimaginable to the rest of us that you automatically start to fill in the empty spaces between the entries, dreadfully keeping an eye on the date and turning the pages with a feeling of dread and anguish.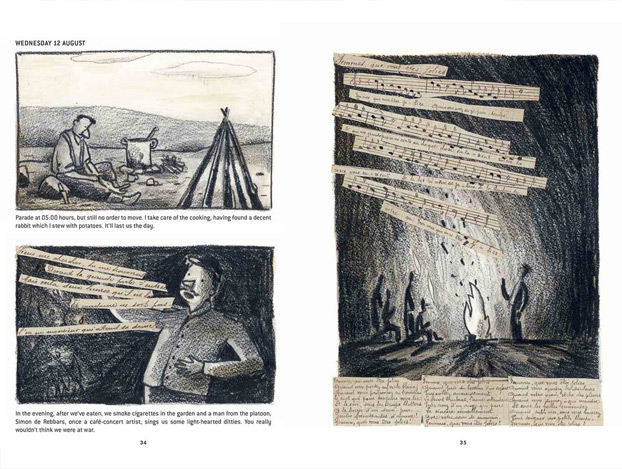 Drawn by Barroux with charcoal and pencils, Line of Fire presents the reader with a harsh visual style that confronts on an emotional level due to its abstract and cartoonist approach. The dichotomy between the line work and the scenes convey an impassioned atmosphere that is almost palpable. Barroux often uses a hard pencil to add in tiny lines that add depth and detail to the broad charcoal strokes, for example bitty windows to broadly outlined houses or a line to a face emphasizing facial expressions. It is a style that, taken at face value, does not seem to fit the subject matter but is actually tremendously effective when Barroux pulls the camera back and provides more of an overview of the proceedings. The only thing that is lacking is some more emotive work in the facial features whenever he does a medium close up, all characters seem to have a disconnected and absent look to them as if they are writing the diary entry themselves in their mind while the visual should ideally enliven the entry emotionally.
When coincidence meets history, opportunity rises and Barroux grabbed it with both hands creating an important graphic novel that reverberates across a hundred years. Line of Fire: Diary of an Unknown Soldier charts the real life of a French soldier who gets drafted into the first Great War and whose fragmentary entries into his diary will grab you by the throat.
In a move I can only applaud, publisher Phoenix Yard Books has set up a complete separate website lineoffirebook.com analysing the book to the smallest detail and even going so far as to include teaching resources. If you want to know more about Line of Fire I strongly urge you to check out this fascinating addition to the graphic novel.
Line of Fire: Diary of an Unknown Soldier by Barroux is published by Phoenix Yard Books in english. It is a softcover counting 96 pages and retails for £10.99.