What does it take to be Batman? Scott Snyder and Greg Capullo explore this arc's ultimate question in #45. Hint: It's all about the mission.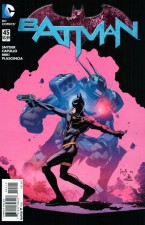 When Scott Snyder took over the writing duties on the title, I was curious and excited to see where he would direct the Dark Knight's crusade. In particular, I was hoping for more fleshing out of Bruce Wayne. Of course, it's no secret that Bruce is the mask and Batman is the man, but that doesn't mean Bruce can't be an interesting counterpart rather than an oft-neglected obligation.
In separating Batman from Bruce and providing convenient amnesia, we are finally presented with a Bruce who has a relatively clean slate. And in giving us a soul-searching Bruce Wayne, Snyder has presented the best question of this story arc: what does it take to be Batman?
The answer lies in the man's mission, and Snyder gives us three storylines that center on an individual and his mission.
When faced with fragments of his former life, this Bruce chooses not to follow their path. Issue #45 gives us a solid look at the man Bruce Wayne is choosing to become. Talking to Jules in a dump filled with the detritus of Endgame, Bruce says, "I went back to the manor the other day, just to… see, I guess. I looked through my old closets. I even tried on my suits. The thing is, there was no trace of a life there. That Bruce had no pictures anywhere, not of family or friends. Not of the people he'd helped… It's like behind the mission, he didn't really exist."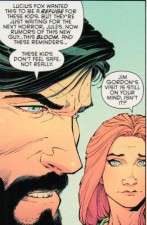 Greg Capullo is getting quite the workout with the divergent stories. Bruce is now above ground in the sunshine, and his panels reflect his happier outlook. Gordon is at a crossroads, and Capullo darkens his lines to reflect that. And Bloom is coming to kill everyone in sight. Capullo does a masterful job conveying the horror and fear of his presence.
Issue #45 starts with Jim Gordon suited up but out of the robot and literally in a furnace. He's assessing his situation and relying on his training to devise a solution, but it's abundantly clear that his training never prepared him for escaping a 1,000-degree furnace.
Once out, he has to contend with a gang of Bloom's cutthroats, and he's not up to the task. The suit arrives in the nick of time to save him. It's Capullo's fine linework that makes the interactions between Gordon and the suit work. Bleeding and immobile, Gordon's gratitude and disbelief shine through in the subtle details Capullo never forgets to add to his panels.
Gordon is then informed that he's being fired, but will be given a chance to resign at a public event. Gordon's police training means that he follows orders (usually) and responds to the chain of command when he receives mission assignments. But he's learned that Batman has to act beyond the scope of orders because his boots are on the ground when things go bad—and they always go bad in Gotham. It's a fine line and a hard lesson.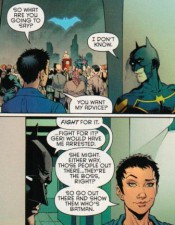 An interesting scene crosses over from the pages of We Are Robin as Duke pays a visit to Daryl, who is busy trying to fix a very melted Bat-suit. Duke is on Bloom's trail and needs tech help when he presents Daryl with a Robin badge.
"Duke, Batman doesn't need a Robin right now."
"That's fine. Robin doesn't need a Batman, either. Batman is on the gargoyle, Robin… Robin is on the street."
This issue is only a start toward answering the question, but it's clear that no matter what the characters hope to accomplish, it all starts with a decision to take on a personal mission.
Excellent character development is happening in Batman, so catch up via the trades if you need to.
Scott Snyder (W), Greg Capullo (A) • DC Comics, $3.99