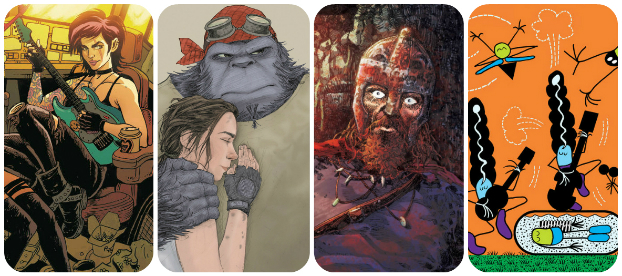 It's nearly Wednesday, and you know what that means: a fresh load of comics and graphic novels! With so many publications hitting your local comics store or digital storefront, the BF team are here to lead you through the woods with our weekly staff picks. Satisfaction guaranteed!
Comic of the Week
Beanworld Vol. 4: Hoka Hoka, Burb'l Burb'l!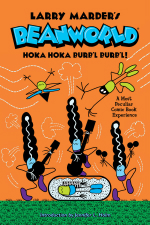 How often do we get to describe a comics reading experience as being a genuinely unique one and know we can get away with it without fear of ever being challenged on the grounds of hyperbole? Larry Marder's Beanworld series has a long publishing history including its '80s Eclipse series through to Dark Horse repackaging the original stories and then bringing us new material a few years back.
This week sees a long overdue return to the bizarre world of the Beans wherein we are promised that "the destinies of Mr. Spook, Professor Garbanzo, Beanish, and the Pod'l'pool Cuties change forever". If you're new to Beanworld then here's your chance to discover one of the all-time greats of US indie comics.
Larry Marder (W/A) • Dark Horse Comics, $16.99
– Andy Oliver
Claudia & Rex #1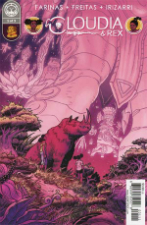 After the death of their father, Cloudia and her kid sister Rex must make the move to Seattle with their mother. But during the road trip, their car is blasted of the road by a bolt of energy and the two girls suddenly find themselves imbued with strange new abilities. Cloudia has super strength while Rex is now… some sort of alien rhino?
Turns out they've merged with two gods who are fleeing their realm as it's being taken over by and all-consuming entity. Their mission is to use the girls to ferry the remaining gods to the World Tree, where their realm can be reborn.
Part of Lion Forge's new Magnetic Collection and brought to you from the creators of Amazing Forest and Motro, this three-issue series is the perfect blend of real world and fantasy with highly relatable characters in a lushly rendered supernatural landscape.
Ulises Fariñas, Erick Freitas (W) Daniel Irizarri (A) • Lion Forge, $3.99
– Tyler Chin-Tanner
Motor Girl #7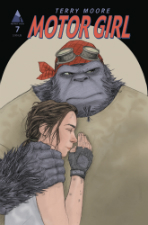 Terry Moore has a gift for creating relatable characters no matter how extraordinary their circumstances, and the journey of their self-discovery is a theme throughout his work. In the recently concluded Rachel Rising, the journey for its female leads occurred through the horror genre, and in his latest series, Motor Girl, Moore gracefully combines comedy and science fiction as the setting for Sam's adventures. But Moore always strikes an emotional balance in his comics, so with comedy comes tragedy and with science fiction comes a dose of science fact.
Sam runs a junkyard in the desert with her friend Mike the gorilla. Trouble is, Mike is a figment of her mind, and although she already knows that, she's about to learn that her brain tumor may be its cause. Sam's strength will be tested by more than pressures from Vic and Larry's unscrupulous boss and her desire to protect the friendly aliens who seem to keep crash landing on her doorstep.
If you're new to Moore's work, get caught up on Motor Girl and join us for issue #7. His delightful storytelling style adds depth to his characters as the story progresses, so don't hurry over the panels to reach the dialogue or you'll miss out on small details that illuminate Sam and her journey.
Terry Moore (W/A) • Abstract Studios, $3.99
– Karen O'Brien
Unholy Grail #1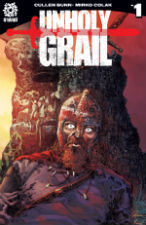 I've really been picking up on what AfterShock Comics has been laying down lately! Shipwreck by Warren Ellis and Phil Hester, and World Reader by Jeff Loveless and Juan Doe, are just two of the many great titles recently launched by this barely-two-years-old publisher whose roster includes lots of other incredible talent.
AfterShock adds yet another intriguing series to their list of exciting comics this week with the release of Unholy Grail. Springing from the visionary mind of writer Cullen Bunn and the exquisite pen-work of artist Mirko Colak, the series re-imagines the legendary tale of the mythical/mystical King Arthur Pendragon through a lens of nightmarish-ness and evil – positing that the beloved stories of Camelot that have captivated us for centuries are actually false narratives used to cover up the real truth about Arthur and his unholy reign.
Bunn has made quite a name for himself by taking readers down some dark and horrifying literary roads, and Colak has demonstrated an ability to render any kind of story no matter how far-out. I think Unholy Grail is not only worth checking out, but it's also sure to be a huge hit for AfterShock!
Cullen Bunn (W), Mirko Colak (A) • AfterShock Comics, $3.99
– Matthew Box
Kim & Kim: Love is a Battlefield #1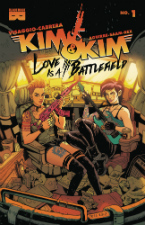 It's the sequel to the 2016 Eisner-nominated miniseries about best friends (both named Kim) way over their heads in the cutthroat world of interplanetary bounty hunters and loving every minute of it. The Kims finally get the bounty they've been waiting for, which of course means that everything is about to go catastrophically wrong.
This highflying, punk sci-fi adventure blazes new trails for LGBTQ-led comics. The first series was adored by fans and its readership should continue to grow with each new tale.
Magdalene Visaggio (W), Eva Cabrera (A) • Black Mask Studios, $3.99
– Tyler Chin-Tanner