Confession: I've been struggling to write this article about Beast Wagon for a REALLY long time. I've emptied the crumpled paper balls of draft after draft from my wastebasket more times than I can count. The challenge wasn't that I needed to find a clever way to be sanguine about a book I had an ambivalent opinion on; rather, to the contrary, I'm pretty sure that Beast Wagon is – I kid you not – one of the best comics I've ever read. And, sometimes, it's nearly impossible to write about something you love so much.
The series from writer Owen Michael Johnson and artist John Pearson of Changeling Studios concluded several weeks ago with the release of the fifth and final issue, and I've had to take some time to digest everything, nice and slowly like a python that's swallowed an antelope, so as to try and effectively convey why this series is so unbelievably good.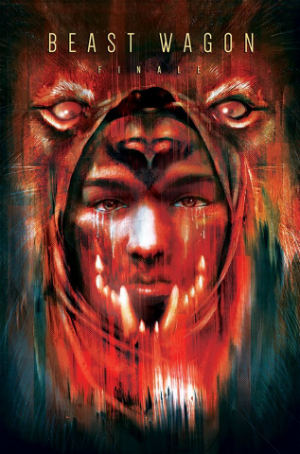 If you have yet to sink your teeth into these books, be forewarned that Beast Wagon is an outré and primal tale of wild complexity set within the confines of a bizarre ecosystem – Whipsnarl Zoo – where the animals are all-too-human and the humans are all-too-animalistic. On the surface, the series uses the familiar convention of anthropomorphic talking animals; however, as you delve deeper into the narrative layers, you soon discover that it is so much more than that. In fact, you may need to read it a couple of times to fully absorb everything it has to offer.
Imagine, if you will, that Orwell's Animal Farm had been written instead by a psychedelic scion like Terrence McKenna or Carlos Castaneda, and that Francis Bacon had been commissioned to provided his hellish illustrative visions to the text. Now you'd be in the ballpark of what it's like to experience this incredible series. Incisive like a boar's tusk and more savage than a hungry pack of hyenas, this book deftly explores the overlap of human/animal nature; and, it does so in visual ways you've likely never seen in the comic book medium before.
Johnson's edgy story is a strange safari through the psyche, an almost stream-of-conscious storytelling style filled with Jungian symbolism, intriguing existential themes, and acerbic commentary on modern life. Comprised of vignettes involving Whipsnarl's uncanny cast of animals and people, the various narratives weave in and out of each issue, building in intensity to culminate in the cathartic series finale. And, to balance out some of the heavier aspects of the story – which include dark betrayals, brutal violence, and even a scene of bestiality – Johnson smartly adds a streak of jaguar-black comedy throughout, as well as touching moments of mutual understanding between some of the human and animal characters.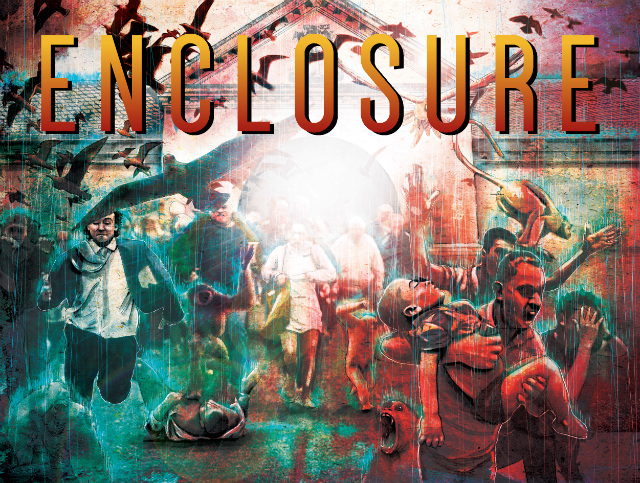 Bringing all of this engaging literary substance into focus, however, is the stunning art of John Pearson. His ability to make visual sense of Johnson's unorthodox narrative style is one of the true strengths of this series. Some artists spend years perfecting the anatomical intricacies of a single organism, but Beast Wagon demonstrates Pearson's impressive skill of rendering the whole phyla of zoo-bound beasts with amazing clarity. Moreover, his crisp realism gives way to nightmarish surrealism when the story descends into more dream-like territory. And, with each page awash with enough vibrant color to humble any bird of paradise, a read through Beast Wagon is not unlike a trip to the zoo on extra-potent lysergics.
One could write a thesis for a high-level philosophy class by examining point-by-point each of the various plotlines of Beast Wagon, so you'll just have to read it yourself to find out the story specifics. However, at its heart, Beast Wagon is essentially an allegory – like the classic anthropomorphic animal fables of Aesop – meant to warn us about ignoring our own nature and the consequences of our actions.
Johnson seems hell-bent on driving home the idea that we are all part of a food chain on some level – most importantly, that we are the apex predators of ourselves. We may have placed ourselves on the throne of the animal kingdom, but are we really that much more enlightened than a beast in chains?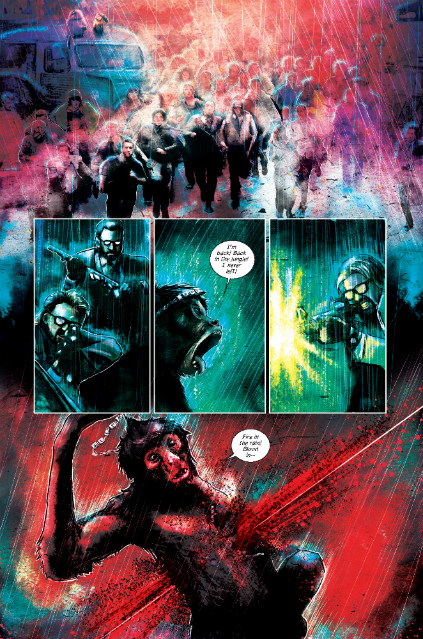 Yes, we have the sharpest and most sophisticated of intellects. Yes, we're capable of surviving and thriving in almost every conceivable environment. Yes, we hold dominance over every other species on the planet. However, lest we forget, human beings are animals, and we're still beholden to the base desires and crude appetites that motivate even the most basic of organisms – eat, breed, rest, repeat to survive. Regardless of our fancy ideas and highfalutin' technology, all we've really managed to do in the last 200,000 years is overpopulate our planet and bring it to the brink of oblivion. Can we, then, honestly look at ourselves and be proud of what we see? Johnson and Pearson seem (correctly) to think not.
The term "beast wagon" was traditionally used to refer to the cramped cage in which traveling circus animals ate, slept, urinated, defecated, and generally spent their lives in when not performing in the ring. This series, thus, acts as a metaphor to remind us that all the world's a cage and we are all beasts, peering through bars built from our own willful ignorance and arrogance. Locked inside our very cells is the wondrous, eons-old story of creation and, until we break our own chains, we'll continue to basely devour ourselves and our world with vicious abandon instead of honoring the magical legacy of life.
At the heart of my love for comic books is a search for something revelatory, something epiphany-inducing – to discover something new about myself. Having read all five issues of Beast Wagon numerous times now, I continue to find something meaningful and provocative with each encounter. There is so much to unravel with Johnson's story, and the artwork is of such quality that you wish Pearson would draw everything on your pull list. This creative team, in my opinion, has employed the familiar convention of a simple story with talking animals and used it to raise the bar of what the medium can (and should) do.
Beast Wagon is a tale that bares its claws and sinks them into the tender pink meat of our high fructose-glutted society. It rips apart the carrion carcass of our intellectual hubris. It's a story that's meant to draw blood in the hopes that, by seeing our insides, we'll recognize something long-forgotten and be able finally to evolve towards a better future.
Owen Johnson (W), John Pearson (A), Colin Bell (L) • Changeling Studios
You can buy the Beast Wagon series from the online store here.
Owen Michael Johnson's latest project Reel Love is currently crowdfunding through Unbound Books here.